Last Updated on June 4, 2015 by Chef Mireille
Hi,
One of my fellow food bloggers announced a new monthly event, whereby we post a complete menu on our blog once a month, using old entries. I think this is such a great idea. Some of us have been blogging for years and I think we even forget some of the amazing recipes we have created – all for the sake of the blog. Also, for our new blog followers, it gives you an opportunity to view some of the recipes from the past, before you were following, that you might have missed.
Without further ado, here is my Meal of the Month, using archived recipes: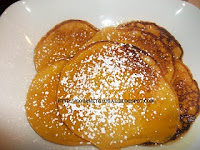 Breakfast:
Pumpkin Pancakes with Rose Honey
Enjoy these yummy, spiced pancakes with a twist on syrup with pancakes!
Lunch:
Pastitsio
A twist on a classic Greek meal!
Dinner:
Indonesian-Peruvian Stew Chicken
Fusion meal, using both Indonesian and Peruvian ingredients created this tasty combo!
Dessert:
Berry Crisp
Making crisp when you run out of berries – this recipe details an alternative!
One thing I have learned from doing this exercise is to see how much my food photography skills have improved. Some of the photos on the old posts are just plain horrible!
Hope you enjoy these tasty recipes from the past!
Thanks Chef Al Dente for a great idea!

Chef Mireille
https://www.globaltasteinc.com
Like me on FACEBOOK!
Follow me on TWITTER!