Last Updated on December 14, 2020 by Chef Mireille
For this month's Blog Hop, I was paired with Suchi of Kitchen Karma. She has a wonderful blog full of Indian recipes and beyond. One of the few meat eating Indian bloggers, I definitely had a large variety of recipes to choose from. She has only been blogging for a few months, but has quite a large collection for such a short period of time.

I have actually made this dish before, but I used the recipe from one of my cookbooks, The Great Curries of India, by Camellia Panjabi.
There are a few differences. Kitchen Karma uses more mustard seeds and Camellia's recipe includes tomatoes, onion, garlic and ginger. Camellia does say that her recipe is a non-traditional form of Sorso Bhaate Maach (Bengali Fish in Mustard Gravy).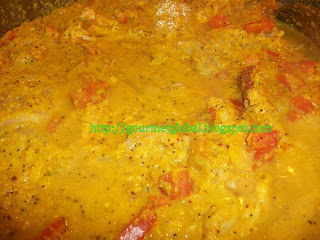 my version of Ms. Panjabi's recipe
I am trying Kitchen Karma's more traditional recipe and I am sure I will like it as much as Ms. Panjabi's!
Fish in Mustard Gravy
Ingredients:
800 grams (28 oz.) of fish (I used Mahi-Mahi, because that is what I had, but you can use any firm fleshed fish – cod or haddock are good alternatives or you can use Rohu, which I have never encountered before, as Kitchen Karma suggests)
2 tablespoons poppy seeds
3 tablespoons mustard seeds
3 chiles, thinly sliced, seperated
2 tablespoons turmeric (I actually had fresh turmeric, so I used 1 tablespoon of freshly grated turmeric)
salt, to taste
mustard oil, for frying
Directions:
Grind the poppy seeds, mustard seeds, 1 chile, a generous pinch of salt and 3 tablespoons of water. Grind to a smooth paste. Set aside.
Sprinkle the fish with turmeric and salt.
Heat oil in a pan about 1 inch deep. Fry the fish on both sides, until golden brown. Drain on paper towels.
Discard most of the oil, reserving 1 tablespoon of the oil in the pan. Return the fried fishes to the pan along with 3 cups of water. Add the remaining chiles (Suchi just snaps the chiles in half and throws it into the water, however, I don't like biting into huge pieces of chile, so I thinly sliced the chiles before adding them) and the spice paste.
Bring to a boil. Reduce to a simmer and cook for about 10 minutes, until liquid is reduced by half.
I ate it with some Basmati rice and steamed veggies.
The last time I made it I had used red snapper, which does not have as much body as Mahi-Mahi. I prefer the firmer texture of this fish for this dish. It's been so long since I made the other version, I can't decide which version I like better in terms of flavor, but this one was definitely yummy!