Last Updated on May 20, 2020 by Chef Mireille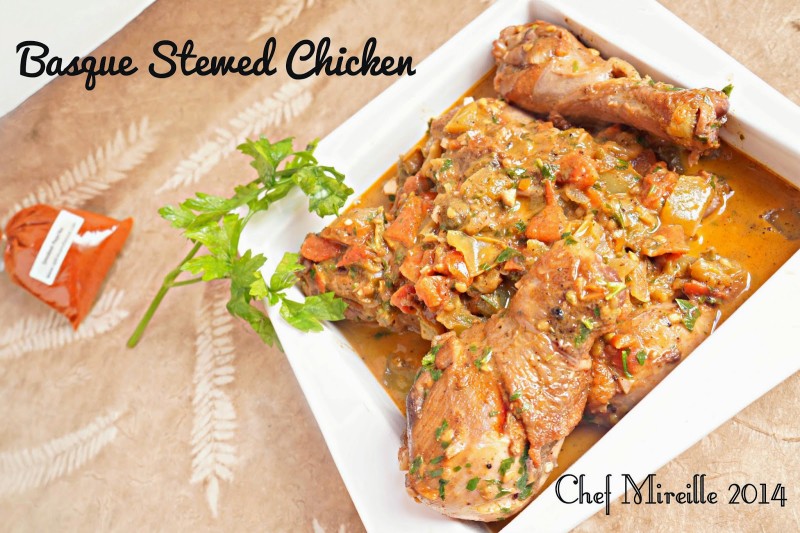 S is for Spain…
Basque regions are the border land regions between the Spanish and French border. They are an indigenous ethnic minority with their own language. My familiarity with the Basque region began in the 1990's when my Dad got me interested in tennis. One of my favorite tennis stars was Arantxa Sanchez-Vicario. Her and her two brothers Emilio and Javier were big tennis stars at the time. When watching the Grand Slam events on TV, the announcers would often talk about their Basque heritage, which I had never heard of previously.

The Basque language has no resemblance to other European languages and their existence dates back to the Middle Ages. The three Spanish provinces that are in Basque country have limited self governing powers since 1978. The French Basque, who only inhabit one province, have no self governing powers. There are approximately 2 1/2 million Basque who live in these Basque regions between Spain and France. However, many more live throughout Spain and even more with Basque heritage live out of the country, especially in South and Central America, as well as the United States. Mexico, Guatemala, Chile, California, Idaho and Nevada all have large populations of Basque. Idaho has a Basque Cultural Museum and the University of Nevada is home to the Center for Basque Studies.
Basque cuisine is rich in seafood, due to their coastal location. It has incorporated many culinary influences of neighboring countries. Spanish Basque food is usually a little spicier than mainstream Spanish cuisine and the ubiquitous smoked paprika that the Spanish love, is used abundantly.
This is a not a specifically traditional or signature dish that Spain is known for, but rather a dish created in the flavors of the Spanish Basque. Since I had come home from the farmer's market with some green tomatoes and a friend had brought me some fresh red tomatoes from her garden, I wanted to incorporate the use of both in this recipe. However, you can also make it using only red tomatoes.
Basque Stewed Chicken
Serves 5
Ingredients:
1 large red tomato, about 8-9 oz., chopped
1 large green tomato, about 8-9 oz., chopped
2 cloves garlic, finely chopped
3 Asian chiles (or 1/2 jalapeno)
5 chicken drumsticks (about 22 oz.)
1/2 teaspoon black pepper
1 1/2 teaspoons smoked paprika
1/2 teaspoon salt
1 tablespoon capers (or olives)
1/2 cup Port wine
1/4 cup Serrano ham, torn
2 tablespoons parsley, finely chopped
Sprinkle chicken pieces with black pepper, smoked paprika and salt. Toss to combine.
Heat oil in a deep skillet and brown chicken on all sides.
Add garlic, capers, tomatoes, chile and wine. Bring to a boil. Reduce to a simmer and cook until chicken is cooked though, about 15 minutes.
Add parsley and ham.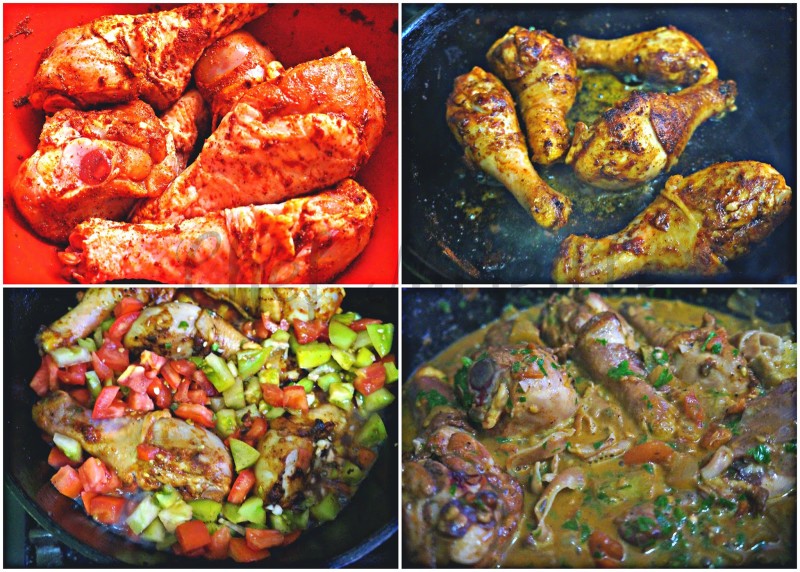 Stir to combine and cook for 1 more minute.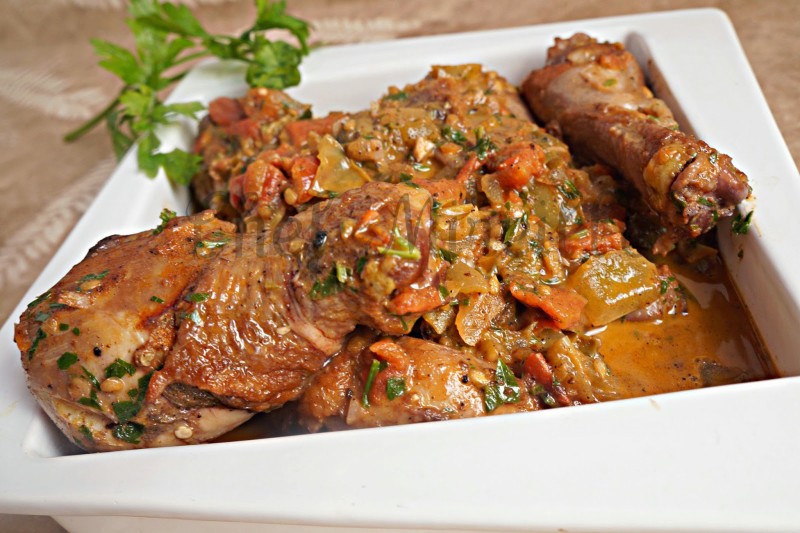 Serve with saffron rice to absorb the delicious sauce and grilled or roasted vegetable.
Notes:
You can also use white wine. Since I used green tomatoes to contrast the tart flavor of the tomato, I used the sweeter Port wine.

Check out the Blogging Marathon page for the other Blogging Marathoners doing BM# 44
LIKE THIS RECIPE? LEAVE A COMMENT..I LIVE FOR THEM!
Chef Mireille