Last Updated on June 3, 2015 by Chef Mireille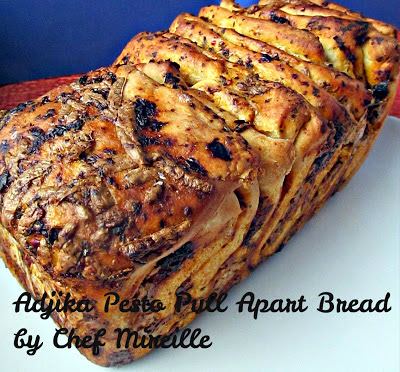 In January, hopping around the sites of my blogger friends, there was a common theme – Herb & Cheese Pull Apart Bread. Each one looked more mouthwatering than the last. It turns out there was a brand new We Knead To Bake Baking Group, committed to bake a new bread each month for the year 2013. I quickly shot off an email to the host, Aparna. Even though the deadline to joining had passed where she lives (in India), since it was still a day earlier here in NY, she graciously let me join the group.
Yes, I am posting my version of the recipe three months later. Well, a few things happened. First of all, I did attempt this bread the first week in February as I joined the group the last day of January. However, my yeast had died and the bread was a bust. So it was off to purchase some fresh yeast and then other commitments got in the way. Finally, she sent out a warning this month for all those who had not done the previous recipes. We had to finish by the end of April or we would ceremoniously be kicked out the group. That was all the incentive I needed because I really do want to experiment with more bread baking.
I've seen lots of recipes for pull apart bread, but this was my first attempt…well my second if you count the failed attempt with the dead yeast.
I had recently stopped by an Eastern European supermarket near my house. You can read all about this unique Balkan market in my post here. This bread has some unique flavorings with inspiration from Ukraine, Georgia and Italy.
I used Ukraine Hot Adjika Spread, my own pesto recipe & Georgian style feta cheese, which is closer in texture and taste to mozzarella than Greek Feta. The adjika spread is a sweet tomato spread, that actually is not hot at all contrary to the bottle, so I added a little cayenne pepper for some heat.
Pesto Pull Apart Bread
Serves 8
Dough Ingredients:
1/2 cup warm milk (110 – 120 F)
1 teaspoon sugar
2 1/4 teaspoons dry active yeast
3 1/4 cups bread flour (or all purpose flour)
1 teaspoon salt
2 tablespoons butter, softened
1/2 cup milk, at room temperature
Filling Ingredients:
1/3 cup Hot Adjika
2 tablespoons pesto
1/2 cup plus 2 tablespoons Georgia style feta
1/4 teaspoon cayenne pepper
Pour warm milk and sugar in a bowl and mix. Sprinkle yeast on top and wait 5 minutes, until yeast is bubbly.
In a large bowl, mix the flour, salt and softened butter. Add yeast mixture to this and mix well. Add milk, a little at a time, until you have a soft but not sticky dough. Knead for about 5 minutes.
Place in a greased bowl. Turn the dough around the bowl, so that the ball of dough is oiled all over. Cover loosely with plastic wrap and a kitchen towel. Let rise for 1 1/2 hours, until almost doubled in size.
Grease a loaf pan.
Dust a work surface with flour. Punch down the dough to release the air and roll into a 12×12 inch square.
In a small bowl, mix the pesto with the Adjika and the cayenne.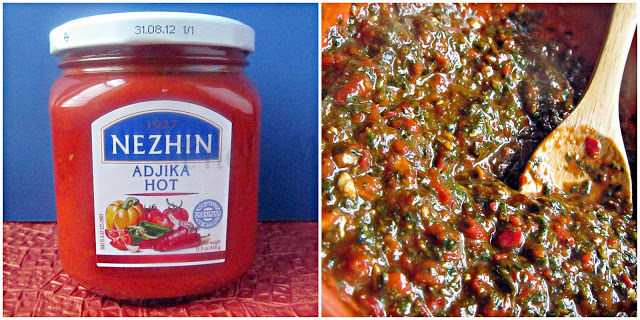 Spread the Adjika Pesto combo on top of the dough. Sprinkle the cheese on top. Use a rolling pin to press the filling ingredients into the dough.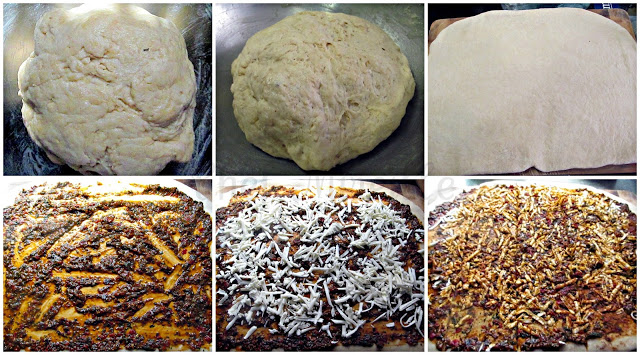 Using a pizza cutter, slice into 5 long strips. Stack the strips on top of each other. Slice down the entire stack into 3 equal portions. Place cut side down in the prepared loaf pan, standing up the squares of dough.
Cover with a kitchen towel and let rise for 45 minutes.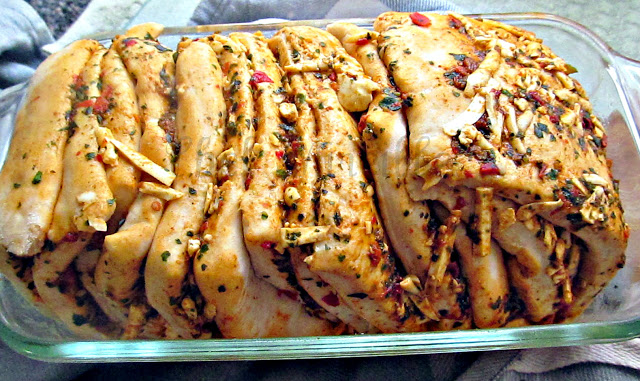 Preheat oven to 350 F.
Bake for 40 minutes, until golden brown.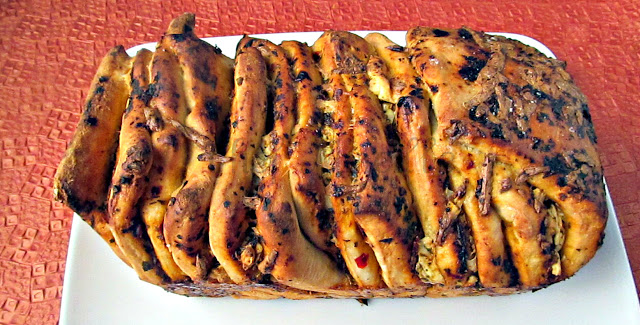 This bread is super soft and fluffy and with this flavorful filling is perfect eaten plain with a cup of tea or coffee.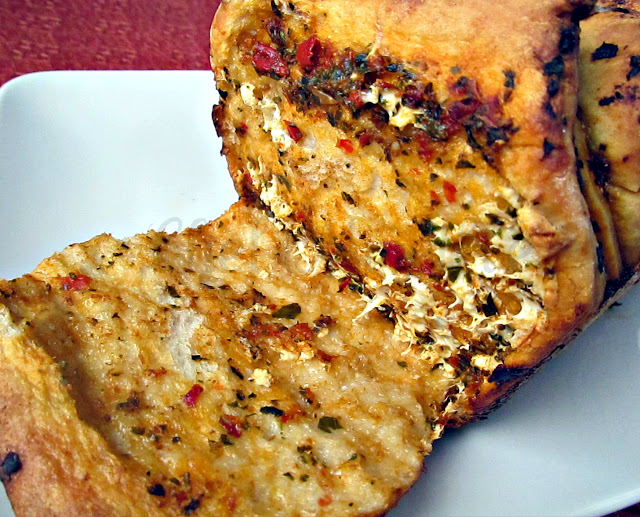 However it also serves as a great accompaniment to soup of salads. Here's a few of mine to eat with this globally inspired bread:
Greek Fruit Salad, Mizuna Apple Almond Salad, Chickpea Pomegranate Spinach Salad
Escarole Bean Soup, Minestrone Soup
*Don't forget to check out Aparna's version here along with all the other We Knead to Bake bakers*

…linking to Yeastspotting, Bake Fest hosted by Sowmya & Bake Your Own Bread
LIKE THIS RECIPE? LEAVE A COMMENT..I LIVE FOR THEM!
Chef Mireille