Last Updated on May 25, 2022 by Chef Mireille
Kumquat with it's tart-sweet citrus flavor makes with Upsode Down Kumquat Cake with Lavender is a soft, tender and moist cake infused with citrus flavors.
This brightly flavored cake infused with lavender is perfect for summer picnics and brunches.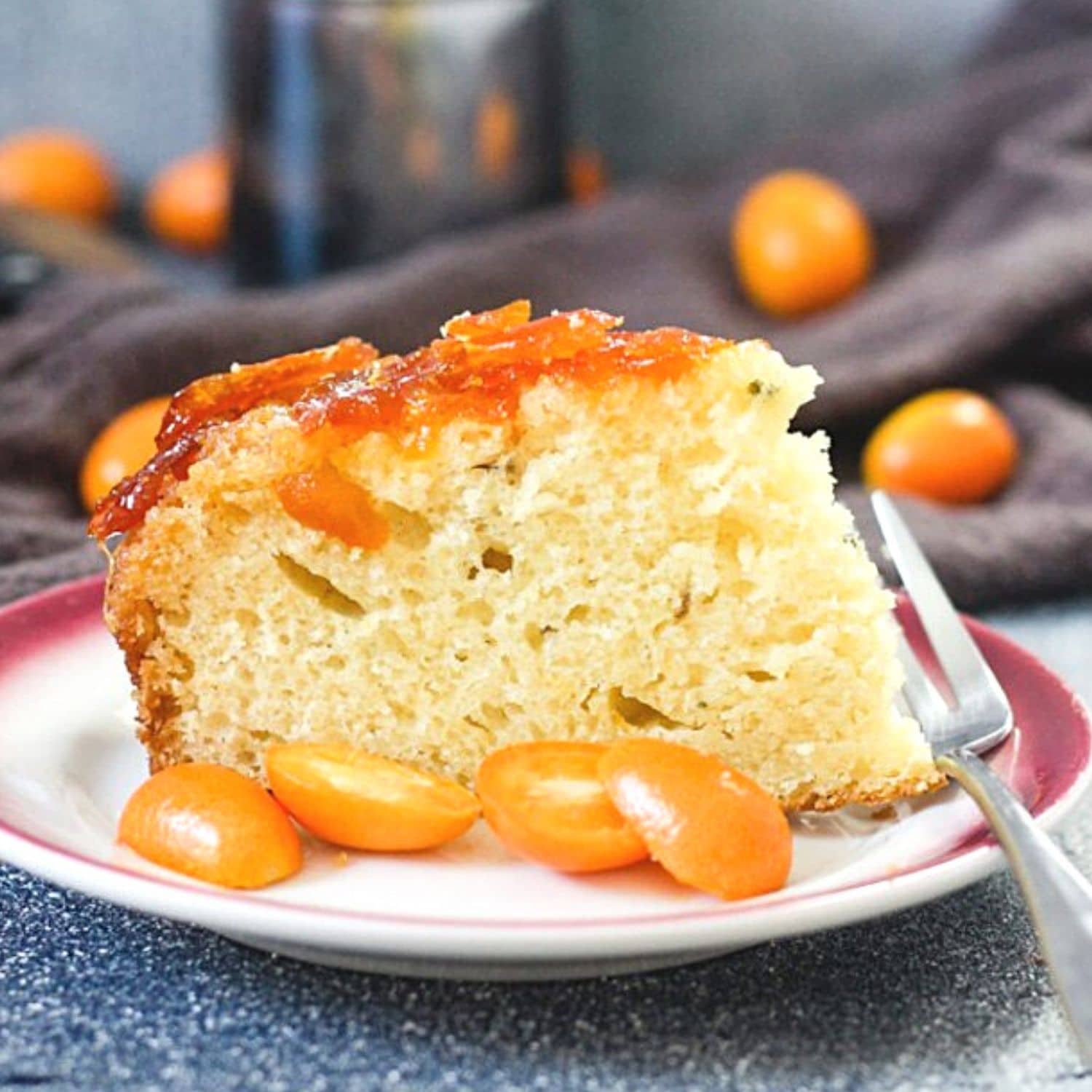 A beautiful sunny Spring afternoon when you barely need a jacket in New York City? What to do? Call up a friend and have a foodie spot hop. It started with a visit to Chelsea Market to visit Bowery Kitchen Supply to get my knives sharpened at the lady outside. (2019 update – service no longer available) They would be ready in an hour, so it was off to find lunch in one of the many food stalls inside the market.
The crowds on a Saturday inside of Chelsea Market are hectic and since we wanted to sit down to eat, that was our motivation to eat at Amy's Bread where seats were available. A simple salad of roasted beets, quinoa, chickpeas over a bed of greens with a rosemary roll hit the spot. For dessert, it was fresh gelato and sorbet from the Italian market
After eating was a visit to Manhattan Fruit Exchange. While this market is a bit on the pricey side, I like visiting it to find produce that I can't always get at other markets like baby fennel and beets, dragonfruit and romanescu cauliflower. I picked up a few candy beets (a new variety for me) and some kumquats to make jam. After picking up the knives, we headed crosstown, a 15 minute walk or a 6 minute bus ride, to the Farmer's Market.
I love going to the Farmer's Market and while there are many small ones located throughout the New York metropolitan area, the best and largest one is the Union Square Farmer's Market which brings farmers from throughout the tri-state area and Pennsylvania every Monday,Wednesday, Friday and Saturday. In addition to fresh produce, you'll find woolen products from farms that have lambs, Vermont syrup, honey, fresh meats and flowers.
Read more about the Union Square Farmer's Market
Saturdays are always the busiest days. While not all of the vendors come during the week, they are all there on Saturdays. The crowds can be very large, especially if the weather's nice outside. Some local farm to table restaurants source some of their ingredients from the market. They are doing their shopping in addition to the crowds of people who come to buy their produce and get fresh hot apple cider.
As you walk through the crowds on a busy Saturday, there is one stall that will lure you in with the perfumed scent of fresh lavender. Amongst the smog of NYC, this strong lavender scent will take you away to the farm that it came from. In addition to its natural perfume, lavender also has culinary uses and is often used as a flavoring additive in desserts or jams. When I used to work at a tea house, one of our most requested flavors were our lavender scones. I haven't used lavender in cooking since then and decided to come home with a bunch and create some new recipes with its delicate flavor.
Kumquats
Citrus flavors like lemon and orange compliment lavender, so I decided to use the kumquats I had originally intended to make jam with. If you've never had a kumquat, it's like a mini inside out orange. It's about the size of a grape and the sweet part is the edible skin and the inside is sour, like a lemon. So it's best to eat it whole, so that the sour is balanced by the sweet. Some peel them and eat only the skin.
The first step is to make Candied Kumquats. This will form the foundation of both the cake and the juice recipe below.
This is a delicious cake enhanced with lavender florals.
A nice sprinkling of powdered sugar that melts into the top makes it even better!
This makes a great holiday cake – especially for Mother's Day!
You can also make this cake in a loaf pan!
Upside Down Kumquat Lavender Cake
Upside Down Kumquat Lavender Cake – Kumquats are the foundation of this cake with bright citrus flavors. Perfect for summer picnics and brunch time.
Ingredients
Candied Kumquat Ingredients
1

cup

sugar

2

cups

water

1

lb.

kumquats

sliced
Cake Ingredients
Caramel Ingredients
4

tablespoons

butter

4

tablespoons

firmly backed brown sugar

powdered sugar

optional
Instructions
First, let's make the candied kumquats.

Mix the sugar and water in a saucepan and heat on medium until the sugar is well melted.

Bring to a high boil and add the kumquats.

Reduce to a simmer and cook on low heat for 30 minutes.

Let the kumquats cool in the syrup for 15 minutes.

Drain the kumquats and reserve the syrup for the juice.

Preheat oven to 350 F. Spray a 9″ cake pan with non stick spray.

Now, let's make the caramel. Combine butter and sugar in a saucepan and heat until both are well melted, about 5 minutes.

Let cool for 5 minutes.

In a small bowl, beat the yogurt and the melted butter until thoroughly combined.

Mix the flour, baking powder, baking soda, salt and lavender in a large bowl.

Beat the sugar and the eggs until light and frothy.

Add half of the dry ingredients a little at a time and mix well. 

Add half of the yogurt combination and mix until thoroughly combined.

Add remaining half of both the dry and the wet ingredients and mix until thoroughly combined.

Pour caramel into bottom of the pan.

Add  the candied kumquats on top.

Cover with the cake batter and spread in an even layer.

Bake for 45 minutes – 1 hour.

Let cool for 5 minutes in the pan.

Flip over onto a plate. Let cool completely before slicing.

Sprinkle with powdered sugar, if desired.
Notes
Add water to the leftover syrup from the leftover kumquat syrup and it makes a delicious drink.
Nutrition
Calories:
365.69
kcal
|
Carbohydrates:
55.18
g
|
Protein:
6.1
g
|
Fat:
14.33
g
|
Saturated Fat:
8.48
g
|
Sodium:
282.2
mg
|
Fiber:
3.11
g
|
Sugar:
36.47
g
Did you try this recipe? Leave a comment below.
Please follow me on Instagram @chefmireille or tag me #chefmireille with your pics! I'd love to share them!
To complement the flavors in this floral scented cake, I used the leftover kumquat syrup and orange blossom water to make a floral scented juice to go with it.
Don't forget to visit the RECIPE INDEX with over 1000 recipes from around the world including lots of Vegetarian Recipes and Gluten Free Recipes!