Last Updated on June 3, 2015 by Chef Mireille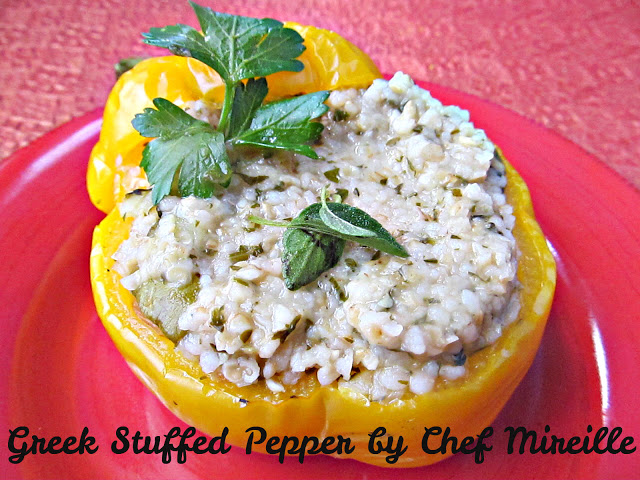 I am trying to eat a little healthier right now and Greek cuisine is one of the best to celebrate healthy Mediterranean cuisine. Olive oil, fiber rich fruits like dates and figs, fresh herbs, green leaf vegetables, protein rich beans and cracked wheat are the staples of their cuisine. The preferred method of cooking meat is usually grilling or roasting, therefore fried foods are rare in this cuisine.
Stuffed Peppers is a very popular first coarse served throughout Greece, Turkey, the Balkans and the Middle East as part of meze (the equivalent of Italian antipasto, a selection of small dishes served before the main meal).
Herbaceous Stuffed Peppers
Serves 8
Ingredients:
2 tablespoons olive oil
1 small onion, finely chopped
2 cloves garlic, finely chopped
1 zucchini, chopped
4 cups water
2 cups bulgur/cracked wheat
1/2 cup mixed herbs, finely chopped (parsley, mint and oregano)
2 tablespoons Greek/strained yogurt
juice of 1/2 large lemon
1/4 cup golden raisins
8 bell peppers
salt and pepper, to taste
Heat oil. Add onion and saute for 1 minute. Add zucchini and cook for 3-4 minutes. Add water and bring to a boil. Add bulgur. Reduce to a simmer, cover and cook for 15 minutes.
Transfer to a large bowl and add herbs and salt/pepper, to taste. Mix well.
Add yogurt, raisins and lemon juice. Mix well and taste. Adjust salt and pepper, if necessary.
Remove the tops off of the peppers and cut out the insides and rinse them out with water.
Add the bulgur filling to the scooped out peppers. Place pepper tops back on top.
Fill a pot with water so that they come about 1/2 way up the sides of the peppers. Add a few sprigs of parsley and bring to a boil. Add filled peppers.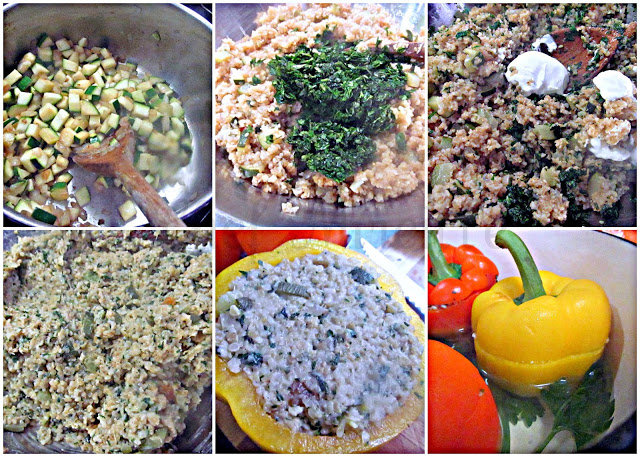 Reduce flame to medium, cover and cook for 30 minutes.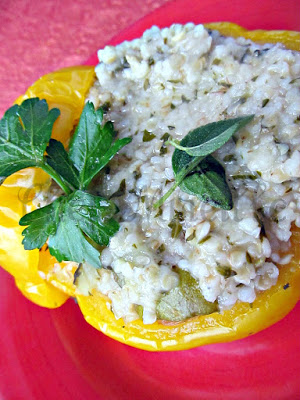 …linking to Nayna's Flavours of Greece hosted by PJ, Jagruti's Know Your Dairy hosted by PJ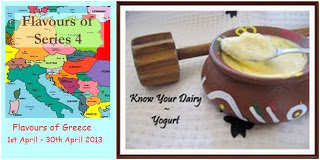 LIKE THIS RECIPE? LEAVE A COMMENT..I LIVE FOR THEM!
Chef Mireille