Last Updated on January 12, 2020 by Chef Mireille
Yiyimbre Muffings – Panamanian Gingerbread. These quick and easy Gingerbread Muffins from Panama and perfect for holidays. Warm and comforting!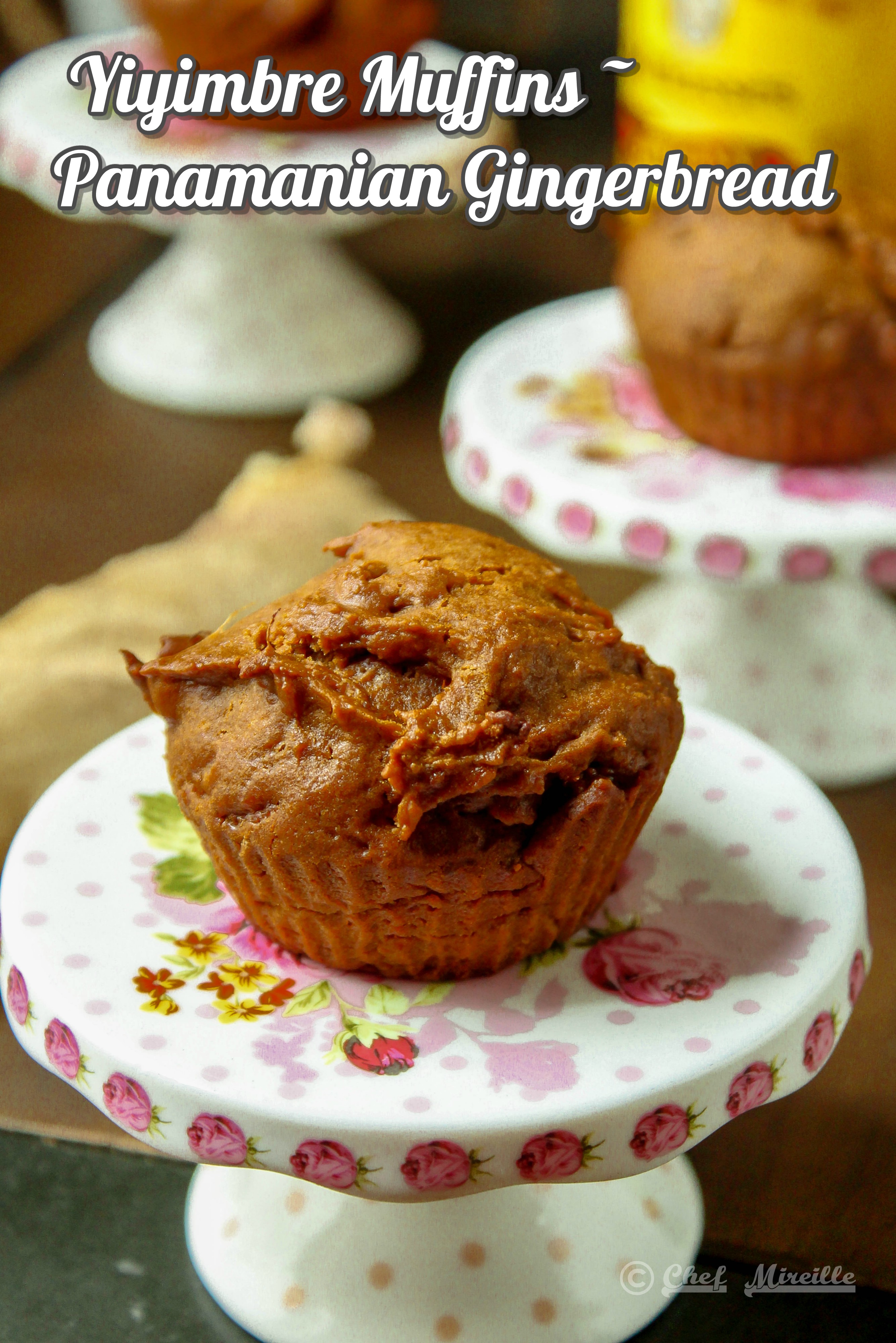 P is for Panama…
It's funny..even though I am born and raised in NY and have lived my whole life here (except for 1 year as a child in Florida and going away to college in New Mexico), I always get asked where I am from. I don't have a typical NY accent. I think because English was not a first language for either of my parents, my parents knew book English so we always had to speak properly and were not allowed to talk slang as children. Even now, I am always way behind in slang talk. Someone will say an expression and as I look at them blankly, they will wonder how I don't understand an expression that's usually already been in use 1-2 years.

What does this have do with Panama..well I have often been mistaken for Panamanian. Growing up in a neighborhood with a lot of Latin people, I think I have a slight Spanish accent and then based on my complexion and other features, people usually think I am from Dominican Republic and when I say no, they then go down the list of all Latin countries that have black populations – Cuba, Puerto Rico, Panama are usually next on the list after DR. Since I often get pegged as Panamanian, I decided it was time to learn a little about their cuisine which I haven't previously explored.
let's first learn a little about Panamanian history…
Panamanian History
Panama's indigenous culture was colonized by Spain in the 16th century. However, much of the indigenous community resisted colonization and Spain had little control over most of the territory. Due to the lack of Spanish control, the route of which Panama is the primary port from the region to Europe with silver and gold mined from Peru, was often plagued with pirates. In 1671, England sacked and burned Panama City, at the time the second most important city in the Spanish empire. They became part of the Republic of Gran Columbia which consisted of Columbia, Venezuela and Ecuador in 1821.
The first attempt to build the Panama Canal was made by the French in 1881, but had to stop in 1889 due to engineering problems and thousands of deaths due to malaria and yellow fever. This led to some French influence on the cuisine. Panama's Pan Michita is a Panamanian interpretation of French Miche bread. Panama seceded in 1903 from Gran Columbia and with the US help, built the Panama Canal, which connects the Pacific Ocean to the Atlantic Ocean.

After decades of democracy, the military took control and that began regimes of repressive government and illegality. President General Noriega in 1988 was convicted of trafficking drugs to the US, which led to the US invasion in 1989. Although this ended Panama's repressive government, it also displaced many Panamanians and is not viewed as positively in Panama and throughout South America. I remember going on vacation in 1989 to Venezuela and the feelings was definitely anti-American. There would be graffiti on buildings with signs that said "Americans – Keep Out". My friends and I always made sure we spoke Spanish when we were outside of our hotel room in some of the inland cities away from Caracas, especially when security guards walked around with machetes and cops wore rifles.
Despite this past, Panama is quite a developed country with the 2nd most competitive economy in Latin America. Much of their GDP comes from Panama Canal tolls, which was transferred 100% to Panama from the US in 1999.
Most of Panama's black population are descendants of the Cimarron people. These were slaves who had escaped from Spanish ships in the 1500's and established their own communities in Panama jungles, where the Spanish couldn't find them. I don't mind being mistaken as a descendant of this brave community.
Now let's get to the recipe…
IN THE MAKING
Super soft and moist and full of fresh ginger flavor!
Perfect with a cup of tea or spiced apple cider during holiday season!
Yiyimbre Muffins – Panamanian Gingerbread
Ingredients
1 1/2

cup

+ 2 tablespoons all purpose flour

2 1/2

ounces

ginger

peeled and grated

1/8

teaspoon

salt

1/8

teaspoon

baking powder

1

tablespoon

+ 2 teaspoons vegetable shortening

3/4

cup

+ 2 teaspoons molasses
Instructions
Preheat oven to 350 F. Spray muffin cups with non stick spray.

In a large bowl, combine flour, salt and baking powder. Using a whisk, mix it a little.

In a small bowl, combine shortening, molasses and ginger. Mix well. Add to dry ingredients and mix until thoroughly incorporated.

Divide batter evenly among 8 muffin cups.

Bake 30-35 minutes, until muffins are set.

Let cool completely.
Did you try this recipe? Leave a comment below.
Please follow me on Instagram @chefmireille or tag me #chefmireille with your pics! I'd love to share them!
These are great #vegan treat for tea time or with a glass of milk. Not too sweet and with the spicy tones of ginger…mmmm

How about trying some other South/Central American treats?
Do you know anyone else who likes learning about international food, culture, history and travel? Bring them over here to join the party! Don't forget to use those share buttons!
Start Here to find out how the Schizo Chef can help you with your cooking, travel and other needs!
If you like this recipe, PLEASE LEAVE A COMMENT & SUBSCRIBE!
Check out the Blogging Marathon page for the other Blogging Marathoners doing BM# 44