Last Updated on May 31, 2015 by Chef Mireille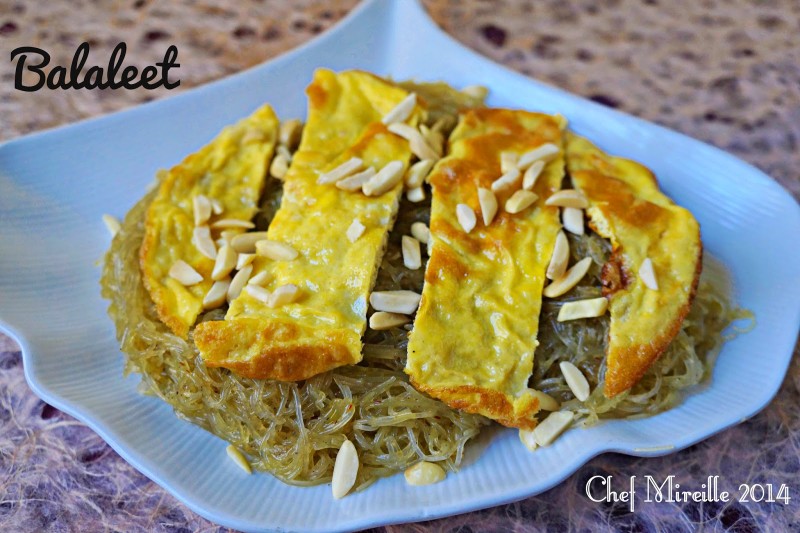 Q is for Qatar…
That's obvious isn't it since the only country in the world beginning with the letter Q is Qatar. Qatar is an Arab country surrounded by the Persian Gulf, sharing just one land border with Saudia Arabia. Once part of the Ottoman Empire, Qatar then became part of the British Empire until they achieved independence in 1971.

Qatar is the world's richest country and the most developed in the Arab world. Much of this prosperity lies heavily on the labors of migrant workers, with only 13% of the population native Qatari's. Most of the migrant population comes from India, Nepal, the Phillipines, Bangladesh, Sri Lanka and Pakistan. Qatar has one of the worst records in the treatment of its migrant workers.
Recently, there has been a slew of Qatar advertising on TV aimed at getting more international tourists to Doha I assume since the commercials have been airing here in the US. A few weeks ago I saw on interview on CNN about the construction of a huge complex that uses solar energy as well as wind tunnels so that you can essentially travel a good part of the city without ever having to experience the dessert heat. It's a great concept in terms of energy conservation, but from the statistics above, we know this is only possible through the labor of the migrant workers.
This dish to represent Qatar for letter Q is a popular breakfast item throughout the Gulf Countries like United Arab Emirates, Saudi Arabia, Jordan, etc. The preparations may vary slightly from country to country, however, the base dish of sweetened vermicelli noodles with eggs is always included.
Balaleet
Ingredients:
Serves 2
4 ounces rice vermicelli
3 tablespoons ghee
1/4 cup sugar
1 teaspoons ground cardamom
1/8 teaspoon ground ginger
1/8 teaspoon ground cinnamon
1 tablespoons orange blossom water (rose water can also be used)
pinch of saffron
1 egg, beaten
pinch of salt
slivered almonds or pistacchios, chopped, for garnish
Cook the vermicelli in boiling water for 2 minutes. Drain.
In a large skillet, heat 2 1/2 tablespoons of the ghee. Add the vermicelli and the rest of the ingredients except for the eggs. Stir fry for 2 minutes. (it's best to use a non stick pan)
In a small skillet, heat the remaining ghee. Add egg and make an omelette.
Cut the omelette into thick strips.
To serve, place omelette strips over vermicelli and garnish with nuts.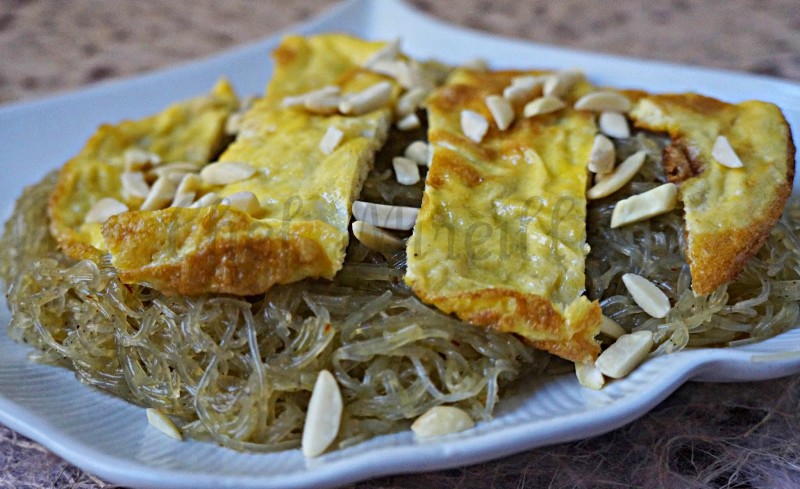 Check out the Blogging Marathon page for the other Blogging Marathoners doing BM# 44
An InLinkz Link-up
LIKE THIS RECIPE? LEAVE A COMMENT..I LIVE FOR THEM!
Chef Mireille