Last Updated on November 19, 2019 by Chef Mireille
What to Eat in Reykjavic – a look into the diversity of Iceland's capital city!
Here is a guide to the best eats of Reykjavic, Iceland – Including the oldest restaurant in Iceland & Rye Bread Ice Cream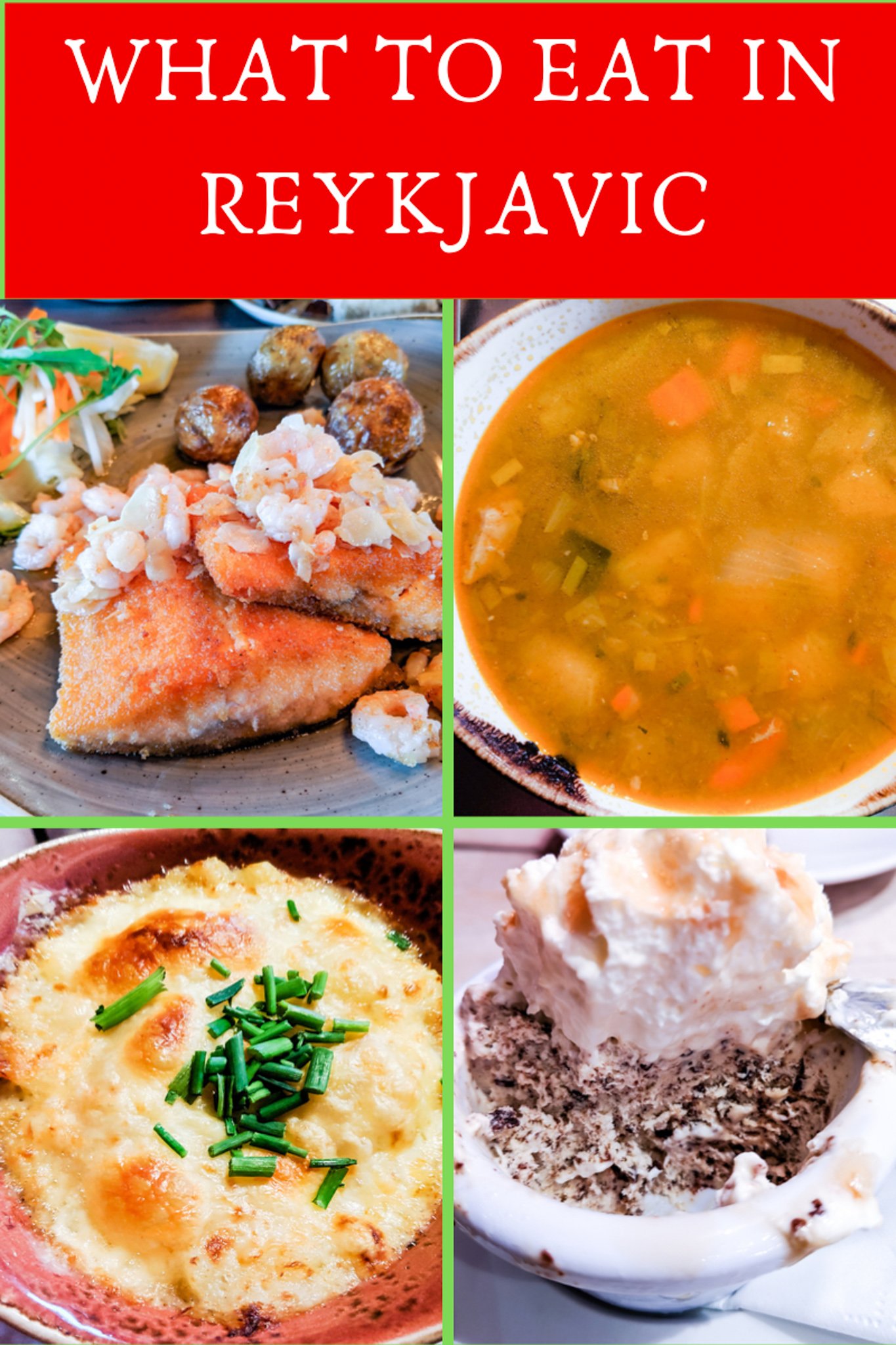 I just came back from Iceland. It was a short trip – only 3 full days. Did I try everything I wanted to in Reykjavic? NO WAY! I am especially sad that I never tried the Lobster Soup. It is one of the most popular foods to enjoy in Reykjavic. Time wasn't on my side though, when 1 of those 3 days was spent away from Reykjavic.
What to Expect in Reykjavic
Before we get to traditional Icelandic cuisine, one thing that surprised me in Iceland was the diversity. Not only the dining options, but the people living in Iceland. I met people from Ivory Coast, Spain, Trinidad, Thailand, Kenya and Atlanta – just to name a few! Yes, somehow they all land up in Iceland!
With all of these immigrants, Iceland's diversity is represented in the dining options of Reykjavic. Some of the international cuisines I saw were Indian, Thai, Vietnamese, Himalayan, Chinese, Japanese, French, American and I even saw an Ethiopian restaurant in a rural farming community. Of course, international chains like Domino's Pizza and Subway were there also. However, I did not go to Iceland to experiment with international cuisines I could easily taste here at home in NYC!
There is a large American influence on the island due to the fact that America had a military base in Iceland from WW II until 2006. If you still prefer to eat the foods you are used to when you travel, it won't be difficult to find burgers, pizza, steak, etc.
All the food trends you have in the US are in Iceland also. Avocado on almost all sandwiches, hummus and quinoa everywhere as well as vegetarian, vegan and gluten free options available at many restaurants. However, unless the foods are traditionally gluten free, this is harder to come by. I don't think I saw any gluten free bread.
Reykjavic Cuisine
First, here's a little overview of what you can expect to eat in Reykjavic and throughout Iceland, if you are interested in local cuisine.
Expect to eat a lot of three things in Iceland!
Three Most Popular Foods of Iceland
Soup – Lamb Soup, Fish Soup, Seafood Soup, Lobster Soup, Vegetable Soup are the most popular. Most places will usually have at least two options – one fish or meat based soup and one vegetable soup.
Fish – Iceland is an island surrounded by water. If you are a seafood lover, you landed in the right place. Fish Soup, Fried Fish, Pickled Fish, Smoked Fish Salads and many varieties of fish and seafood dishes are everywhere. Some places will serve nothing but fish. Fish & Chips are everywhere!!!
Ice Cream – Icelanders love ice cream. Most restaurants will have at least one flavor of ice cream as their dessert options. There are also ice cream or frozen yogurt shops on every other block in Reykjavic.
So what and where did I eat in Reykjavic? This is just a brief overview. The places that deserve special honorable mention will get a full Restaurant Review post later.
Where to Eat in Reykjavic
CAFE LOKI
Located at Lokastígur 28 across the street from the most iconic and tallest church in Iceland, Hallgrimskirkja, Café Loki is the perfect place to come for a bite to eat after visiting the church. My favorite dish there was Plokkfiskur – a mashed fish gratinee. Cheesy and creamy, it was so delicious.
However, don't leave before trying the fabulous Rye Bread Ice Cream. It's the only place that makes it! It's kind of like Cookies n Cream, but made with rye bread instead. The Rye Bread in Iceland is sweeter and milder than what we get in the US and without caraway.
KAFFIVAGNINN
Located at Grandagarður 10, at the very end of the pier of the Old Harbor, surrounded by water and fishing boats, expect to eat fish. This is the oldest restaurant in Iceland, established 1935.
Here the fish comes straight from the boat to your plate. You will eat the freshest seafood, cooked simply in homestyle preparations. Yet, they still pay attention to presentation and pretty plates will be served to you.
They also have a variety of Icelandic pastries. Here you will get the most bang for your buck as everything is served with soup, bread and unlimited coffee refills. Iceland is the most expensive country in the world.
ICELANDIC STREET FOOD
There are two locations – one in downtown Reykjavic on Laekjargata or the other one is located near the Central Bus Station on Laugavegur. They have a limited menu with soup, stew and marriage cake, one of the most popular Icelandic desserts you find everywhere.
The one at Laugavegur 85 has a more upscale vibe and also includes a lamb entrée. The soups and stews as well as coffee, all have free unlimited refills.
I only had breakfast here at the Laugavegur location. However, I have to say it was the best breakfast I had in Iceland. There are just two breakfast options – a scrambled eggs platter or unlimited waffles.
The scrambled eggs platter came with bacon, spinach, cherry tomatoes and multi grain bread roll. The tomatoes were so sweet! Probably harvested from the geothermal greenhouses where much of Iceland's produce is generated. This was also where I had the best cup of coffee in Reykjavic.
What I Missed – You Should Try in Reykjavic
With only 3 days, I missed a few things. If you have some more time, here are some more things you might want to include on your itinerary.
Lobster Soup – As I mentioned above, I missed the lobster soup. Here are some places you can try it!
Bæjarins Beztu Pylsur at Tryggavagata 1 – Voted in 2006 as the best hot dog stand in Europe by the UK's Guardian newspaper, there is often a long line outside this hot dog stand, but I heard it is worth the wait.
Hakarl and Brennivin – Prior to coming to Iceland, I had heard that hakarl is one of the most beloved foods for Icelanders. However, the fermented shark is quite pungent and you generally need a shot of Brennevin (Icelandic vodka) to wash it down with.
After speaking to a local, I found out that most people, even Icelanders, don't like it. Maybe about 10% like it and that is usually the older generation who grew up with it and are used to the strong flavor. Most people only eat it during Christmas and the pagan celebration months of January and February – more for tradition than anything else.
If you are brave enough to try it, you can get some hakarl with a shot of Brennivin at Café Loki (mentioned above).
If you have just a few days in Reykjavic, I hope this helps guide you to What to Eat in Reyjkavic!
For more foodie Iceland info, check out this 7th generation family farm I visited at Farm Hotel Efstidalur II