Last Updated on November 19, 2019 by Chef Mireille
Fig & Watercress Salad with Blood Orange Yogurt Dressing
A simple salad with fresh ingredients, smoky cheese and a creamy dressing. What better way to celebrate healthy eating!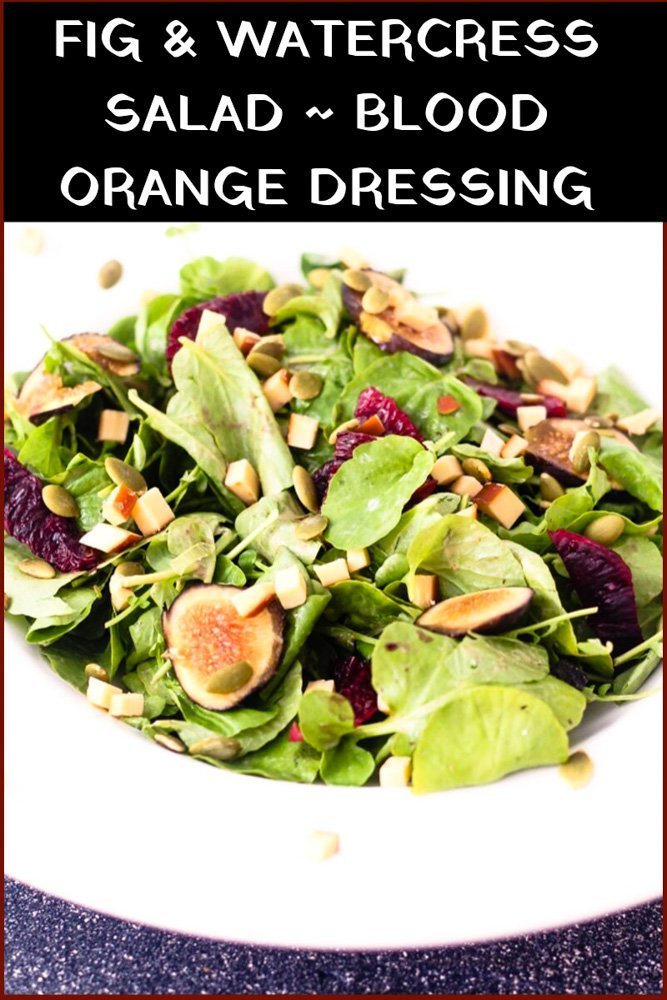 Tuesday was World Vegetarian Day. Did you know that? Now I may not be Vegetarian, however, I eat vegetables and often have Vegetarian days, although they are usually not planned that way. It's just the way my schedule rolls some days!
Do I consider myself a healthy eater? Well I would say I consider myself a balanced eater. I have a horrible sweet tooth and you will often find my snacking on things I shouldn't 😉 but I try to offset that by eating lots of veggies, whole grains and lean proteins.
What kind of eater are you? A healthy eater or a balanced eater? Let me know in the comments below!
Even if you did not know about World Vegetarian Day, who says you can't celebrate any day you want, even if you usually eat meat. How about making today World Vegetarian Day and celebrate with this delicious salad as one of your meals!
Watercress
I used to HATE watercress. I think it's because of my childhood memories. My mom used to boil watercress and then drink the water as tea. She would try to tell me all the health benefits of the tea and even try to put a little honey in it for me, but there was no way I was going anywhere near that watercress tea as a child.
Even as I became an adult, I would avoid watercress like the plague as all I could think of was Watercress Tea. ?
A few months ago, I was at a catered event and I LOVED the salad, however, I had no idea what the green leaves were, so I asked. I can't tell you how surprised I was to hear this was watercress, with it's slightly peppery leaves. Well, now watercress has become one of my favorite salad greens and I purchase it almost every week.
LESSON LEARNED – It's not always the food, but the preparation that gives us bad food memories. We should try foods different ways before we ban them.
I tell my picky culinary student kids this all the time. I need to practice what I preach!
Paired with sweet fresh figs, smoky cheese and all the health benefits of yogurt in a yogurt based dressing – this is a salad you should definitely add to your weekly repertoire!
But before we get to today's recipe, check out some of my other recipes that utilize fresh figs. It is such an amazing fruit that pairs well in savory presentations, so do check out Ravioli with Figs & Proscuitto and Fresh Fig Salad with Orange Emulsion Dressing.
With autumn being slow to come – I cannot believe the temperature was in the 90's today – in OCTOBER, this refreshing Fig & Watercress Salad with Blood Orange Yogurt Dressing is a great to keep you cool!
Fig & Watercress Salad with Blood Orange Yogurt Dressing
Fig & Watercress Salad with Blood Orange Yogurt Dressing is a refreshing salad with fresh fruit and smoky cheese.
Ingredients
Salad Ingredients:
4

oz.

watercress

2

sliced figs

2

blood oranges

cut into segments (supremed)

4

tablespoons

finely diced smoked gouda

2

tablespoons

pepitas

pumpkin seeds
Salad Dressing Ingredients:
1

cup

Greek yogurt

¼

cup

rosemary honey

½

teaspoon

salt

1

tablespoon

pomegranate molasses

Juice of 1 blood orange
Instructions
In a large bowl, combine watercress, figs, blood orange segments and smoked gouda. Toss well.

To make the salad dressing, combine yogurt, honey, salt, pomegranate molasses and blood orange juice in a bowl. Whisk well until thoroughly combined.

To serve, toss salad with about 3 tablespoons of the salad dressing per serving.

Garnish with the pepitas.
Did you try this recipe? Leave a comment below.
Please follow me on Instagram @chefmireille or tag me #chefmireille with your pics! I'd love to share them!
SHARE THIS DELICIOUS RECIPE WITH YOUR FOODIE FRIENDS
Don't forget to visit the RECIPE INDEX with over 1000 recipes from around the world including lots of Vegetarian Recipes and Gluten Free Recipes!