Last Updated on November 19, 2019 by Chef Mireille
Viking Food Stories in Iceland at Farm Hotel Efstidalur II
This restaurant and hotel is operated on a 7th generation family farm is a must for foodies! Full of culinary history and interesting facts, Iceland is more than glaciers and waterfalls!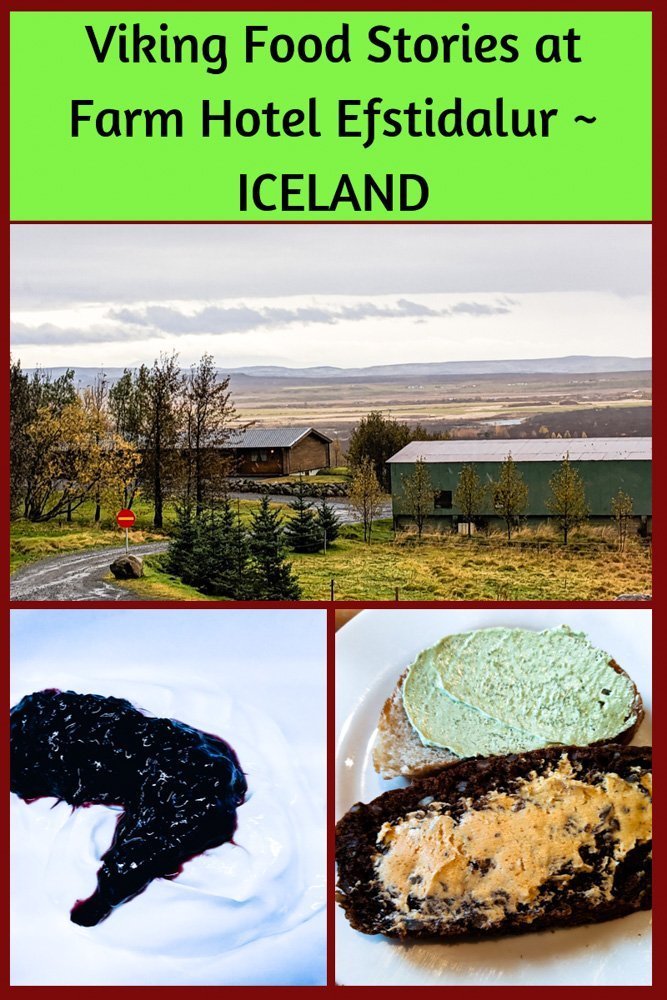 I have been obsessed with Viking history and culture ever since I became addicted to the television show, Vikings, on the History Channel. Anyone else intrigued by the legends of Thor, Freya, Loki and Odin? Do you dream of drinking ale with the gods in Valhalla? Before you get to Valhalla, let's learn a little about how the Vikings lived while they were here on earth.
This was one of the reasons I chose Iceland as my most recent trip. While In Iceland, I took a day trip that combined the usual tourist spots known as the Golden Circle. This includes the Gulfoss Waterfalls, Geyser and the volcanic crater as well as the first Parliament at Pingvellir. However, the foodie in me was most excited about the farm visit part of the tour.
GULFOSS WATERFALL IN ACTION
Gulfoss Waterfall – Golden Waterfall
I got a chance to visit Farm Hotel Efstidalur II. This is a 7th generation family run farm. They have converted a no longer in use hay loft to a restaurant and also have lodging rooms where you can enjoy a stay in the Iceland countryside.
The restaurant is 100% farm to table. All the food prepared at the restaurant, including the meat, dairy and produce are all produced right there on the farm. You can't get food any fresher than that, right!
Although they have a full menu, since I was on the tour with Reykjavic Outventure, our lunch only included the soup buffet with bread. It was unlimited soup. There were two options of either beef or vegetables soup and homemade bread with flavored butters.
The chili butter was amazing!
We also got to have some of their freshly made ice cream. They have an ice cream parlor & coffee bar on the lower level of the barn. For something different, I tried the Carrot Ice Cream with loads of fresh vanilla bean. It was delicious!!!
ICELANDIC YOGURT
However, before lunch, we learned how important yogurt is to Icelandic history and culture. Icelandic yogurt, known as skyr, is very popular. You will find it as yogurt, yogurt drinks and there isn't a breakfast buffet in all of Iceland without skyr.
It's thick and creamy, similar to Greek yogurt, but has a milder taste with less acidic notes.
Traditionally, you would go to the dairy man and get your skyr wrapped in brown paper in a more solid form – similar to cream cheese consistency.
Then at home, you would add your milk and sugar to taste and this was skyr.
This is how we were served the skyr at the farm. We got to add our own milk and sugar for our personalized skyr.
Did you know skyr is the reason why we don't have more people of Icelandic heritage in North America? Now I know you are dying to find out why!!!
Well, long before Columbus "discovered" America, people from Iceland landed on its shores with their great Viking longboats.
They did not want to raid North America, but rather establish settlements with the good farming land. The Vikings tried to make friends with the Native Americans and offered to share their delicious skyr yogurt.
Many Native Americans are lactose intolerant and they became very ill. Well, the Native Americans thought the Vikings had come to kill them and attacked. After some great battles, the Vikings decided we did not come here to be in constant battle and returned to Iceland.
LIQUID WHEY
Liquid whey, the byproduct in the yogurt making process, is full of protein. A shot of whey, which we got to try, has about 8 grams of protein in a 2 oz. portion.
It has a slight sour taste, similar to buttermilk. There are many uses to this whey.
Viking survival relied on the ocean. Many Vikings were fishermen. When they would go out to sea to catch fish, they were not allowed to take any food with them. The people figured they could eat the fish and it was greedy for them to take the scarce food that the people on land had.
However, there would be days when there was no catch. The Vikings would take bottles of liquid whey with them for sustenance when there was no food.
Sustenance was not the only use of the liquid whey. They also used it as a preservative.
Although Iceland is surrounded by the sea, they did not yet have the knowledge on how to extract salt from the sea water. Remember, the Vikings became literate far later than most of the rest of the world and had little contact with outsiders.
Instead of salt, whey was used as a preservative. They would leave meat soaking in the whey, which gave the meat a sour taste. This is why many of the traditional meat dishes of Iceland calls for sour preserved meat.
The older generations especially who grew up with the flavor of this sour meat, really like it and actually prefer it to fresh meat. As far as they are concerned, the more sour the better!
SKOL
In most cultures, when people toast they say Cheers or Salud (good health in Spanish). In Iceland, they say Skol. Don't think it means anything related to good wishes. It is because they would drink ale out of the skulls of those they had killed when they went raiding.
If you're in Iceland and hold up your glass to "Skol" with anyone, remember the history!
This was just a little bit of what I learned about the Viking Food Stories in Iceland at Farm Hotel Efstidalur II. I hope you enjoyed the information also and are ready to plan your next trip to Iceland!
Feel free to ask me any questions to help you in your planning!
Don't forget to checkout my post on What to Eat in Reykjavic for all the foodies going to Iceland!
Don't forget to visit the RECIPE INDEX with over 1000 recipes from around the world including lots of Vegetarian Recipes and Gluten Free Recipes!