Last Updated on November 19, 2019 by Chef Mireille
Icelandic Chocolate Porridge – #choctoberfest
Icelandic Chocolate Porridge – #choctoberfest – Kakosupa is a traditional comfort food Icelandic treat you won't find in any restaurant!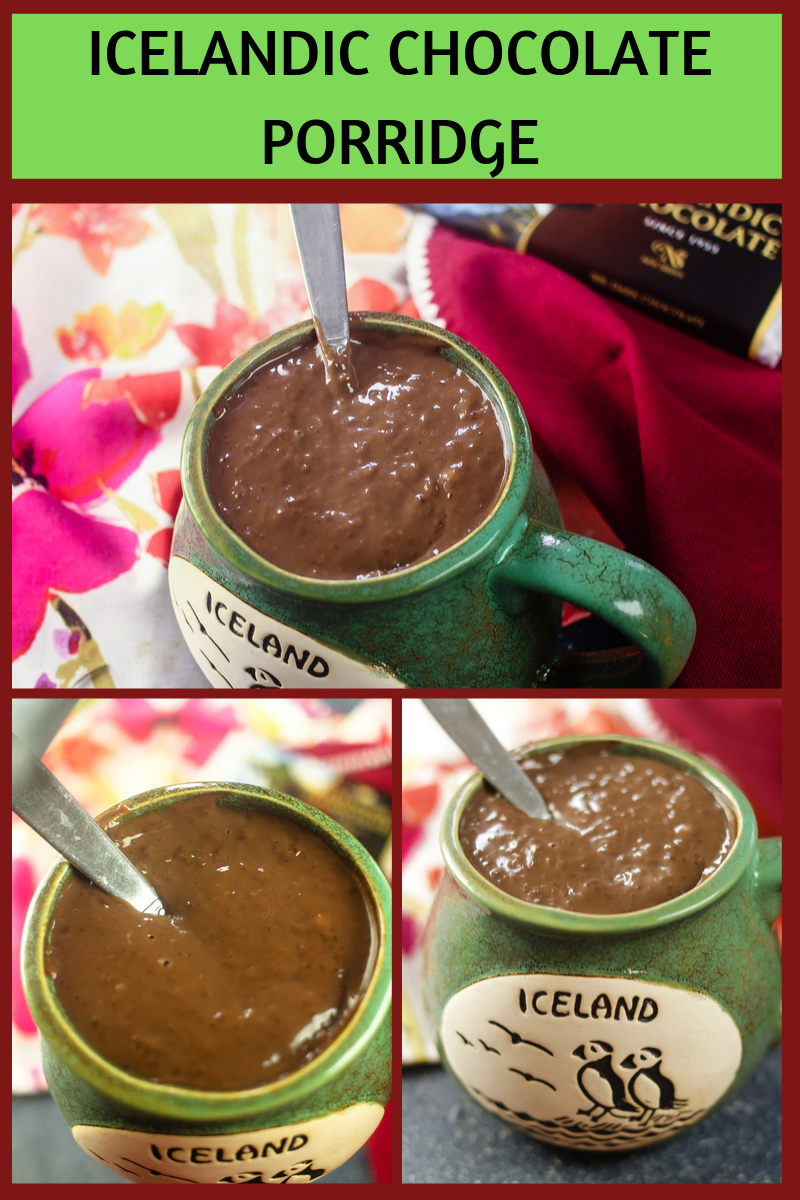 As many of you know if you have read my recent post detailing What & Where to Eat in Reykjavic, I recently came back from a trip to Iceland. Therefore, you know I had to present at least one Icelandic recipe for this weeks #choctoberfest.
As many of you know, I also work as children's culinary teacher in an after school program where I focus on teaching them foods and culture from around the world. Cooking is a great vehicle to teach your kids about history, geography and so much more.
I hope when you make any of my delicious recipes you also talk to your kids about the history of the recipe so they know what part of the world they are eating from. Perhaps looks for the country on a map or a globe. Cooking can lead to reinforcing their sense of history, geography, culture and math (if they are actually helping you make the recipe also).
I learned so much Viking culinary history when I was in Iceland and had the chance to visit a 7th generation family farm. Check out Viking Food Stories at FarmHotel Efstidalur to find out all I learned so that you can also impart this knowledge to your family as you enjoy this Icelandic Chocolate Porridge – #choctobfest.
Choctoberfest
I am celebrating #choctoberfest this week with 70+ other bloggers. Make sure you follow along and take a look at all the recipes for some chocolate inspiration and don't forget to enter the GIVEAWAY here.
Whenever I travel, I always pick up at least one cookbook featuring local cuisine. Iceland was no different and I adapted this recipe from Nanna Rognvaldardottir's Icelandic Food & Cookery.
This is a very traditional recipe you most likely won't find in any restaurant, but homestyle Icelandic comfort food.
There are two ways of making this. You can either use cocoa powder or actual chocolate. Since I came back with a few bars of Icelandic chocolate (70% cacao), I decided to utilize this in the more elevated version of the recipe.
In Iceland, whenever cocoa powder is used instead of dark chocolate, it is generally meant for kids. So this is the adult version of this traditional dessert.
Not only in Iceland, but you will find versions of this unique Icelandic Chocolate Porridge – Kakosupa in other parts of Scandinavia also – especially Denmark!
It is a very customizable. You can make it as thick or as thin as you prefer, depending on how much potato starch slurry you use.
It can be served either warm or chilled, depending on the season.
I hope I've interested you in checking out more delicious recipes from this part of the world. Check out some of my other Scandinavian recipes!
Scandinavian Recipes
Icelandic Chocolate Porridge – #choctoberfest
Ingredients
3 1/2

oz.

chocolate

½

teaspoon

ground cinnamon

3

tablespoons

sugar

2 1/2

cups

milk

3

tablespoons

potato starch

or cornstarch
Instructions
Using a double boiler, melt the chocolate.

Transfer to a saucepan. Use a rubber spatula to make sure you get all of the chocolate.

Add 1 cup water, cinnamon, salt and sugar.

Bring to a boil. Reduce to a simmer and cook for 5 minutes.

Add milk and bring to the boil again.

Reduce to a simmer.

Make a slurry by whisking together the potato starch with 4 tablespoons water in a small bowl.

Add to the porridge and whisk well until thoroughly incorporated.

Simmer 5 minutes.

Serve warm or chilled.
Notes
You can adjust the level of thickness as you prefer, using more or less of the potato starch slurry.
Did you try this recipe? Leave a comment below.
Please follow me on Instagram @chefmireille or tag me #chefmireille with your pics! I'd love to share them!
SHARE THIS DELICIOUS RECIPE WITH YOUR FOODIE FRIENDS
Don't forget to visit the RECIPE INDEX with over 1000 recipes from around the world including lots of Vegetarian Recipes and Gluten Free Recipes!