Last Updated on May 20, 2020 by Chef Mireille
Vatapa – Brazilian Shrimp Stew – a nutty seafood stew from the Bahia region of Brazil.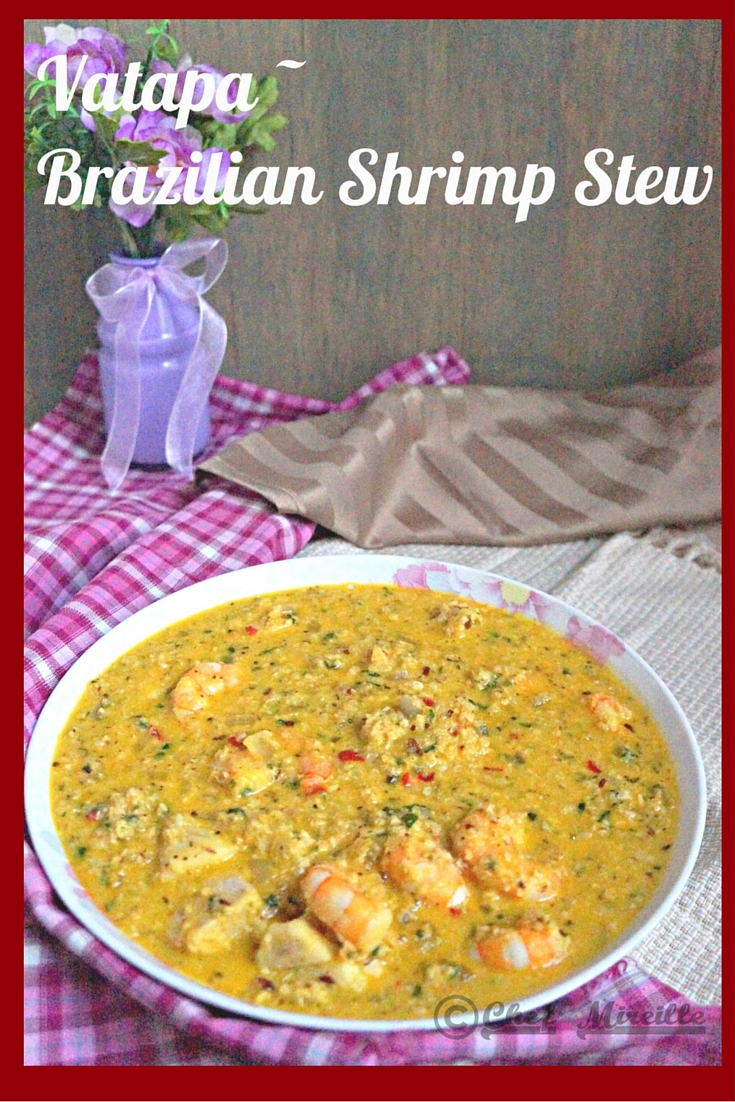 For letter V, I had two choices for Brazilian cuisine, Vatapa and Virado de Paulista. People from the Brazilian city of Sao Paulo refer to themselves as Paulistas and the recipe translated means Facing Paulista. It's a common breakfast plate in Sao Paulo. Very similar to Columbia's Bandeja Paisa, what I call heart attack on a plate with chicharones (deep fried pork skin), eggs and other fried foods. Sao Paulo's version includes beans, sausage, rice, plantain fritter, kale and fried egg.
Since most of the other foods I am presenting this week comes from the Bahia region, I decided to stick with the theme and do this much simpler recipe from Bahia, the region populated by African slave descendants. If you love nuts, shrimp and coconut, you would survive very well in Bahia as these three ingredients find their way into almost every Bahia recipe, including this one.
Palm oil, known as dende oil in Brazil, is the most common oil used in the Bahia region, It gives Bahia food its distinctive color and flavor. Its red color is due to its high beta carotene content. Although it is very low in cholesterol, it is high in saturated fats. Most non European cuisines like food that has some color. It is more attractive to the eye and ultimately, more inviting. India has turmeric, Puerto Rico has annatto seed and Brazil/Africa has dende oil.
I used monkfish in this recipe. As the ugliest looking one in the fish market, many people bypass its ugly face. It's definitely not a fish to present whole, when doing fried or grilled presentations, but it has very sweet and tender flesh. The flavor is great so it is perfect for soups, stews and curries.


IN THE MAKING – MAKING VATAPA
Dinnertime was just made better!
This was delicious, but unfortunately, I could not enjoy it as much as I loved the flavor. I discovered I had an allergy to Brazil Nuts when I was 12 and later, an intolerance for hazelnuts when eaten in large quantity. In the last year, I have noticed my intolerance for most nuts increasing. Although I can eat them, only in small quantity. Otherwise, I start to get itchy all over. The first night I had this, I heartily dug into this delicious stew with rice for my dinner and slowly the itching started. I was so annoyed as I loved the flavor and the sweet tasting seafood in this so much. So the small quantity of leftovers I kept for myself were eaten in small quantity with lots of rice.
At least my Mother LOVED it, which is saying a lot. I gave her most of my leftovers. My Mom is not a foodie in any sense of the world. She only eats because if she did not, she would cease to exist. When she makes the effort to call me to ask what I put in a dish because she liked it that much, it's an occasion. This is definitely a crowd pleasing dish….for those who can tolerate nuts.
Perfect representation of Afro-Brazilian cuisine…
Vatapa – Brazilian Shrimp Stew
Ingredients
1

cup

dried shrimp

1

cup

cashews

1

cup

sliced almonds

or slivered

1/4

cup

palm oil

2

chopped onions

2

finely chopped garlic cloves

1

finely chopped jalapeno

I used red jalapeno

1

cup

fish stock

or clam juice

3

cups

coconut milk

8

oz.

white fish fillet

I used mahi mahi

1

lb.

shelled and cleaned shrimp

2

tablespoons

finely chopped cilantro

salt

to taste
Instructions
Place dried shrimp in a bowl and cover with boiling water. Leave for 20 minutes for the shrimp to soften. Drain.

Rough chop the nuts by hand with a knife so that it is easier for the blender to grind. Combine nuts and shrimp in a food processor or blender and grind to a fine powder.

In a large skillet, heat dende oil. Add onions, garlic and jalapeno. Saute until vegetables are softened.

Add shrimp nut powder, fish stock and coconut milk. Bring to a boil. Reduce to a simmer and cook for 5 minutes.

Add fish and simmer for 10 minutes.

Add shrimp and cilantro. Simmer for 4 minutes.

Add salt to taste.

Serve with rice or farofa (toasted cassava meal/yuca) drizzled with palm oil.
Did you try this recipe? Leave a comment below.
Please follow me on Instagram @chefmireille or tag me #chefmireille with your pics! I'd love to share them!
Do you know anyone else who likes learning about international food, culture, history and travel? Bring them over here to join the party! Don't forget to use those share buttons!
Start Here to find out how the Schizo Chef can help you with your cooking, travel and other needs!
If you like this recipe, PLEASE LEAVE A COMMENT & SUBSCRIBE
Check out the Blogging Marathon page for the other Blogging Marathoners doing BM# 63
[inlinkz_linkup id=601076 mode=1]