Last Updated on May 20, 2015 by Chef Mireille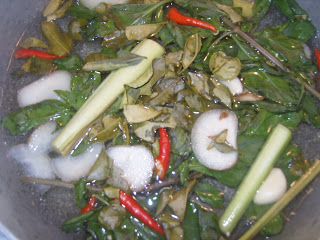 With the price of food nowadays, it is always an advantage when food can do double duty.
The following two Thai recipes will need the following specialty ingredients:
lime leaves
lemongrass
galangal (use ginger if you cannot find galangal)
red chiles
Thai Basil (use cilantro if you cannot find Thai Basil)
Sweet Chili Sauce
Thai Mussels
1 stalk lemongrass
5 red chiles
7 slices galangal (or ginger)
3 stalks of Thai Basil ( or a good handful of cilantro)
6 lime leaves
6 cloves garlic
2 lbs. mussels
In 4 cups water, bring lemongrass, chiles (tips removed), galangal, basil and lime leaves to a boil. Add mussels, reduce flame and cover pot. Cook for about 5 minutes until mussels have opened. Add a little salt, to taste.
Serve in a bowl with a little of the cooking liquid. Pour a little sweet chili paste inside the mussel shells and serve extra, for dipping, if so desired.
Thai Chicken Soup
Strain the ingredients in the cooking liquid of the mussels, reserving the liquids. Place all the ingredients in a food processor with about 1/2 cup of the cooking liquid and process well until all ingredients form a paste, about 5 minutes.
In a large pot, bring paste and reserved cooking liquid to a boil. Add chicken pieces (whatever parts you desire). Cook about 5 minutes and then add whatever vegetables you happen to have in your refrigerator. Cook until vegetables are cooked. Add salt and sweet chili sauce (about 2 tablespoons) to taste.
A few specialty items can go a long way!!

Chef Mireille
https://www.globaltasteinc.com
Like me on FACEBOOK!
Follow me on TWITTER!