Last Updated on December 16, 2019 by Chef Mireille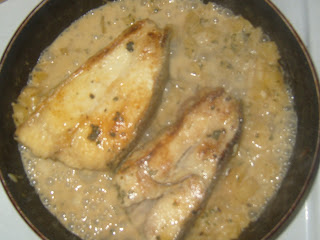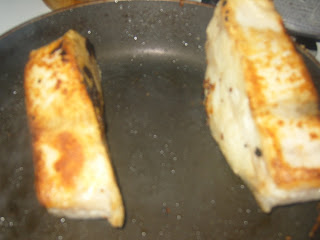 Fish is a great way to eat healthier and leaner. Salmon is probably the most over-eaten fish in the world and while I have nothing against salmon, there are such a variety of fish out there and you close yourself off to the variety of flavors available but just sticking to what is safe and familiar.
So here is a wonderful Halibut recipe using tropical flavors and for an unusual kick – some orange blossom water. If you cannot find orange blossom water at your local supermarket, go to any market that carries Middle Eastern products. If you live in NYC, you can find it at Kalustyans on 28th and Lex or 9th Ave. International Foods at 9th ave and 39th Street.
Tropical Halibut
1 lb. Halibut Steak
2 tablespoons peanut oil
1 teaspoon minced garlic
1 cup rice flour (approximately)
1 tablespoon Adobo with lemon or any spice blend you like (approximately)
8 pineapple slices, chopped (canned or fresh)
1 cup chicken broth
1 tablespoon orange blossom water.
6 oz. coconut milk
2 teaspoons dried cilantro
On a flat plate, combine rice flour and spice blend. Lightly coat fish on all sides with flour.
In a skillet, heat peanut oil. Add garlic for 30 seconds and then add coated fish. Brown well on all sides. Add chicken broth and orange blossom water and bring to a boil. Reduce to a simmer and cook for about 5 minutes.
Add pineapple and coconut milk and cook on high heat for another 5 minutes until fish is cooked through and sauce has thickened. Add cilantro and stir to combine. Add salt, to taste, if desired.
Serve with steamed rice or for a twist, orzo or couscous would be nice as well.