Last Updated on May 20, 2015 by Chef Mireille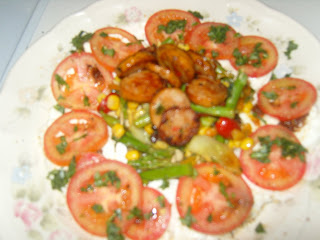 I recently joined my local Food Coop – the Park Slope Food Coop which is the largest in the country, in existence for more than 30 years. 100% member supported – the members work at the coop. With the decrease in paid labor, the coop is able to keep the prices very low – cheaper than your local supermarket and the added bonus of mostly organic products.
With the new year, many of us have made the resolution to eat better and lose weight in 2009. Shopping at the food coop is a great aid in accomplishing this by having a very large selection of organic products and especially fruits and vegetables – things like jicama, celery root, fresh tumeric and curry leaves just to mention a few.
Just because you live alone, that is no excuse not to make yourself wonderful, healthful meals that you enjoy. You do not have to be like the Diane Lane character in Must Love Dogs, eating a single chicken breast, standing up in your kitchen alone, EVERY NIGHT.
Make interesting meals for yourself and you will enjoy eating healthy meals, instead of pizza and Chinese food. This was my dinner tonight – just an idea to get you started to making delicious meals for yourself, even if you are single!!
The perimeter of the place is arranged with slices of fresh buffalo mozarella, then a dollop of fig spread and topped with slices of fresh tomato. A sprinkling of any spice blend you like and then freshly chopped tarragon (you can use any herb you like).
In the middle of the plate is a simple vegetable salad – this is what I used – but you can use any vegetables you like. This recipe serves about 4.:
1 bunch asparagus, boiled until tender but still crisp and then chopped into bite size pieces
1 small can of kernel corn
1 tomatillo, thinly sliced
1/2 cucumber, thinly sliced
10 grape tomatoes, halved
2 scallions, thinly sliced
1 tablespoons of unsalted sunflower seeds
2 tablespoon dried currants
Dress the salad simply with about 2 teaspoons of olive oil and the juice of 1 lime
Place a little of this salad in the middle of the plate and top with grilled chicken sausage (I used Applegate Farms organic Fire Roasted Pepper sausages made of chicken and turkey).
If you like, you can eat this with a few water crackers.
This is a wonderful low fat meal to make you enjoy your, healthy dinner!!
All the ingredients were from the Park Slope Food Coop – a coop I highly recommend if you live in the NY area!

Chef Mireille
https://www.globaltasteinc.com
Like me on FACEBOOK!
Follow me on TWITTER!