Last Updated on May 30, 2015 by Chef Mireille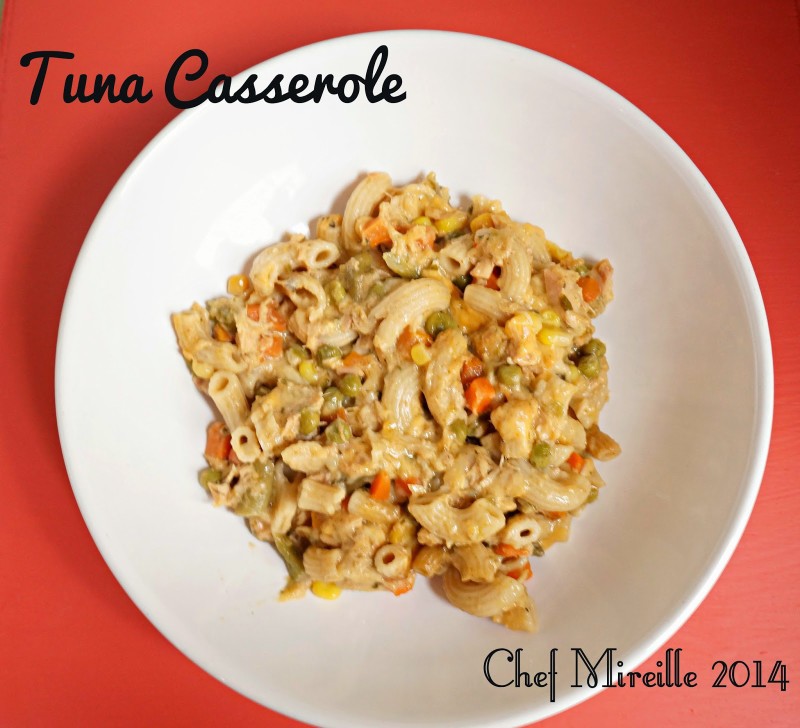 This is a toddler friendly version of tuna casserole. I made it a little looser than the traditional version. This one is softer and creamier, but this is how the kids loved it at the nursery school that I worked at. The kids aged 4 and under prefer softer foods. The firmer version makes them work a lot harder to chew, especially the 1-2 year olds.
Having your kids incorporate tuna from a young age is a good way to start teaching them healthy eating habits. Tuna is very high in Omega-3 fats, which reduces the risk of heart disease. It's very high in protein – just 3 oz. provides 50% of an adult's recommended daily protein intake. It's also high in potassium and low in sodium, aiding in controlling blood pressure. If you can get them to enjoy this heart healthy food from a young age, it will lead to them having a healthy heart as an adult.

I associate canned tuna fish with cold food. Tuna Fish salad is really the only way I ever ate tuna fish. Eventhough tuna melt sandwiches, tuna fish salad topped with melted sliced cheese made in a sandwich press, is a common deli sandwich, it was never something I enjoyed. I could not understand how tuna salad made with cheese heated would taste good. I was working in a University kitchen and I once filled in at the sandwich station. I was so surprised that just about every other person ordered a tuna melt. My curiosity was piqued and when my lunch break came, I decided to try one for the first time. My previous feelings were confirmed. I hated it and just about threw it up after the first bite. I tried one more bite and then it went into the garbage as I placed a different order for lunch.
When I started working at a nursery school cafeteria, my boss told me I could alter the menu any way I wished and in fact they wanted to put some innovation into the menu, with one exception. Tuna Casserole was the favorite menu item and that had to stay on the weekly menu. Since I was not a warm tuna fan, I had never made it before and had to look online for recipes. After looking up a few, I came up with my own recipe combining different elements I saw of many recipes. All afternoon, the staff was coming back into the kitchen to let me know they had loved my version of the casserole. So when I made it again the next week, I decided to try it. No one was more surprised than I that I actually liked it. It turns out it wasn't the warm tuna and cheese combo I hated but I think the warm mayo and tuna that made my stomach turn.
To ensure that the kids would eat all their veggies, I put them into the casserole instead of serving the veggies on the side, as had been done in the past. I also used whole wheat pasta to add fiber to the meal. All the plates were cleaned with the kids asking for seconds and a few even asked for thirds. This is a kid tested and approved recipe!
Tuna Casserole
Serves 8
Ingredients:
2 cups whole grain macaroni
10 1/4 oz. can condensed cream soup (I used cream of asparagus)
8 oz. grated cheddar cheese
8 oz. grated pepper jack cheese
2 15 oz. cans tuna fish packed in water
1 teaspoon dried oregano
2 teaspoons paprika
2 tablespoons parsley, finely chopped
3 cups frozen vegetables, defrosted
Preheat oven to 400 F.
Cook macaroni in boiling water until al dente.
In a saucepan, empty the contents of the condensed soup. Fill the can 3 times with water and and add to the saucepan. Stir to combine. Bring to a boil and boil for 10 minutes.

Remove from heat. Add parsley and 3/4 of the cheese. Stir until the cheese melts.
Drain the water from the tuna fish cans. In a large bowl, combine cooked pasta and tuna. Break up the tuna chunks. Add frozen vegetables, oregano and paprika. Stir to combine.
Add cheese sauce to bowl and stir to combine.
In a large casserole dish, place entire contents of the bowl.
Bake for 1 hour.
Leave it to cool before serving, to let it firm up a bit.

Notes:
If you would like a firmer casserole, empty only one can of water with the condensed soup.
The pepper jack adds only a little spice, however if your child does not like any pepper at all, replace with additional cheddar.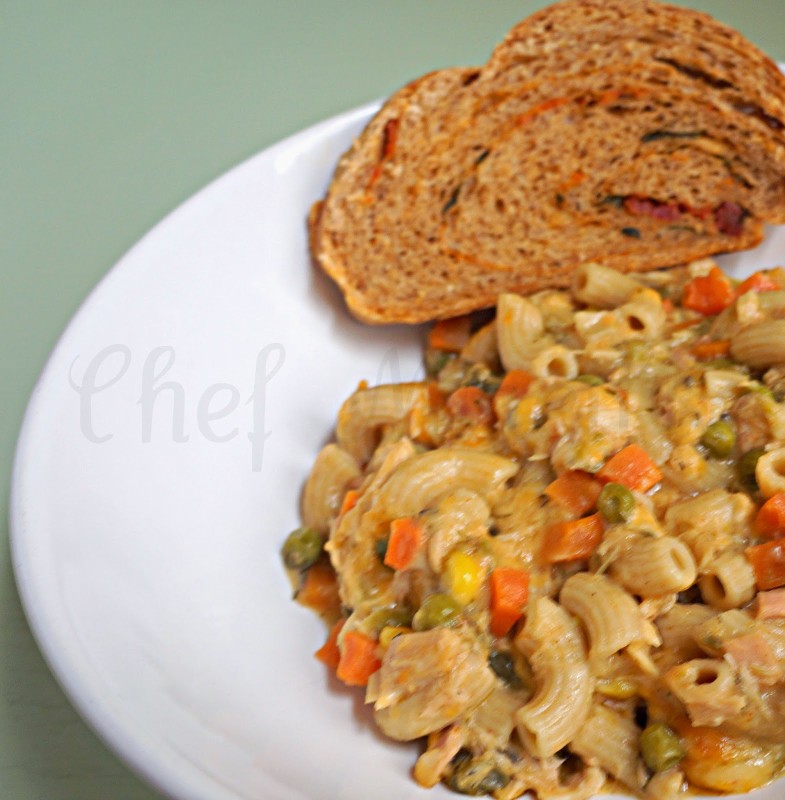 Check out the Blogging Marathon page for the other Blogging Marathoners doing BM#46
…linking to Kid's Delight hosted by me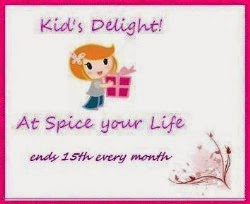 LIKE THIS RECIPE? LEAVE A COMMENT..I LIVE FOR THEM!
Chef Mireille