Last Updated on July 27, 2021 by Chef Mireille
Breakfast in Thailand is very different than what you might be used to with western breakfasts. While there are many options for breakfast in Thailand and American breakfast options will be available in most hotels, here is my compilation of the Top 5 Thai Breakfast Dishes if you are like me…and you prefer to eat like a local!
Whether you choose to enjoy these options at your hotel, in a local restaurant or from a street side vendor, this is a great guide so you know what to eat in Thailand.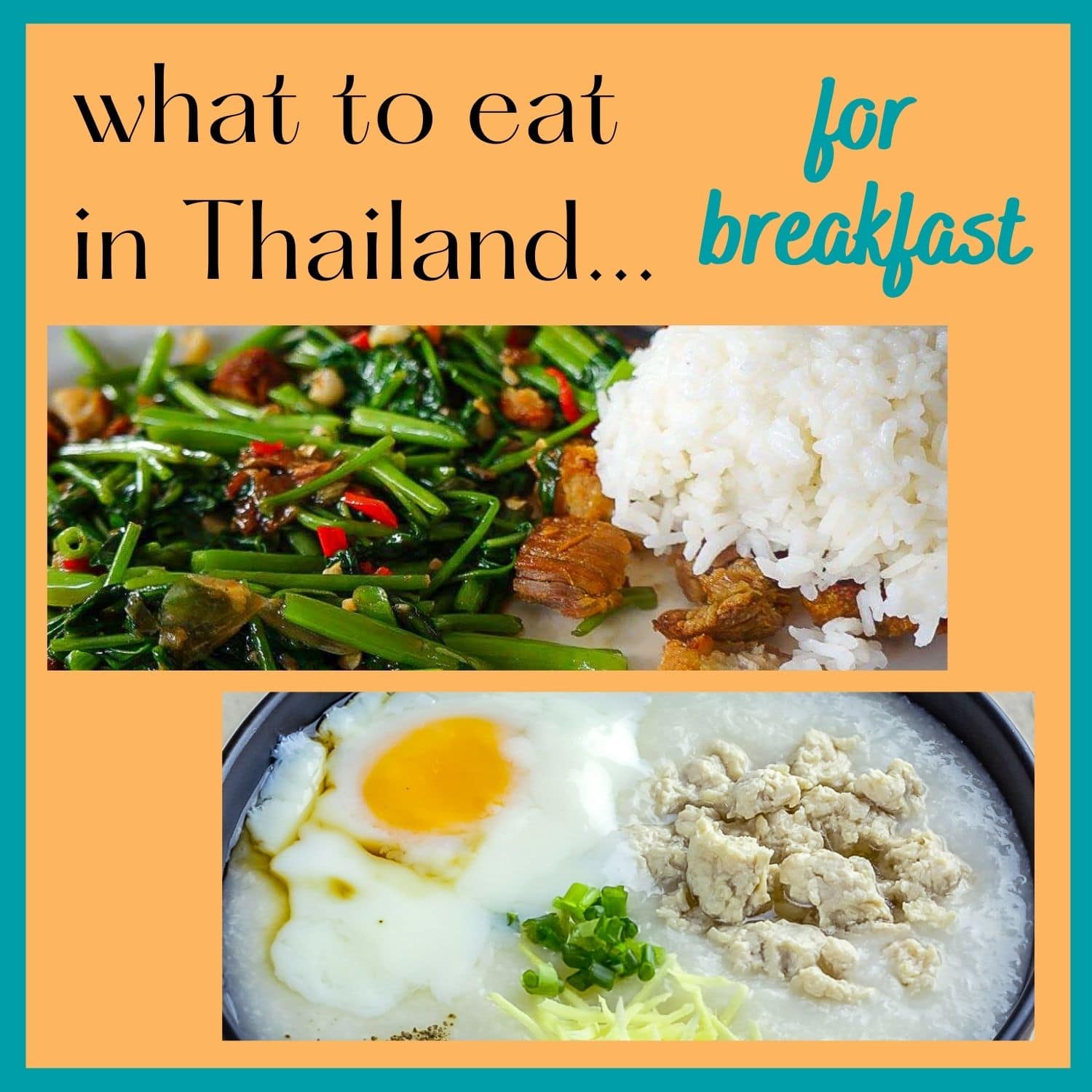 This post may include affiliate links.
One of the best parts of my trip travelling throughout Southeast Asia was enjoying the street food and no one is better at that than the Thai's. When you go to Thailand, skip the hotel breakfast and enjoy the meal like the locals do…from streetside hawkers and roadside cafe's. 
Food in Thailand Price
Although the hotel breakfasts might be convenient, you will have more options, save some money and usually more authentic flavors my buying streetside. The hotels, especially the larger ones that cater to westerners, often mute the traditional flavors for western palates.
In Thailand, you can't walk more than 10 steps without passing a vendor selling something delicious like fresh fruit juice to curry and sticky rice to roti canai. The options are endless. The only challenge sometimes is finding some place to sit down to eat it.
However, there are often many streetside café's that offer seating with food just as inexpensive and as delicious as the street vendors.
You will not spend more than $5 USD on your filling delicious Thai Breakfast! 
---
How do you eat when on vacation? My philosophy has always been "When in Rome… you know the saying…
Why eat bacon and eggs when I can get that any time I want. I really don't understand tourists who go to other countries and complain when they can't get the food they are used to. If you want what you're used to, stay home. My pet peeve is when I read reviews (and unfortunately its usually Americans) complaining about poor service if the restaurant did not include pancakes for breakfast as an example. You're in another country. Why not explore the culture by stepping out of your comfort zone and eating breakfast the way the locals do!
If you're planning a vacation to Thailand, here's just a few examples of some of the possibilities you can enjoy for breakfast if you take the plunge and eat like a local. Skip the continental breakfast at the hotel and explore breakfast in Thailand like a local. Thailand has one of the largest street food cultures in the world and it starts at breakfast.
What is a Typical Breakfast in Thailand?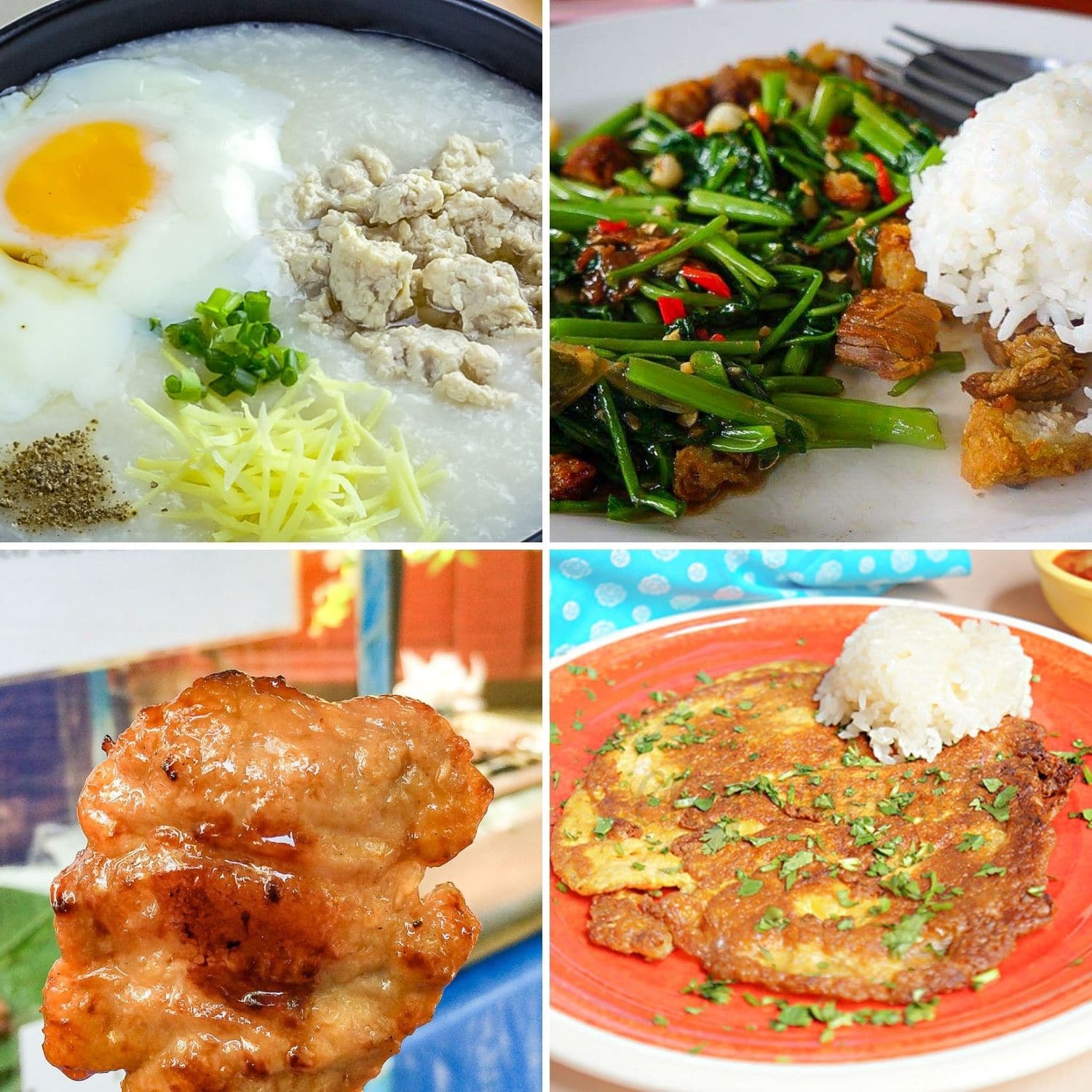 Khao Soi Gai
Soup is a very common breakfast item in most of Asia. This is a Coconut Curry Noodle Soup with Chicken. It includes both boiled noodles and also topped with deep fried noodle bundles. It originated in the northern city of Chiang Mai, but it is a just as popular Thai breakfast in Bangkok. You can get this at restaurants large and small, as well as street side vendors. This was my breakfast all of the three mornings I was in Chiang Mai. It encompasses the perfect balance of multi faceted flavors common in Thai foods. Try it yourself with my Khao Soi Gai recipe here of this popular soup.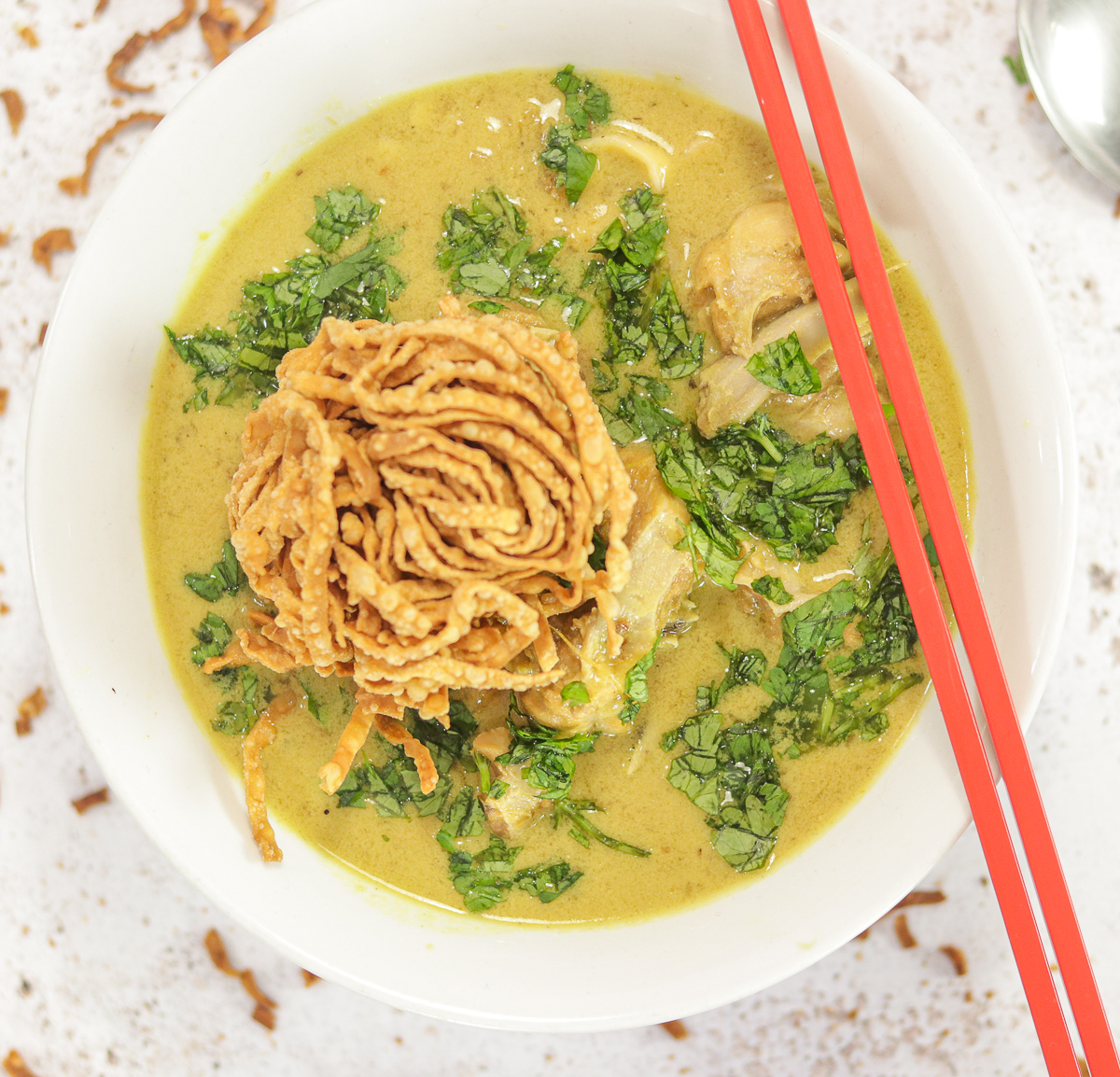 Sticky Rice Combos
Sticky Rice is the staple grain of any meal that does not include noodles in Thailand. Any variety of savory dishes can be had with the ubiquitous sticky rice.  
On just about every street corner you can find Fried Chicken or Pork served with sticky rice in a small plastic bag or the meat may be grilled on a stick instead of fried.
Here are just a few of my favorite Sticky Rice Combos you can enjoy for your Thai Breakfast.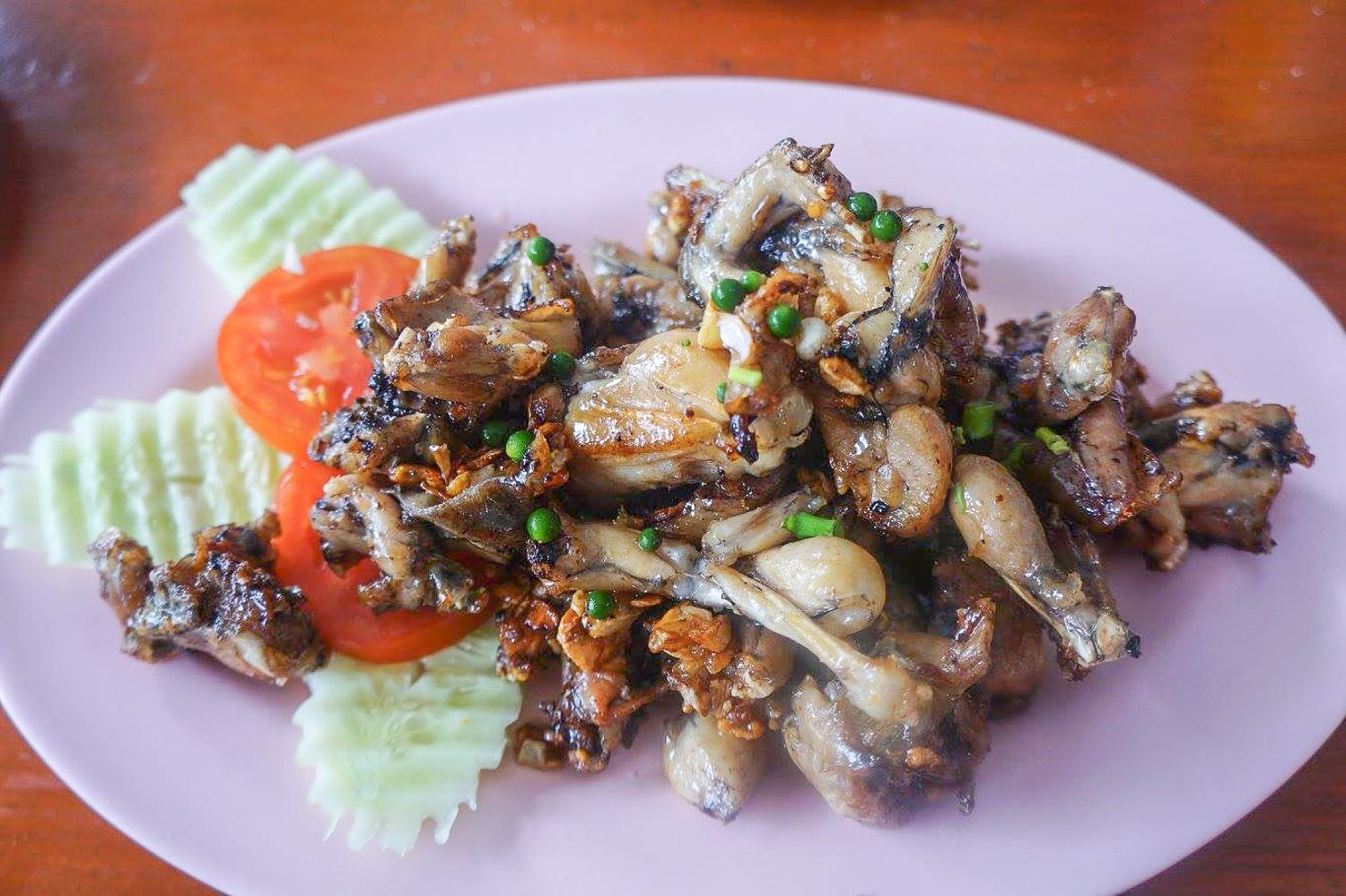 Frog legs 
Morning glory with Fried Pork 
Milk Pork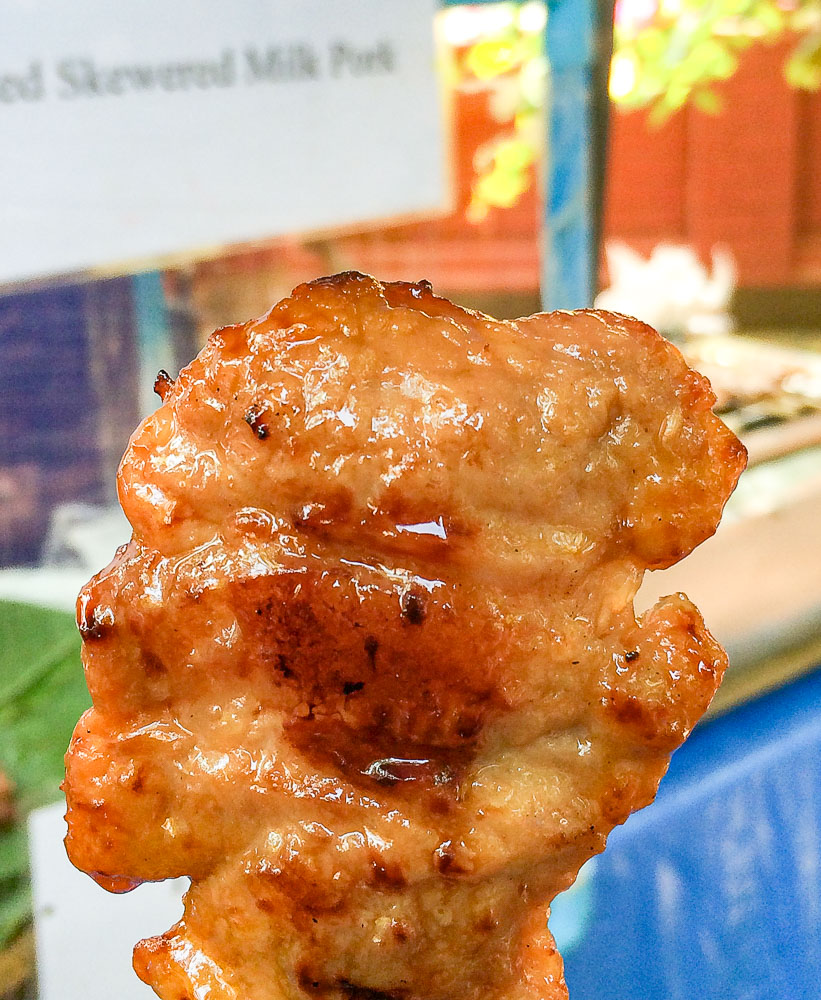 Fried Omelet
Omelette's are prepared differently in Thailand that you are probably used to. First of all in a Thai Omelette, the eggs are flavored with fish sauce or lime juice. Even a plain Thai Fried Omelette is deep fried in as much oil as you would use to make french fries or any other deep fried food. 
They are made two ways – either crispy or fluffy. In the fluffy version, a bit of flour is added.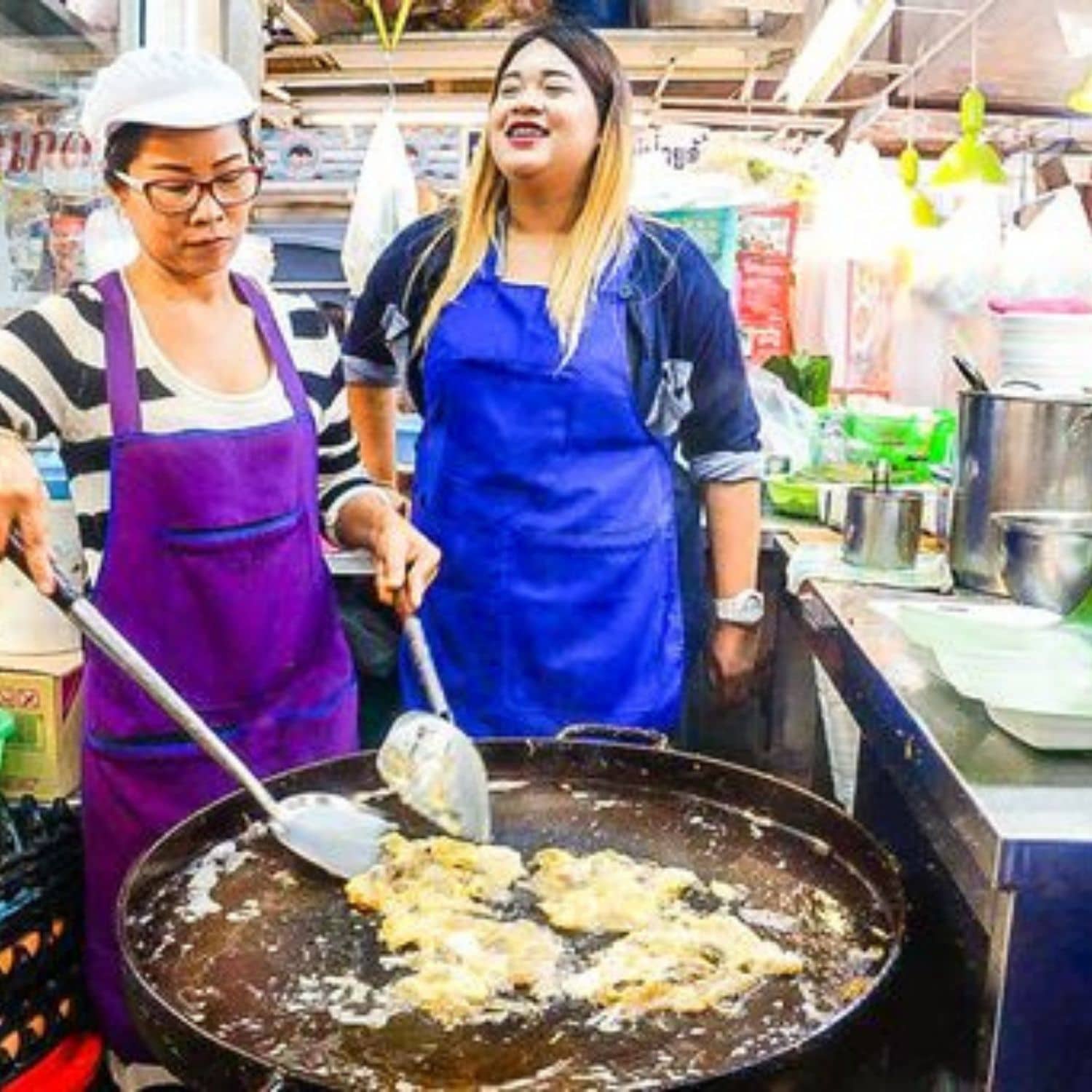 They are also often stuffed with either pork, oysters or other seafood.
Try it yourself with my crispy style Thai Fried Omelet Recipe here. 
Thai Toast
This is the closest thing you can get to an American breakfast. It's very similar to French Toast, except it topped with sweetened condensed milk, instead of maple syrup. There is also a savory version of this made with pork or shrimp. My favorite version was the Thai Shrimp Toast. 
Jok Rice Porridge
Known as Jook in Korea and Congee in China, this thick rice porridge is a common breakfast item throughout Asia. Starchy sticky rice is cooked into a porridge consistency and then garnished with a variety of meats, eggs and/or vegetables. Flavored with fish sauce and soy sauce in Thailand, it's a tasty way to start the day.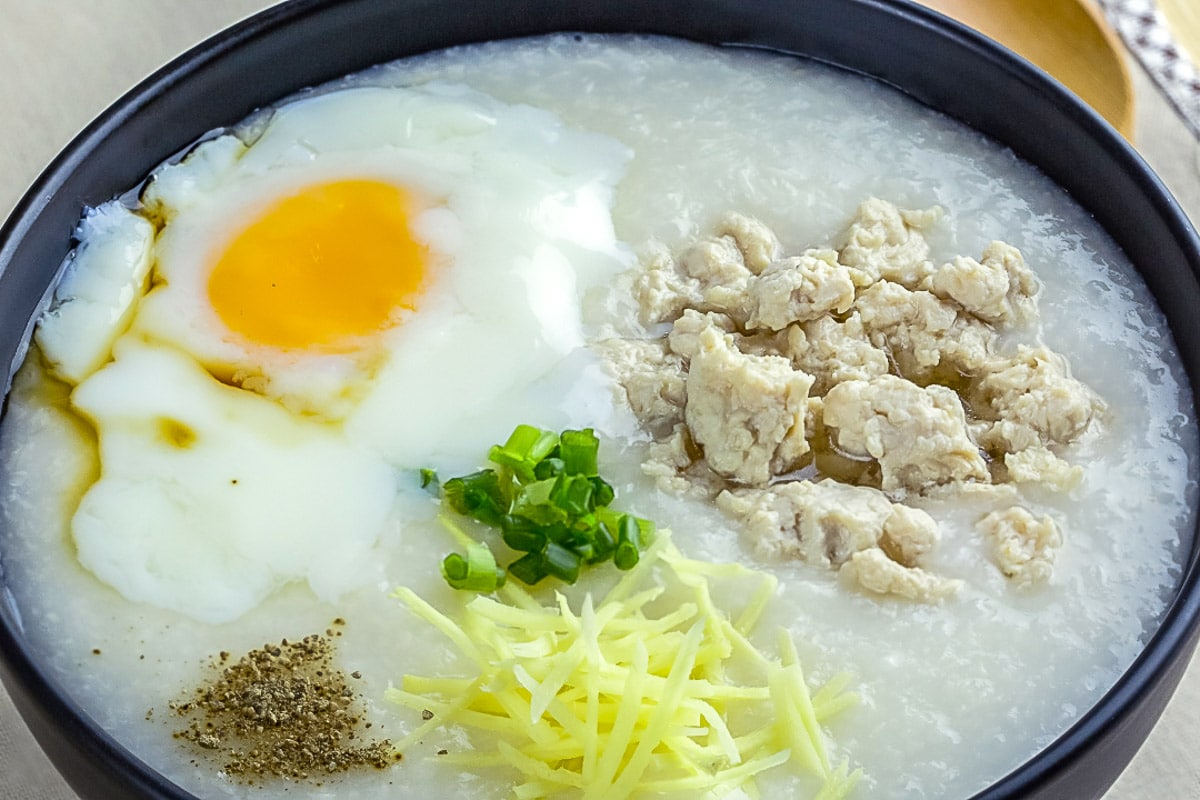 Eat like a local and you will come back home craving Khao Soi..instead of pancakes!
Looking for what else to do in Bangkok – Check out this post for more ideas!
Ready to go to Bangkok and taste all the delicious food? Which are you most excited to try?
To help you in navigating Bangkok, check out the Bangkok Public Transportation Guide HERE.
Don't forget to visit the RECIPE INDEX with over 1000 recipes from around the world including lots of Vegetarian Recipes and Gluten Free Recipes!