Last Updated on January 12, 2020 by Chef Mireille
Brighton Beach – Russian Enclave in Brooklyn – NYC – Visit Brighton Beach for the beach and traditional Russian fare in NYC.

In a place as busy as New York, there are so many different kinds of vacations you can plan. You can plan a museum vacation and visit places like the Guggengein, the Whitney, MOMA (Museum of Modern Art) and the Museum of Natural History, just to mention a few. Another theme of your vacation could be culture. Visit places like Chinatown, Harlem, Staten Island (for the Sri Lankan community, Jackson Heights (Little India) and Brighton Beach.
I know few people associate the beach with New York City. The skyscrapers that dot the skyline tend to overshadow the fact that Manhattan and the surrounding borroughs are all located on islands. Therefore, we have a coastline and therefore, we have beaches.
With a visit to Brighton Beach, you hit culture and a beach vacation all in the same day. While we have many beaches in the New York City area, sometimes if you don't have a car, they can be expensive and take hours to get to. Brighton Beach is right off of the regular subway. All you need is a $2.75 fare on the Metrocard and the beach is just 4 blocks away. Not only are you just blocks away from the beach, you are also in the heart of Russian Brooklyn. Hope your sign language skills of point and jesture are sharp because you will walk into shops and not a single person speaking English will be there. I once saw a delicious looking stuffed pastry and it took 5 people to be contacted before someone could tell me that the filling inside was pumpkin.
How to get here:
Take the Q train heading to Brooklyn and get off at the Brighton Beach stop (approximately 1 hour from Times Square). Pick up some snacks along Brighton Beach avenue as the only dining establishments on the beach boardwalk are two pricey Russian Restaurants, Volna Cafe and Tatiana. You will likely be the only non-Russian eating there, but the staff speaks English and are friendly at Volna.
Although if you want a snack, get the homemade fruit juice at Volna cafe. Made with gooseberries, sour cherries and other Eastern European berries, it's served ice cold and very refreshing on a hot summer day.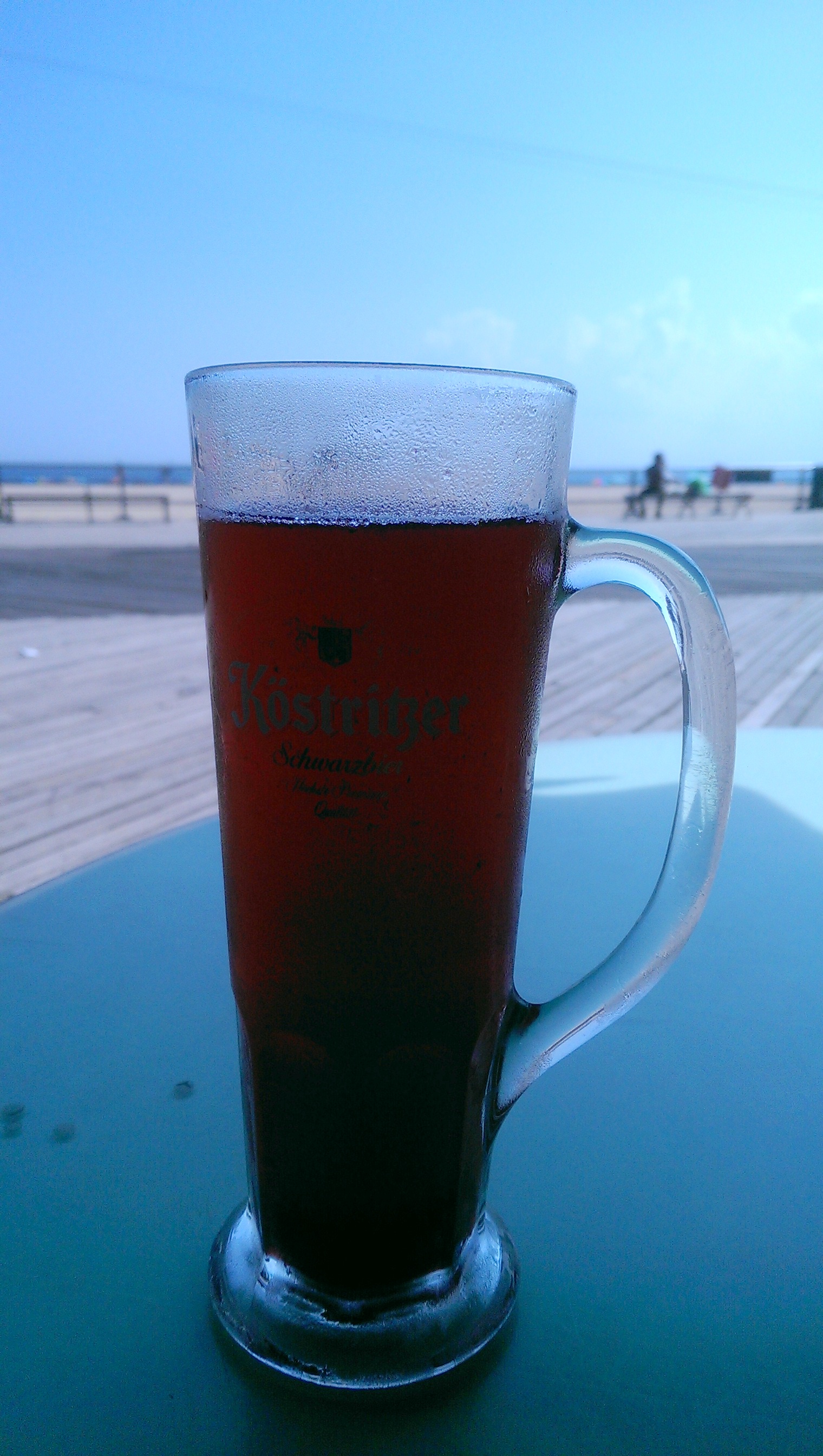 After you've spent the day swimming in the waves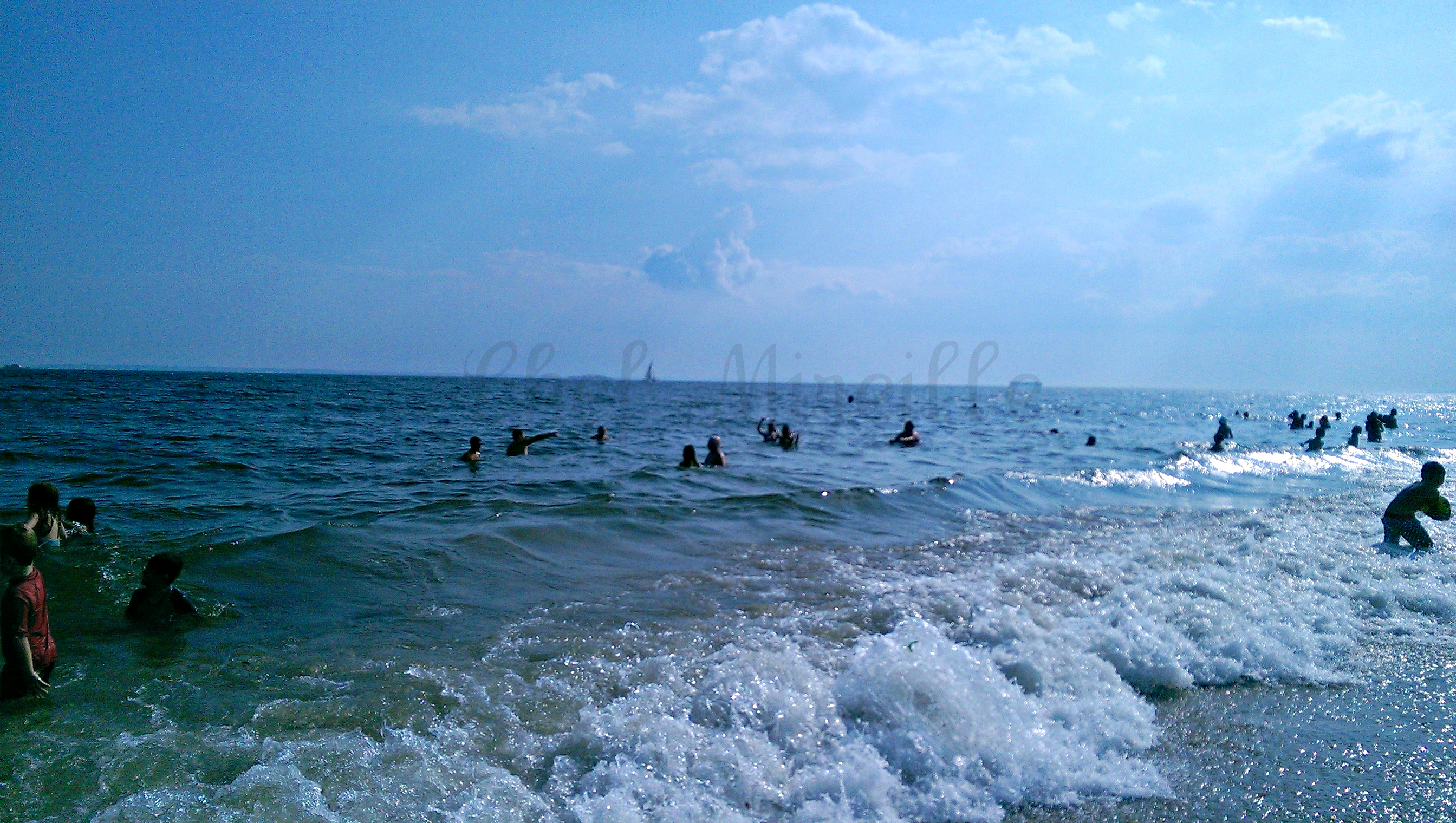 or maybe tanning on the beach…
or people watching as the sailboats and fishing boats sail by in the background…
..then spend some time discovering the culinary delights of Brighton Beach.
I am a foodie after all, so of course I have to discuss the Russian food that's available in the area.
Walk down a few blocks from the train station on Brighton Beach Avenue and stop at one of the fruit and vegetable markets around Brighton 3rd Street and you will see fruits not available in other parts of the city. Sour cherries, fresh white and black currants, green and black figs, fresh prunes, many plum varieties and all sorts of European fruit are available.
They are a bit pricey at least by South Brooklyn standards, however since they are rarely if every available in other markets in the city, you are paying the extra money for the rarity.
Even better is to stop at one of the Russian markets and get some ready made foods. Also most of the restaurants along Brighton Beach avenue have a flat price weekend brunch, where you can enjoy a multi course authentic Russian meal. Even without the brunch special, the prices are usually better than the restaurants on the boardwalk. The one place I used to frequent has since closed down. Although I can't personally recommend them as I have not eaten there, here is a few you can try:
If you make it there before me, I would love to hear your feedback on any of these Russian restaurants.
If you'd like a day trip out of the city while you are here, hop on the Q train and don't miss a visit to Russian Brighton Beach!
Do you know anyone else who likes learning about international food, culture, history and travel? Bring them over here to join the party! Don't forget to use those share buttons!
Start Here to find out how the Schizo Chef can help you with your cooking, travel and other needs!
If you like this recipe, PLEASE LEAVE A COMMENT & SUBSCRIBE!