Last Updated on January 12, 2020 by Chef Mireille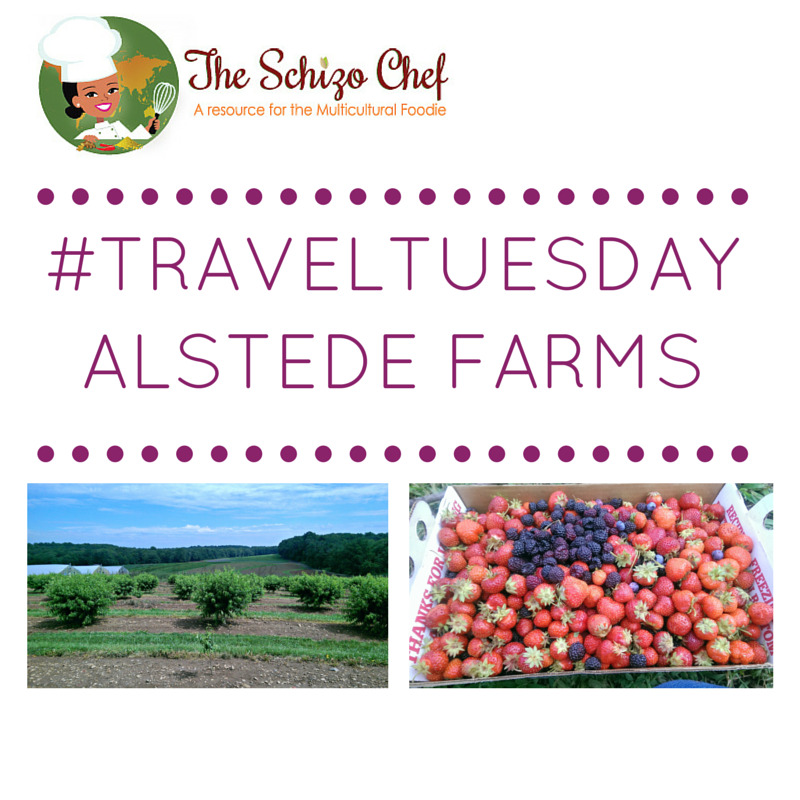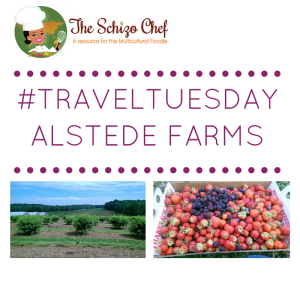 Alstede Farms – Day Trips from NYC – Are you a foodie? – Then a day trip to a local farm where you get to pick your own stuff might be for you!
Today's #TravelTuesday post is a day trip from NYC. Maybe you can't get time off of work or it's just not in the budget for a full length vacation this year, but there are lots of day trip options from NYC. Sure you can join the crowds en masse and head out to the Hamptons or the Jersey shore. But if you're a foodie like me, the best day trip out of the city is a visit to a local farm where I get to pick my own produce off of the trees and plants. I can then come home and let me creative juices flow with the fresh fruit and vegetables I pick.
I've gone to different farms in both upstate New York as well as Long Island, but Alstede Farms is my favorite, which I have been visiting for the past 3 years. I've gone several times. Once during peach season which was great. They were the best tasting peaches I ever had and it inspired me to create things like Peach & Tomato Chopped Salad & Peach Upside Down Polenta Cake. I've gone during berry season which is happening right now. The strawberry plants are just about picked bare, so I am afraid you missed the strawberry season. If you go now, you will have the opportunity to pick blueberries as well as both black and red raspberries. Yes black raspberries. Did you know that red raspberries are native to Europe but black raspberries are native to North America. They are sweeter than the red variety and were my favorite of the picking I did on Independence Day. However, late summer/early fall is my favorite time to go when in addition to the usual apples and pumpkins, you will be able to pick fall raspberries, lettuce, eggplant, tomatoes, okra as well as a variety of green, yellow and purple beans. In addition to the variety of produce you are able to pick yourself, the farm store has even more produce available for purchase.
It's a large farm, so wagons with hay bales for seats are available to take you to the different parts of the farm.
There are also many different children's activities, although at an added cost, like pony rides and corn kingdom. Free are a stack of hay bales for the kids to climb around on – like a natural monkey bars. Although I have also gone with some blogger friends, I often go with one of my friends and her kids. They love the hay bales. It's a working farm with animals. There are several feeding stations, where the kids can feed goats or chickens. You may also see horses or other animals grazing as you ride the wagon to different parts of the farm.
However, there are also adult activities like wine tasting. Check their schedule on their website and you can see if any festivals are occurring when you plan to visit.
Why I have remained loyal to Alstede Farms the past several years is because it is the most accessible to public transportation. Located in Chester, NJ, it's about a 1 1/2 hr. train ride on NJ Transit from Penn Station to Gladstone Station and a 15 minute cab ride and you can connect to nature – a great day trip out of the city. Oh and by the way, kids ride free on NJ transit on weekends.
Do you know anyone else who likes learning about international food, culture, history and travel? Bring them over here to join the party! Don't forget to use those share buttons!
Start Here to find out how the Schizo Chef can help you with your cooking, travel and other needs!
If you like this recipe, PLEASE LEAVE A COMMENT & SUBSCRIBE!