Last Updated on November 1, 2019 by Chef Mireille
Singapore Airline Review & Changi International Airport
Singapore Airlines Review – Consistently rated as one of the top airlines in the world, it has been #1 4 times. 5 star customer service and gourmet meals!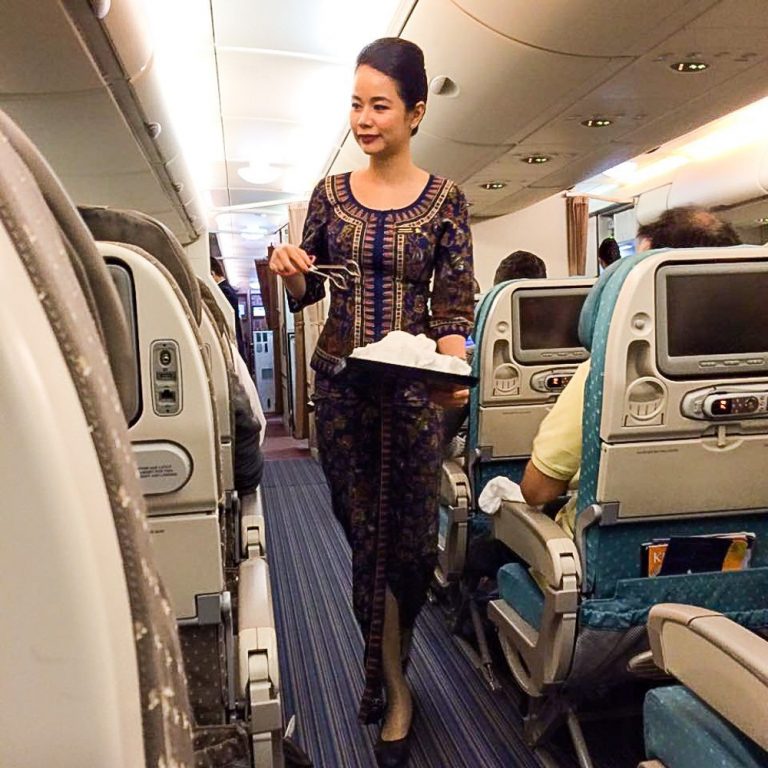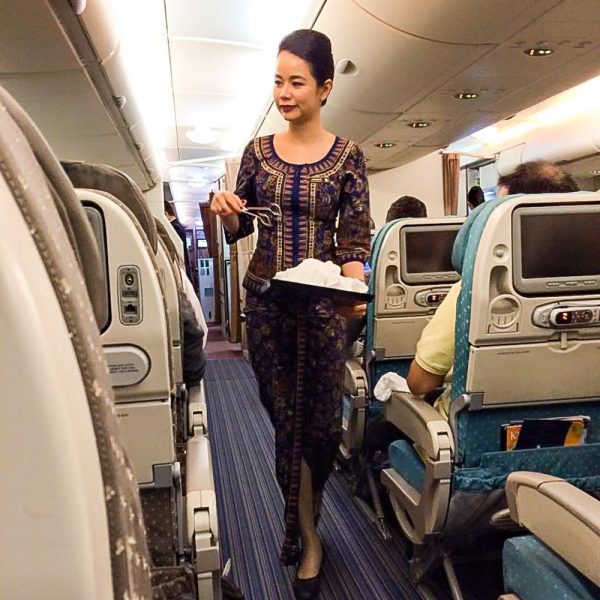 Last month I spent two weeks traveling around four countries on 5 different airlines. (2016). I traveled on one of the best airlines in the world and one that is one of the worst in regards to customer service. From small local flights on Air Asia & Thai Airlines to the international crossing, I traveled everywhere via plane. Here is my review of the best of the five.
Singapore Airlines
This was my second time flying on Singapore Air. The first time was back in 2001 when I flew them from Newark to Amsterdam for my cousin's wedding. At that time, I knew nothing of the airline and only chose it because it was the best priced ticket. I later found out that they are consistently rated one of the top airlines in the world. They have been ranked #1 4 times and are habitually in the top 3.
At that time, I was impressed with their meal service with printed menu's and the individual monitors at every seat. This was before it became standard fare on most airlines. Needless to say, my expectations were high when I had the opportunity to fly with Singapore Airlines again and they did not disappoint.
Food
One thing you will never complain about is being hungry!
There are both western and eastern meal choices. Each meal has at least 5 parts. Meals occurred every few hours and in between meals, staff was always walking around with trays of beverages. (This was a sharp contrast to Air India whose staff went into hibernation in between meals.)
They serve meals around your schedule; not theirs. If you are sleeping when a meal is served, they skip over you. When you wake up, they will then bring you your meal.  I don't know if they have an antenna or something, but literally within 5 minutes of waking up, a flight attendant will appear almost like magic and ask you if you are ready for your meal.
Additionally, on the menu it is printed if you require a meal in between service, they will bring you something. Are you kidding me!!! I don't know how any one could possibly stuff any more food inside them than is served.
After the third meal, I was only finishing about 1/2 of what I was served.
The 10 1/2 hour flight from Frankfurt to Singapore seemed to fly by. I spent most of it sleeping and eating, even though there were tons of movie and TV show choices on my monitor.
No Crying Children
Anytime a baby would cry, the staff would immediately go and try to help the parents with toys or games for the kids. Therefore, I barely heard a crying child, which is difficult on such a long flight.
There is a blank area at the front of economy class. That was set up almost like a play area. When a child would start getting antsy, they would go there and with other kids to play with, there was no crying.
Sometimes all the toddlers needed was to walk around since they were in their seats for so many hours and this space solved the problem.
Customer Service
All amenities like pillows and blankets are waiting on the seats without you needing to ask.
The staff on Singapore Airlines goes above and beyond, appearing out of nowhere the second you wake up to helping soothe restless children.
There is a reason why Singapore Airlines has been voted #1 in the world 4 times, most recently in 2018!
RELATED: WHERE TO WATCH SINGAPORE LASER SHOWS
Changi International Airport
If your flight involves a long layover at Singapore's Changi Airport, there is no need to worry. The customer service you experience at Singapore Airlines will continue at the airport.
With everything from a movie theater, swimming pool and gaming center to more basic necessities like showers, rest areas, charging ports and baggage storage, having to spend several hours in the airport will fly by.
Here are some of the activities you can enjoy while there, including a free city tour.
With a medical clinic, pharmacy and supermarket, the airport itself is basically like a small city. There are also play areas and kid friendly activities also. There really is no reason to leave the airport, if you get stuck there.
However, if you are planning to stay in Singapore and still want to check out some of the airport amenities, make sure you do it BEFORE YOU CLEAR CUSTOMS. Once you've cleared customs, you won't be able to get to these activities, until you are ready to leave the island nation.
Prior to departing, I had read about all the things to do at Changi International Airport, a central hub of South Asia. I was excited to check out the Sunflower & the Orchid Gardens.
Sadly, I didn't realize I needed to see these things before I cleared customs. So I missed all the gardens they have including the Enchanted Garden and not to mention the movie theater and kids' zone (if you have kids).
Either take advantage of the sites before you go through customs or come to the airport early on your day of departure so you can check out some of these facilities.
You will get a sense of the multi cultural island by the variety of dining choices available.
At the time I was there, there was a huge Star Wars exhibit promoting the upcoming film (2016). Who knows what surprising cool exhibit will be there when you go!!!
If you ever have a long layover in Asia, try to make it to Singapore even if you never leave the airport.
With Singapore Airlines' superior customer service and gourmet dining plus all of the amenities at Changi Airport, trying to squeeze in a Singapore layover when you travel to Asia should definitely be one of your travel goals!
Don't forget to visit the RECIPE INDEX with over 1000 recipes from around the world including lots of Vegetarian Recipes and Gluten Free Recipes!