Last Updated on January 13, 2020 by Chef Mireille
Tiffin Wallah – South Indian Vegetarian Cuisine- NYC – Come for the lunch buffet and the dosas!
I think I have mentioned this place before, but I went to Tiffin Wallah this week, after not going there for several months. I had gotten up a little late and had no time for breakfast. I went straight to a client I had that morning and cooked for 3 hours. By this time, it was noon and I had not even had a drop of water. Needless to say, I was STARVING!
I didn't want to spend a lot of money, but I wanted something delicious and filling and then I decided to go to Tiffin Wallah. I know they have a great lunch buffet, but usually, when I go it's too late and I miss it and end up having one of their delicious dosas for dinner. For once, I was free and had the time to go there at lunch time.
7.95 for an all you can eat Vegetarian Indian lunch. I am a carnivore, but this is the one place I go, where I don't miss the meat. Their food is just so flavorful and delicious. Meat – what's that – who needs it? Nobody – if they are eating at Tiffin Wallah!
I started out with a delicious cup of Masala Chai. Spices were not just dumped in at the end. You can tell it was all brewed together to perfection. So flavorful I did not even need to add sugar, like I usually do.
Then I went to the buffet. The sidebar includes a large variety of chutneys – tomato, tamarind, coriander, coconut and a few others I did not even know what they were. I could have asked because their staff is super friendly and always willing to answer any questions you may have of Indian food, but I was satisfied with the ones I knew.

The buffet included two types of dal, three vegetable curries, some kind of fried balls (insides were ground dal, I think – they were so delicious I really didn't even bother to ask the staff what it was), pulao, chappati roti and saambhar.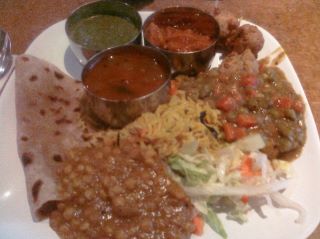 My plate of food at Tiffin Wallah
The roti's were freshly made – warm and comforting. The food is not very spicy. They leave it up to you. Just add the saambhar and you can make your meal spicy or not – whatever your preference!
The restaurant is also certified Kashrut, so if you keep Kosher and love Indian food, don't forget to try Tiffin Wallah, located at 127 E. 28th street!
Do you know anyone else who likes learning about international food, culture, history and travel? Bring them over here to join the party! Don't forget to use those share buttons!
Start Here to find out how the Schizo Chef can help you with your cooking, travel and other needs!
If you like this recipe, PLEASE LEAVE A COMMENT & SUBSCRIBE!