Last Updated on June 3, 2015 by Chef Mireille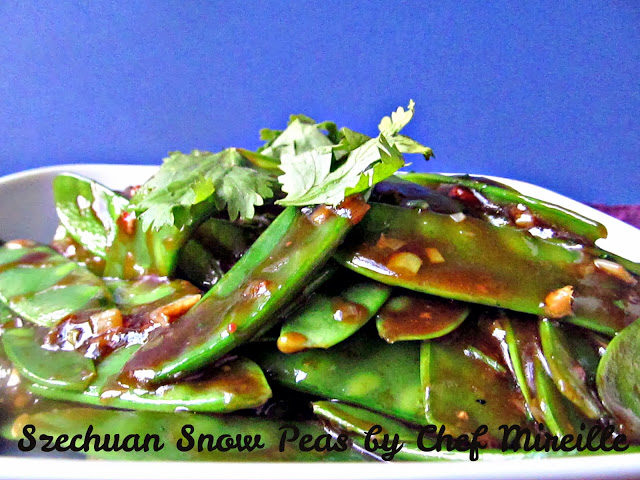 Szechuan cuisine is the food from the Sichuan province in southwestern China. This cuisine is distinct with the use of the Sichuan pepper, which actually is no relation to the black or white peppercorn and has a citrusy, rather than a spicy flavor. However, szechuan cuisine is characterized by the liberal use of chile pepper, garlic, star anise and ginger.
I created this simple stir fry using the flavors of the Sichuan province.
Szechuan Snow Pea Stir Fry
Serves 4
Ingredients:
4 cups snow peas, trimmed
1 tablespoon oil
2 scallions chopped
3 small Asian chiles, finely chopped
2 cloves garlic, finely chopped
1 tablespoon ginger, grated
1 star anise
2/3 cup boiling water
2 tablespoons black soy sauce (thick soy sauce sweetened with molasses)
1 teaspoon chile oil
2 tablespoons water
1 tablespoon cornstarch
1/2 teaspoon Sichuan pepper, ground
1 tablespoon cilantro, finely chopped
salt, to taste (optional)
In a small bowl, add boiling water to star anise. Let sit for 15 minutes. Remove the star anise. Whisk the soy sauce with the water.
In a wok or skillet, heat oil. Add scallions, chile, ginger and garlic. Saute for 1-2 minutes, until softened. Add snow peas and stir fry for 1 minute. Add water-soy mixture. Cook for 3 minutes.
In a small bowl, whisk together the cornstarch and water.
Add cornstarch mixture to snow peas and cook for 1 minute.
Add Sichuan pepper, chile oil and cilantro. Stir to combine. Add salt to taste, if needed.
Serve with steamed rice.
…linking to Srivalli's Side Dish Mela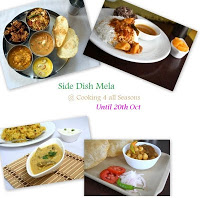 LIKE THIS RECIPE? LEAVE A COMMENT..I LIVE FOR THEM!
Chef Mireille