Last Updated on June 2, 2015 by Chef Mireille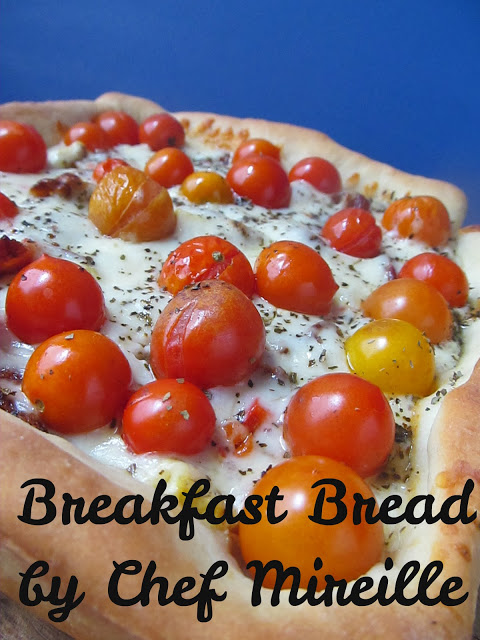 Living in New York City does not mean you can only purchase fresh produce in a supermarket. A quick day trip excursion and you can be picking your own fruits from the trees and vegetables from the ground. Every year, I try to visit one of the local farms in Long Island, upstate New York or New Jersey where I have the opportunity to pick my own fresh produce. Last year, I discovered Alstede Farms which has a great variety of produce to be picked. The reason it is now my favorite place to go for this activity is that it is one of the most accessible to public transportation. I went during peach season which led to an abundance of peach recipes here like Peach & Shrimp Fried Rice, Peach Upside Down Polenta Cake & Peach Tomato Salad.
This year I went very late in the season which led me to come back with only a small bag of apples, however pumpkins, fall raspberries, red and green leaf lettuce, tomatoes and beans were in abundance. Green beans, yellow beans and purple beans were all waiting to be picked. Bright red heirloom tomatoes, plum tomatoes, grape tomatoes and green tomatoes – yep Fried Green Tomatoes is on the menu for sure!
The market store at the farm also had a variety of summer squash, sweet and hot peppers and fresh corn, among other things.
This week, the I Heart Cooking Club is celebrating breakfast, Donna Hay style. I made a number of changes to her original recipe here, mainly the type of cheese, crispy fried bacon instead of pancetta and I scrambled the eggs as I don't like separated yolks and whites, as in fried or baked eggs. The inspiration is still totally hers and I hope you like my adapted version, where I used the farm fresh tomatoes I picked and the hot cherry pepper from the farm.
Breakfast Bread
Serves 6
Ingredients:
1 1/4 teaspoons dry active yeast
1 teaspoon sugar
2/3 cup warm water (115 – 120 F)
1 1/2 cups + 1 tablespoon bread flour
1 teaspoon salt
1 tablespoon olive oil
4 eggs, scrambled and seasoned with salt and black pepper
4 slices bacon, fried crisp and chopped
1 cup grape tomatoes
1 cup provolone, grated
1/2 teaspoon dried basil
1/2 cherry hot pepper, minced (or 1 teaspoon crushed red pepper)
2 tablespoons rosemary infused olive oil (you can also just use extra virgin olive oil)
Preheat oven to 425 F. Spray a square baking dish with non stick spray.
In a small bowl, combine sugar, water and yeast. Give it a quick whisk and let it sit for 5-10 minutes, until foamy.
In a large bowl, combine 1 1/2 cups of the flour, salt and 1 tablespoon olive oil. Add yeast and mix to form a soft dough. By hand, knead in the extra tablespoon of flour. Knead for about 5 minutes until dough is smooth and elastic.
Place in a lightly oiled bowl. Cover with plastic wrap and towel and leave to rise for 20 minutes.
Punch out air bubbles and roll into a square.
Transfer the square to the prepared baking dish and spread the dough so that it covers the bottom and comes up the sides.
Sprinkle scrambled eggs and then the bacon and the hot pepper on top. Add the cheese and then place the whole tomatoes on top. Drizzle the infused oil on the top and sprinkle the basil.
Bake for 20 minutes.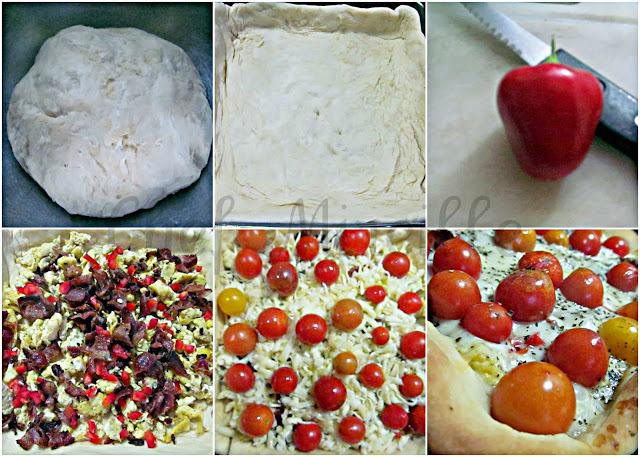 This was a delicious brunch with salad made from lettuce I had picked at the farm.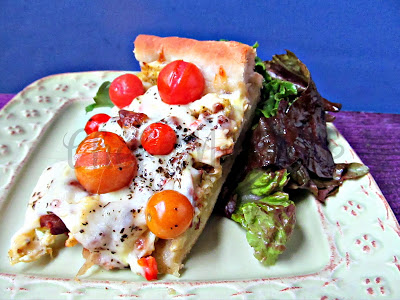 It really is a great day trip for city kids. The farm has lots of activities for children including hay rides, corn maze and more. I went with my friend and her kids and they had a blast. Just remember to bring stuff to keep them occupied on the 2 hour train journey.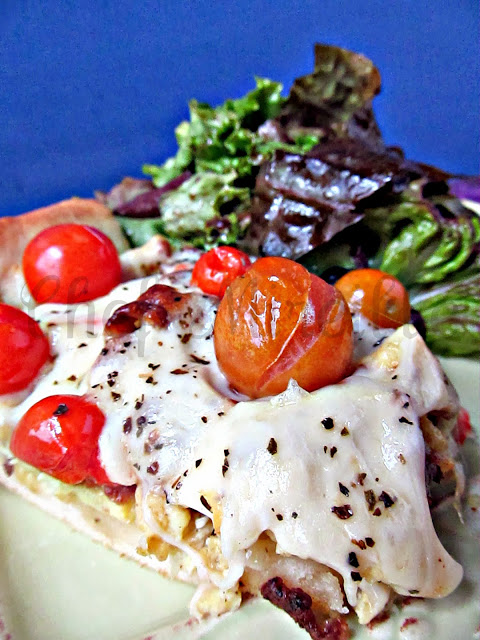 LIKE THIS RECIPE? LEAVE A COMMENT..I LIVE FOR THEM!
Chef Mireille