Last Updated on November 13, 2019 by Chef Mireille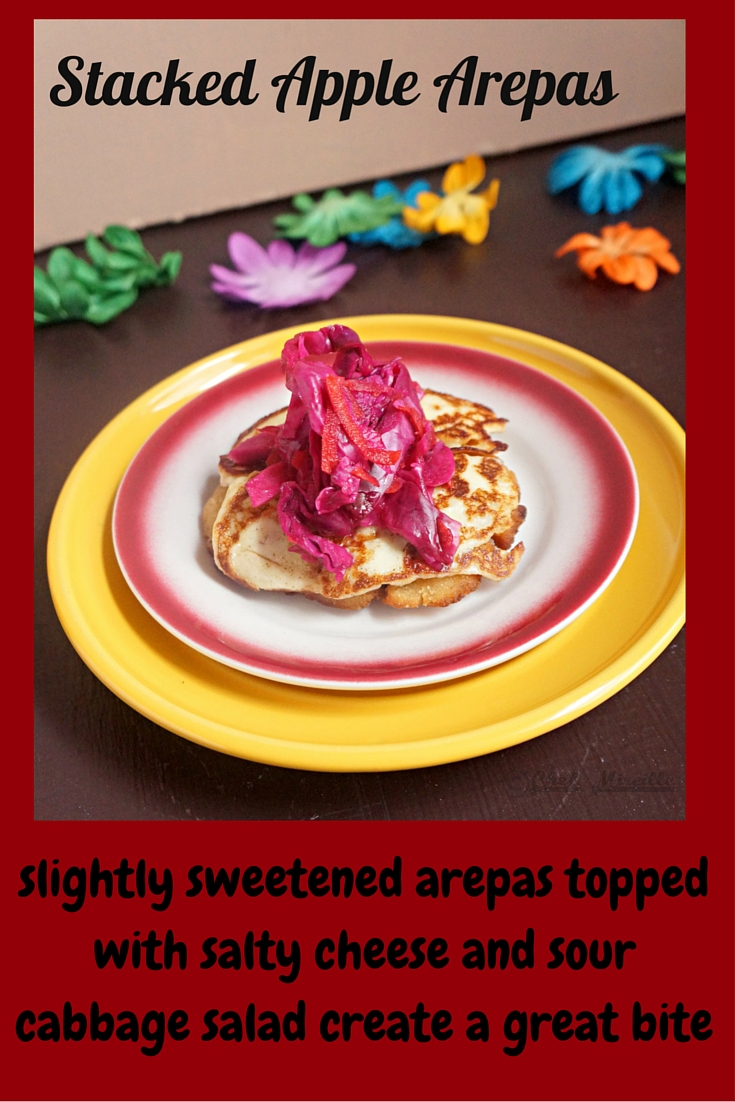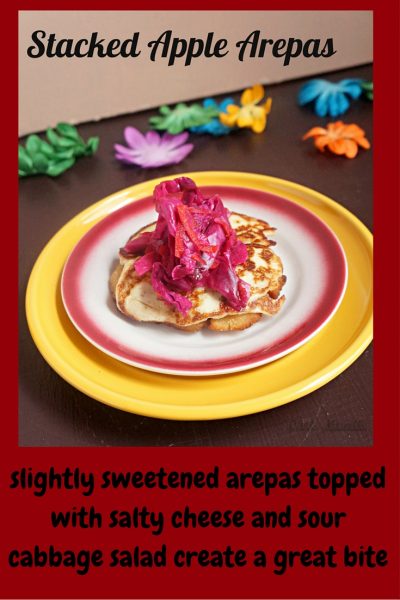 Arepas are corn cakes eaten throughout most South American countries, often eaten instead of rice or potatoes. Sometimes they are also stuffed and make a great appetizer- a popular street food popular in many countries like Venezuela, Columbia and Ecuador. It is made from hominy corn flour that is precooked and treated with lime and charcoal called masa harina. Depending on where you live, you can now find this item at many mainstream supermarkets. If not, look for it in Latin markets or you can also purchase it online in places like amazon. Masa Harina is used to make a variety of South American flatbreads including corn tortillas and as part of the stuffing for tamales.
I decided to make a sweet and savory bite here that makes the perfect first course of a meal. I topped it with queso de freier, a South American frying cheese. You can also substitute halloumi or paneer, however, salt will need to be added to the paneer as the other frying cheeses are already salted in the brine that they come in. The slight sweetness of the arepas is balanced with the salt of the cheese and the acid of the pickled vegetables. You can also make the arepas smaller and make this as a one bite finger food for parties.
The flavor profile in these sweet arepas are quite different from the traditional. For more arepa varieties, check out my Pumpkin Arepas here and my Stuffed Cheese Arepas here. These arepas are being made for this month's #BreadBakers theme of griddle breads.
Let's first make the salad that is going to top off our arepa stacks.
Pickled Cabbage Salad
Ingredients:
1/2 cup grated carrot
2 1/2 cups thinly sliced red cabbage
1 1/2 cups red wine vinegar
1/2 teaspoon salt
2 tablespoons sugar
Combine all ingredients and let marinate for at least 1 hour.
Apple Raisin Arepas
Prep Time: 20 minutes
Cook Time: 20 minutes
Yield: 9 arepas
Ingredients:
2 cups masa harina
1 grated apple
3 tablespoons raisins
1/4 teaspoon salt
1 tablespoon sugar
In a large bowl, combine masa, apple, raisins, salt and sugar. Mix to combine.
Slowly add  enough warm water (a little more than 1 cup) until you have a soft dough.
Take some dough and flatten by pressing your palms together with the dough in between your hands, about 3″ in diameter.
Heat enough oil for shallow frying in a skillet. Fry on low heat until golden brown on both sides.
Drain on paper towels.
Stacked Apple Arepas
Ingredients:
arepas
fried queso de freir slices
pickled cabbage salad
To assemble, top each arepa with  queso and finally top with the cabbage salad.
Sweet, Salty and Sour…a great combination of flavors in one bite…
Do stop by the other #breadbakers for some great griddle breads…
Griddle Breads
#BreadBakers is a group of bread loving bakers who get together once a month to bake bread with a common ingredient or theme. Follow our Pinterest board right here. Links are also updated each month on this home page.
We take turns hosting each month and choosing the theme/ingredient.
If you are a food blogger and would like to join us, just send Stacy an email with your blog URL to [email protected].