Last Updated on November 14, 2019 by Chef Mireille
Fjelbrod – Norwegian Yeast 100% #WholeGrain Quickbread
Fjelbrod – Norwegian Yeast 100% #WholeGrain Quickbread – is a 100% whole grain bread from Norway that has NO RISING TIME. It's a bread that comes together super quick and easy!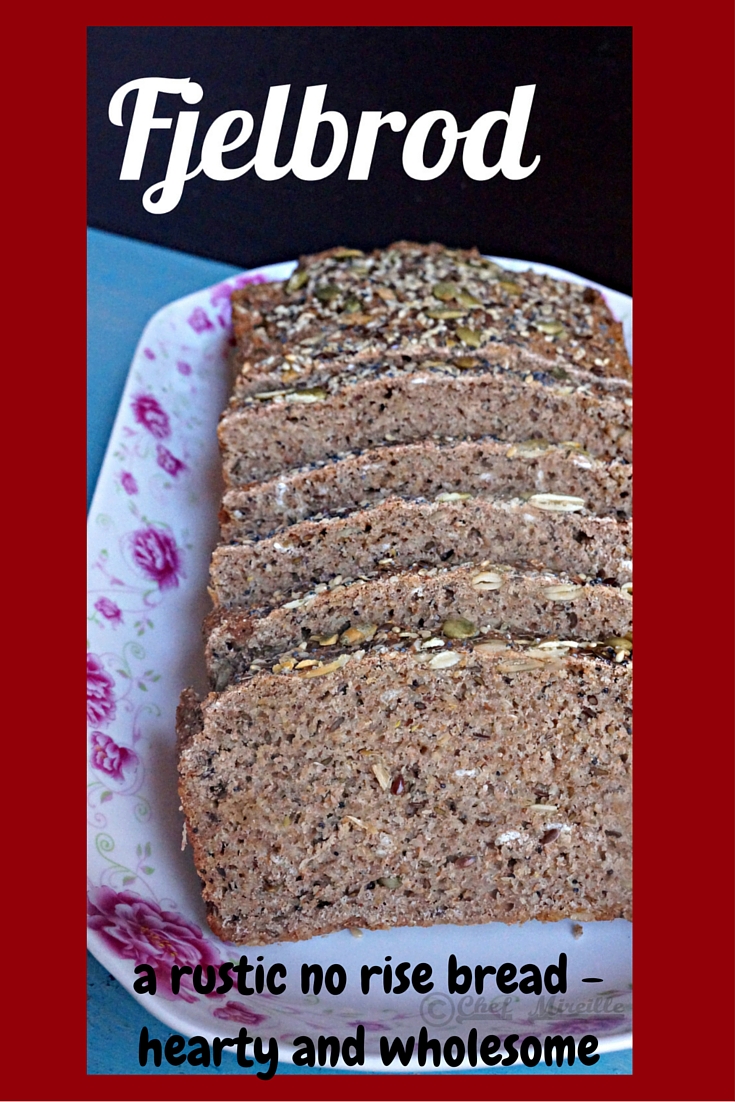 It's time for #FoodoftheWorld and this time we are going to Norway. Who else watches the Scandinavian cooking show on PBS TV? I love that he always cooks outdoors among the fjords with reindeer and cows grazing in the background. There is much similarity between Scandinavian countries so I was a little challenged to find a recipe. Cardamom is the spice of choice for sweets in Scandinavia so I was going to do their Cardamom Cake, but then I realized except for a very slight change, it is pretty much the same as the Finnish Cardamom Cake I have posted here. Then I was going to do some pancakes but since I already have these Finnish Spinach Pancakes posted, what else was there to make? I am not a big fan of their love of smoked fish. I then went on a bread search and most of their breads are rye breads…again, not a big fan. I then found this bread with just a wee bit of rye flour, I thought this was right up my alley. I wasn't mistaken. This bread is delicious, healthy, 100% #wholegrain and quick to get done with no rising time!
Everybody loves fresh bread right…but all that kneading…all that waiting for bread to rise…what if you could have a soft and healthy whole grain bread in under 2 hours? Well, you can…thanks to Norway. This bread has become popular in the blogosphere thanks to Nigella Lawson, who calls it Norwegian Mountain Bread. However, Fjelbrod is it's Norwegian name. This rustic, whole grain bread is soft and moist and surprisingly not as dense as I had anticipated.
It's perfect with some soft butter or to compliment your breakfast.
IN THE MAKING – HOW TO MAKE FJELBROD
Perfect for breakfast…
Fjelbrod – Norwegian Yeast 100% #WholeGrain Quickbread – #FoodoftheWorld
This 100% whole grain bread is quick and easy, with no rising time!
Ingredients
1

cup

+ 2 tablespoons milk

1

cup

+ 2 tablespoons water

2 1/4

teaspoons

dry active yeast

3

cups

whole wheat flour

1

cup

rye flour

1/4

cup

oats

1

tablespoon

firmly packed brown sugar

1 1/2

teaspoon

salt

3

tablespoons

pumpkin seeds

3

tablespoons

flax seeds

3

tablespoons

sesame seeds

1

tablespoon

poppy seeds
Instructions
Preheat oven to 225 F. Spray a loaf pan with non stick spray.

Heat milk and water to 110 – 115 F. Sprinkle yeast on top and wait 5-10 minutes, until it becomes foamy.

In a large bowl, combine whole wheat flour, rye flour, oats, sugar and salt. Add seeds, but reserve 2 tablespoons. Mix to combine.

Add proofed yeast with all of the liquid. Mix until thoroughly combined.

Form into a loaf and transfer to loaf pan. Add reserved seeds on top and press into dough.

Place in oven on middle rack and bake for 25 minutes.

On bottom rack of oven, place an oven safe pot with boiling water.

Increase oven temperature to 350 F and bake for 1 hour.

Cool completely before slicing.
Notes
Traditionally, sunflower seeds would be used instead of sesame seeds and there would be no poppy seeds.
Did you try this recipe? Leave a comment below.
Please follow me on Instagram @chefmireille or tag me #chefmireille with your pics! I'd love to share them!
SHARE THIS DELICIOUS RECIPE WITH YOUR FOODIE FRIENDS
Don't forget to visit the RECIPE INDEX with over 1000 recipes from around the world including lots of Vegetarian Recipes and Gluten Free Recipes!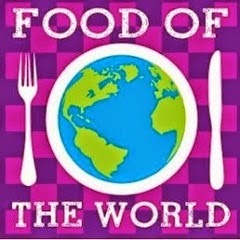 Visit our co-hosts and follow their sites:
Join our Linky Party and link up any Thai recipes. Just add our logo! Archived recipes are welcome.