Last Updated on May 20, 2015 by Chef Mireille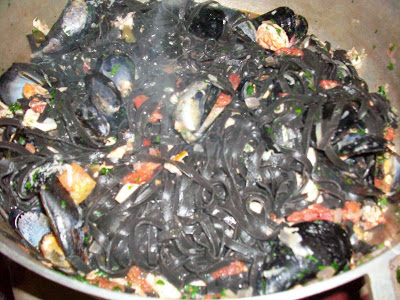 After shopping on Arthur Avenue, the NYC Cooking & Dining Meetup Group aka Group Cuisine cooked an Italian Feast on Sunday. For more info on Arthur Avenue shopping, check out this blog by one of our members. Facebook members can see all the photos here.
Sunday's menu included a variety of dishes including Proscuitto Wrapped Asparagus, Zucchini and Onion Stuffed Focaccia, Fresh Butternut Squash Raviolis in Butter Sage Sauce and the hit of the night was the Squid Ink Pasta with Mussels, Sepia and Shrimp.
You can purchase the squid ink and make the pasta yourself but we took the easy route and bought the premade Squid Ink Pasta from Borgatis Pasta Shop on Arthur Avenue. Here is the recipe for this amazing dish:
Ingredients:
2 tablespoons olive oil
1 onion, diced
2 garlic cloves, finely chopped
2 pounds mussels
1 pound shrimp, cleaned and shelled
1 pound sepia, diced
2 12 oz. cans diced tomatoes
1 pound squid ink pasta
3 salted anchovies, diced
2 teaspoons fresh salted capers
1/2 cup freshly chopped parsley
2 tablespoons grated Pecorino cheese
In a large pot, bring water to a boil and cook squid ink pasta al dente.
In a large skillet, saute onion and garlic in olive oil. Add anchovies and fry for one minute. Add tomatoes and bring to a boil. Add capers, sepia and shrimp. When half way cooked, about 3-4 minutes, add mussels and cover to steam. Once mussels have opened, turn off flame and stir in parsley and cheese.
Toss seafood sauce with cooked squid ink pasta and serve immediately.
For more photos from Group Cuisine's Italian cooking event, see here.

Chef Mireille