Last Updated on November 10, 2018 by Chef Mireille
Little Italy – NYC – d'Bronx – To experience traditional Italian cuisine, it's worth the short commute up to d'Bronx.
If you're from New York, no one says the Bronx – it's d'Bronx. The most northernmost of NYC's 5 boroughs is home to a thriving Italian American community.
The Little Italy in Manhattan has been almost swallowed up by the ever growing neighboring Chinatown. For a lot of variety of traditional Italian food, come up to d'Bronx!
My trip up North was well worth the commute. I have now discovered that the little neighborhood in Manhattan is a sad duplicate with a handful of stores with limited selections. Although only about 6 blocks, the Bronx neighborhood has variety so that you are able to practice comparative shopping. A variety of shops selling cheese, cured meats, imported Italian grocery items, fish markets, bakeries and seafood.
The best thing to do is take the #2 or #5 train uptown to 174th Street and then the B19 bus to 187th Street (about a 5-10 minute bus ride). Walk down 187th street and stop in all the places of interest and then turn on Arthur Avenue and that is the rest of it. However, I will give you the highlights of must stop places:
Casa Della Mozzarella – features a large variety of Italian cheeses and cured meats. You can even get the mozzarella curds to make your own mozzarella at home.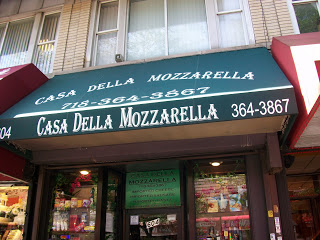 Madonia Brothers, Bakery – tons of biscotti varieties and other baked goods. The must have item is the Amaretto cookies – deliciously soft and moist – it feels like the amaretto is bursting out of the cookie as you bite into it – HEAVENLY!!!
Teitel Brothers – fresh olives, nuts, dried fruits, cured meats, cheeses, Italian grocery items. EXCELLENT customer service – tell them you have never been there before – and they will bring out all kinds of things for you to try.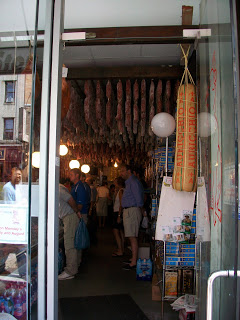 Randazzo Seafood – As soon as I walked in, I stopped dead in my tracks – the best smelling fish market I have ever been to. If you walked me in there blindfolded, there is no way I would have known it was a fish market.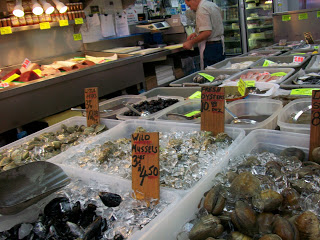 Modern Grocery – just the local supermarket – but the best tasting tomatoes I have ever had in America. Sweet and juicy – not tart and acidic. Even better than the Farmers Market tomatoes I buy at Union Square!!
Have lunch at Full Moon Pizza – traditional Sicilian slices – not the huge monstrosities available at most NYC pizzerias – much thinner with a variety of toppings – tomatoes and portabello mushrooms in photo here.
I will definitely be making the trip up to the Bronx;s Little Italy more often!!!