Last Updated on May 20, 2015 by Chef Mireille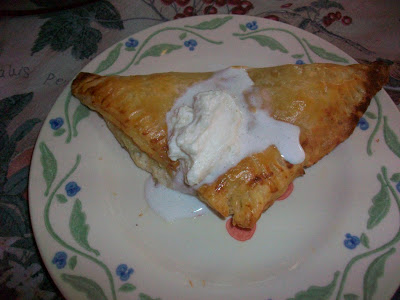 Here is a new dessert I created a few weeks ago that received great feedback even from a friend who HATES fruit and does not eat any fruit – go figure!!!
Banana Mango Tarts with Cardamom Whipped Cream
2 very ripe bananas (if the bananas are not that ripe, you will need to increase the amount of honey)
1 14. oz package frozen mango chunks, defrosted and drained of all liquid
1 8 oz. container ricotta cheese
2 tablespoons honey
2 teaspoons banana essence (available at Asian markets)
Puff Pastry Sheets
1 egg
Non Stick spray
1 cup heavy cream
1 tablespoon powdered sugar
2 teaspoons ground cardamom
Directions:
Defrost puff pastry.
Cut mango into bite size pieces. Dice banana into bite size pieces. Combine fruit with ricotta, honey and essence. Stir to combine. Refrigerate mixture for at least 30 minutes to firm.
Preheat oven to 400 F.
Create egg wash by combining beaten egg with 1 teaspoon water. Spray cookie sheet with non-stick spray.
Roll out puff pastry sheets and pierce with fork. Add 2 tablespoons of fruit filling. Fold over into desired shape and seal edges with egg wash. Place on cookie sheet.
Repeat until all filling is made (will make approximately 10 large tarts).
Brush tops of all tarts with egg wash and bake for approximately 20-30 minutes until golden brown.
While tarts are baking, combine cream, sugar and cardamom. Using an electric beater or whisk, mix until whipped cream consistency.
Let cool for a few minutes before serving with whipped cream if you do not want the cream to melt (as in photo), but I like it piping hot with the melting whipped cream.
Enjoy!!!

Chef Mireille