Last Updated on April 10, 2018 by Chef Mireille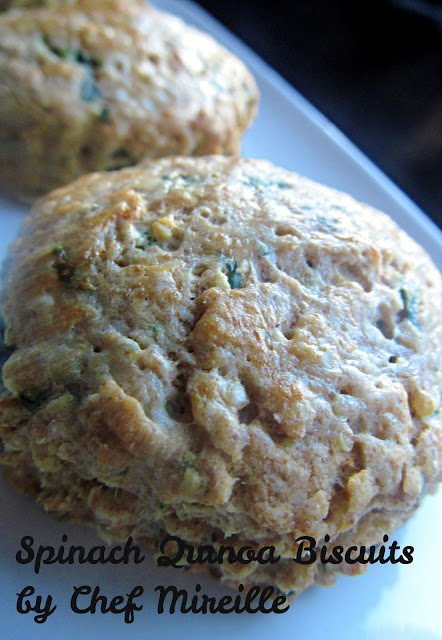 Blogging Marathon #25
Theme: Baking with Whole Grains – Quinoa & Whole Wheat Flour
In the past when baking with whole grains, I use whole grain flours – whole wheat, oat, millet, etc. Recently, I started incorporating the cooked whole grain itself into my baking like when I made Quinoa Bread. Here is another recipe using the whole grain.
Quinoa is a superfood that has taken the world by storm. It is a gluten free complete protein, making it easily consumed by just about anyone, regardless of any dietary or allergic limitations. With protein and calcium, it's a source for those nutrients for people who are lactose intolerant or vegetarian. Native to Peru, the people of the Andes have been eating it for centuries. In the last few years, its consumption has multiplied by extraordinary numbers throughout the world, but specifically in the United States, Europe, China and Japan.
The United Nations has officially declared 2013 the International Year of Quinoa. I'm not sure exactly what that means, but there is even a facebook group dedicated to it.
Spinach Quinoa Biscuits
Yield 14 biscuits
Ingredients:
1/2 cup quinoa
3/4 cup water
1 cup whole wheat flour
1/2 cup all purpose flour
3 teaspoons baking powder
1/2 teaspoon baking soda
1/2 teaspoon salt
1 tablespoon olive oil
1 1/3 cup firmly packed spinach leaves, chopped
1/2 teaspoon dried oregano
1/2 cup cold vegetable shortening
2/3 cup buttermilk plus 2 tablespoons
Heat olive oil. Add spinach and oregano and cook, until spinach leaves are welted. Set aside to cool.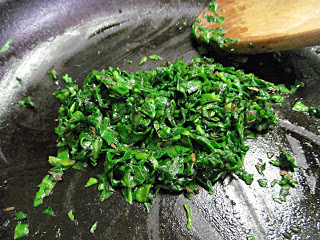 Bring quinoa and water to a boil. Reduce to a low simmer and cook for 10 minutes, until all the water has been absorbed. Quinoa will be cooked about 90% but still have a little bite to it.
Preheat oven to 400 F.
In a large bowl, mix flours, baking powder, baking soda and salt. Using a pastry blender, cut the shortening into the flour, until it resembles the size of small peas.
Add the cooked quinoa and cooked spinach and mix. Add the 2/3 cup buttermilk and stir until the dough comes together.

Turn onto a lightly floured surface and press into a 1/2″ thick circle. Using a biscuit cutter, dip in flour and then cut biscuits and place on an ungreased cookie sheet. Repeat until all the dough has been used up.

Brush the top of the biscuits with the remaining buttermilk and bake for 20 minutes.

The partially cooked quinoa gives the biscuits a nice slightly crunchy bite even though they are soft and moist.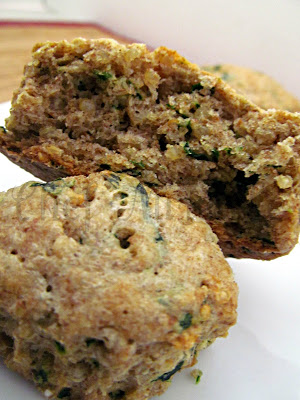 Check out the Blogging Marathon page for the other Blogging Marathoners doing BM#25
…linking to Bake Your Own Bread, Bake Fest hosted by Surabhi, Breakfast Club & Sheelu & Pallavi's Mission: Breakfast, hosted by Sowmya
LIKE THIS RECIPE? LEAVE A COMMENT..I LIVE FOR THEM!
Chef Mireille
Like me on FACEBOOK!
Follow me on TWITTER!