Last Updated on June 3, 2015 by Chef Mireille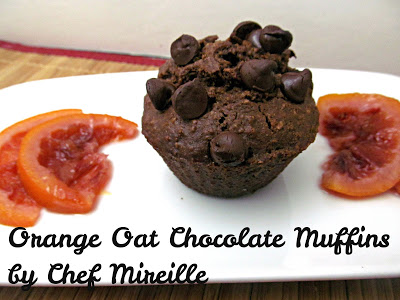 Blogging Marathon #25
Theme: Baking with Whole Grains – Oats
In this season of decadent Valentine's treats on the horizon, how about a moist, delicious rich tasting muffin, but with less calories than traditional muffins by using whole grains, reduced sugar and fat.
This is my first time participating in Muffin Monday – a weekly event where we put our own twist on a muffin recipe. I adapted this recipe so that it would also fit into my Blogging Marathon theme this week. Making them with oat & whole wheat flour is a healthier version of this recipe, so no guilt necessary when enjoying these. Additionally, in my quest to eating healthier, I used less sugar by using orange juice as the major flavoring agent.

Orange Oat Chocolate Muffins
Serves 15
Ingredients:
1 cup whole wheat flour
1 1/2 cups oats
1/2 cup all purpose flour
1/2 cup cocoa powder
3 teaspoons baking powder
1/2 teaspoon baking soda
1 tablespoon instant espresso powder
1/2 teaspoon salt
3/4 cup sugar
2 eggs
1/3 cup oil
3/4 cup orange juice
1/4 cup cream cheese
2 teaspoons vanilla extract
1 tablespoon orange extract (or orange flavored liqueur such as Triple Sec)
1 1/2 cups semi-sweet chocolate chips, divided
Preheat oven to 350 F. Spray a muffin pan or silicone muffin cups with non stick spray or line with muffin liners.
Using a food processor/blender, process oats to a fine powder. Transfer to a large bowl.
Add whole wheat flour, all purpose flour, cocoa powder, baking soda, espresso powder and salt. Mix well.
Using an electric mixer,beat eggs and sugar until light and fluffy. Add vanilla extract, orange extract, cream cheese, orange juice and oil and beat until well combined.
Add dry ingredient mix a little at a time, until thoroughly combined.
Using a rubber spatula, fold in 1 cup of the chocolate chips.

Divide equally between 15 muffin cups. Sprinkle the remaining chocolate chips on top.
Bake for 25 minutes.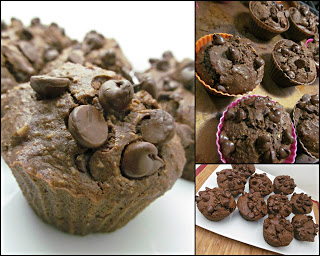 Who said you can't have a healthy, but still delicious muffin? Your kids will never know all the healthy grains you incorporated into this delicious chocolate muffin.Additionally, by using all the whole grains, the muffins are very filling so you won't be tempted to have a double dose of chocolate by having more than one!
The flavor of candied blood oranges (recipe coming next week) complemented these muffins well.
Check out the Blogging Marathon page for the other Blogging Marathoners doing BM#25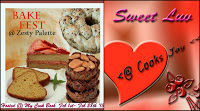 …linking to Sweet Luv & Bake Fest hosted by Surabhi
Muffin Monday
is an initiative by Baker Street. A culinary journey of sharing a
wickedly delicious muffin recipe every week. Drop in a quick line to
join her on her journey to make the world smile and beat glum Monday
mornings week after week.
LIKE THIS RECIPE? LEAVE A COMMENT..I LIVE FOR THEM!
Chef Mireille
Like me on FACEBOOK!
Follow me on TWITTER!