Last Updated on May 23, 2015 by Chef Mireille
Most of you know that I regularly participate in the Blogging Marathon, where a group of bloggers blog on specific themes every month and then we support each other by visiting each other's blogs and commenting. After participating for over a year, those of us who live in the NY area decided to meet.
Pavani, who lives in NJ, invited us over to her home and she was so gracious. It was quite a fun afternoon with fellow foodies talking about blogging the whole day. For those of who wanted, Pavani offered some sourdough starter she had. Sourdough is something I had been wanting to try for a long time so I jumped at the chance, however I had no idea about feeding and what it took to maintain a starter. It just went into the fridge and I figured I would get to it when I could.

Then I started reading lots of posts about sourdough bread and feedings and boy did I feel guilty! Pavani was so nice to give me some starter and I had neglected it and now would probably have to end up throwing it in the garbage. This poor starter had been through a lot. It had traveled from New Jersey to Brooklyn and then over to Queens to my Mom's fridge when mine broke down last summer and then back to my Brooklyn apartment again.
I am a member of several Facebook bread baking groups and some of them display such amazing looking breads but using sourdough, so that finally inspired me to see if my starter was still viable. I did a lot of reading and research and then finally posted my dilemma to the facebook groups asking for advice on if it was still possible for me to use this starter. They suggested I try and I would know within a few days if it was proofing or not…so I took the plunge even though the starter had now been in the fridge for almost 2 whole years!
All feeding starter guidelines will tell you that you should feed it using equal parts in weight flour and water. First of all I thought mine would need way more hydration because after being in the fridge so long, it looked like clay. Secondly, I just couldn't be bothered with doing all that weighing. So after looking at lots and lots of photos online, I trusted myself to know what the consistency was supposed to look like. I used measuring cups and really just added combinations of flours and waters until it looked right. This is in no way to say my way should be the gospel. All I can say is it worked for me and I just hope it inspires you if you have some dormant starter in the back of your fridge. This proves the vitality of sourdough starter and now I am making such flavorful sourdough breads!
This is my step by step guide to show you how this
became this
and ultimately this
There are different ways to start a sourdough starter – some use yeast or rye while others use apples or grapes, but Pavani's starter used potato as you can read her post here if you want to start from scratch. You can also take a look here if you'd like to have a supply of different starters for different types of bread.
Some bakeries will also give you a little bit of starter if you ask, sometimes for a small price and sometimes complimentary.
I started with my clay like mass and left it out a few hours to bring to room temperature. I then weighed the starter because I did want to know how much I was starting with so I could record this accurately for my readers.
Feeding #1:
10 oz. sourdough starter
1/4 cup all purpose flour
1/4 cup rye flour
1/4 cup water
It took 3 days for it to get bubbly and foamy. After that, it started proofing – looking bubbly and foamy – at about 12 hours (or less) and I would feed it once a day. I could have probably sped up the process and fed it twice a day but because of my work schedule, this is how I did it.
Feeding #2:
1/3 cup + 1/4 cup all purpose flour
2/3 cup water
Feeding #3:
1/3 cup + 1/4 cup all purpose flour
1/3 cup water
Feeding #4:
2/3 cup all purpose flour
4 teaspoons rye flour
1/4 cup water
At this point, it starting doubling in volume after each feeding.
Feeding #5:
3/4 cup all purpose flour
1/2 cup water
Feeding #6:
1 cup whole wheat flour
1/2 cup all purpose flour
1/2 cup water
Feeding #7:
Feeding # 7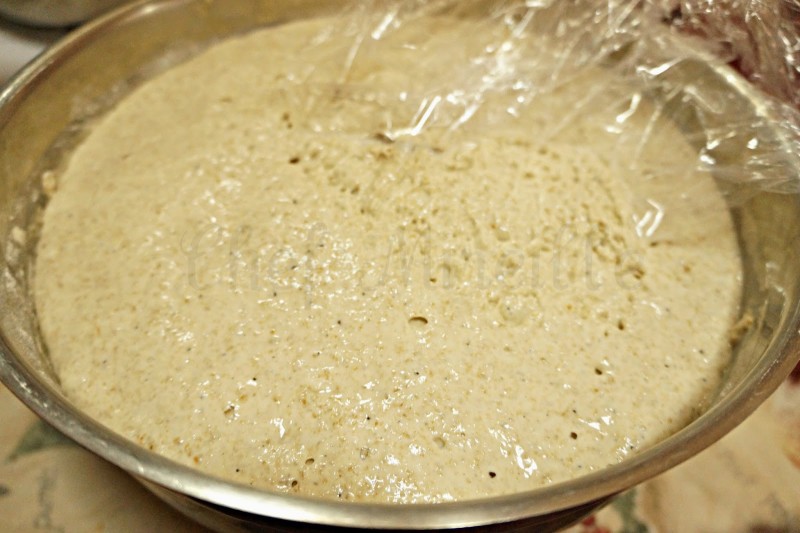 After Feeding #7 Proofed
My end result was 3 lbs. 6.3 oz of multi-grain sourdough starter. I plan to maintain the starter by once a week feeding it with 1/2 cup all purpose flour, 2 tablespoons whole wheat flour, 2 tablespoon rye flour and 1/2 cup water for every 1/2 cup of starter I have. My starter quantity will fluctuate as I make pancakes, waffles and other sourdough instant foods. Spray measuring cups with non stick spray to easily measure starter.
It's important to use some of the starter every week to make instant foods. Otherwise, you will have to throw away a portion as the starter will continue to grow and will eventually outgrow the refrigerator. Try these Sourdough Pancakes I made to use up your first discard.
Some people apparently name their starter. Meet Pavani. She's very glad to meet you!
Now in addition to making bread every week, I have enough starter for sourdough pancakes, waffles and any other ingenious things…I am ready to try it all!!!
I was so excited I had to test it out immediately even though it was late evening. I made both a Deep Dish Sourdough Pizza and this Sourdough Multi Grain Sandwich Bread (see photo above) (Pavani's recipe). You don't want to know what time I went to bed – let's just say I saw the sun starting to come up – thank God I wasn't working the next day!!!
I am still a novice at sourdough but one thing I will try to present here are sourdough recipes that you don't need a chemistry degree to do. I read recipes that state 45 grams 100% hydration levain… huh??? Is that English? I am in the process of trying to adapt recipes that anyone once they have a starter, can do with little ease in the American kitchen. Here you will find recipes that use cups instead of grams because not everyone who would love to make their own sourdough bread owns a food scale.
The more I read I realize the less I know – recipes that use culture proof starter or liquid levain. How do I adapt my starter for those recipes? Or I guess I have to create a unique starter for those?
I'm on a sourdough journey. Would you like to come along for the ride?
* Also this is great series to watch on Google+ HOA if you would like to follow along and bake this great Artisan bread from beginning to end, including making of the starter. I have learned a lot of tips from this which I plan to implement going forward*
Episode 1
Episode 2
Episode 3
Episode 4
Recipe can be found here:
https://goo.gl/rgsgfC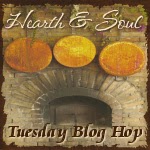 I hope you found the information in this helpful and join me in my sourdough journey!
…linking to Hearth & Soul
LIKE THIS RECIPE? LEAVE A COMMENT..I LIVE FOR THEM!
Chef Mireille