Last Updated on June 2, 2015 by Chef Mireille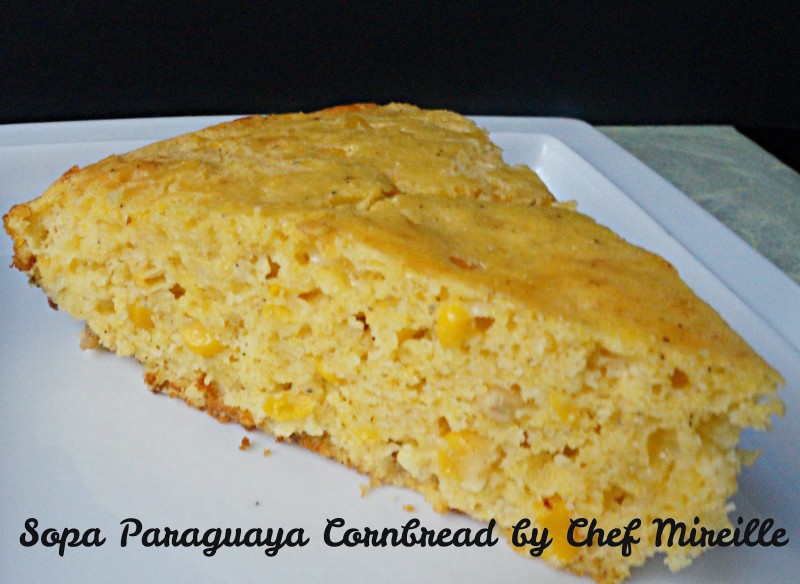 Funny how a cornbread is named Sopa Paraguaya since sopa in Spanish is soup. Back in the 1800's, the then President of Paraguay used to like soup for lunch. One day the cook put too much cornmeal in it and it turned into a solid "soup", but he served it to the President anyway. The President liked it and named it Sopa Paraguaya. If you make it on a vacation to Paraguay and you order Sopa Paraguaya from the menu, be prepared to have a slice of cornbread instead of a bowl of soup.
Sopa Paraguaya
Ingredients:
2 tablespoons butter
1 small onion, chopped
1 1/2 cups yellow cornmeal
1 cup milk
2 tablespoons sugar
1/2 cup sour cream
2 eggs
1 teaspoon salt
1/2 teaspoon black pepper
2 teaspoons baking powder
1 1/2 cups canned corn kernels (or frozen corn kernels, defrosted)
1 cup pepper jack cheese, grated
Preheat oven to 375 F.
Using a 10″ cast iron skillet, melt the butter. Saute the onions until softened. Turn off heat and spread onions evenly in the pan.
In a large bowl, combine cornmeal, pepper, baking powder, sugar and salt.
In a small bowl, whisk together the milk, sour cream and eggs. Whisk well until thoroughly combined. Add to flour mixture and mix until thoroughly combined.
Fold in the cheese and corn. Add this batter on top of onions in skillet. Spread in an even layer.
Bake for 35 minutes, until golden brown.
Let cool.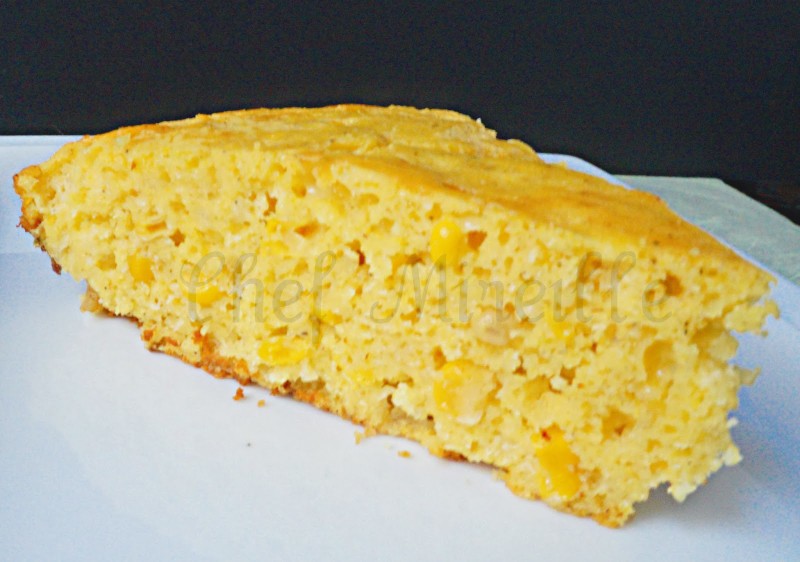 Notes: Even though the bottom did not stick to the skillet, it would not release from the pan when flipped over. I had to use a knife to slice each piece out of the pan. Next time, I will use non stick spray after I fry the onions to make sure it can be released easier.
This is usually served with soups and stews.
This isn't the cake like cornbreads we are used to in America which is usually made with a combination of both cornmeal and all purpose flour. This version is more dense as it is made with 100% cornmeal, but it is very soft and moist. The flavor is a wonderful balance of both salt and sweet.
Check out the Blogging Marathon page for the other Blogging Marathoners doing BM#37
…linking to Bake Fest hosted by Sangee & Flavor Up with Spices
LIKE THIS RECIPE? LEAVE A COMMENT..I LIVE FOR THEM!
Chef Mireille