Last Updated on January 12, 2020 by Chef Mireille
Singapore Laser Shows – 3 Places to Watch these fantastical nightly shows of light, color and images.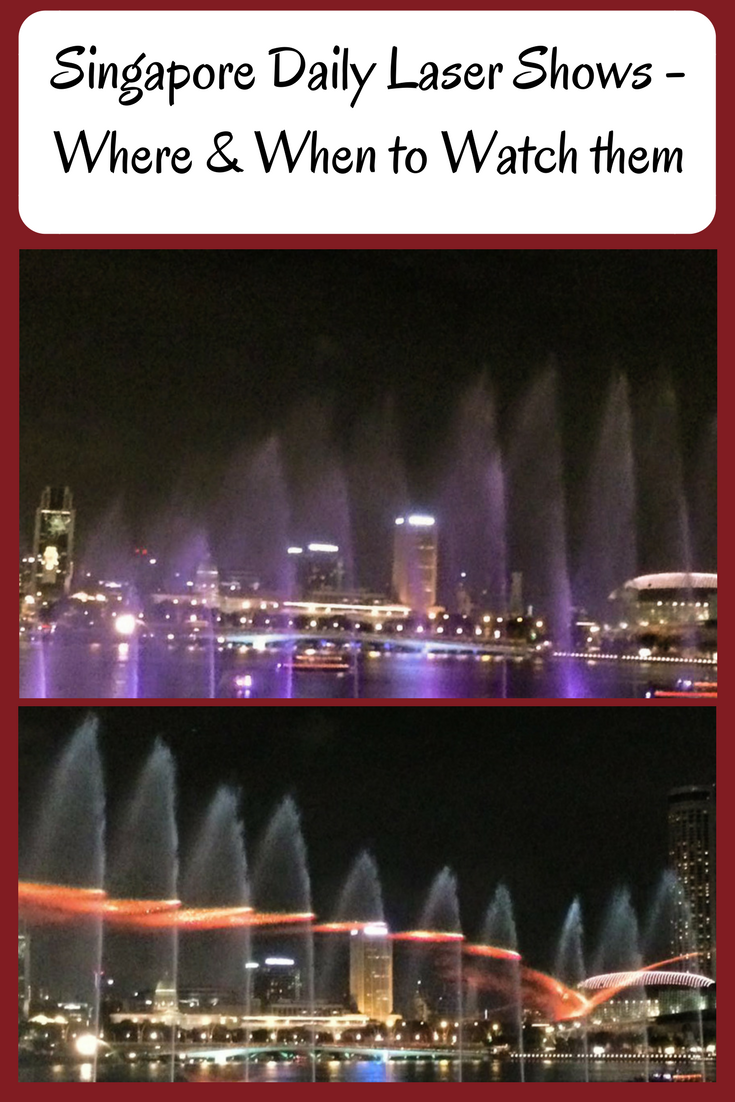 One of the most popular things to do in Singapore as evening rolls around is to catch in a laser show. These fantastical display of lights, color and shadow is a phenomenon. It's like firecrackers on speed! There are three places you can watch these in Singapore. I was only in Singapore for 1 day, so only watched one of them. The other 2 I am presenting based on research and feedback from other people.
Marina Bay Sands
Since I was there for only 1 day and knew I would only be able to catch one of the shows, everyone I polled agreed that the Marina Bay Sands show was the best. There are many places to watch the Marina Bay Sands show, both from the waterside or from the city side. You can also view the show from rooftop bars and other vantage points throughout the city.
NOTE: All photos in this post are from the Marina Bay Sands show
I was lucky as I had a local's perspective. Through my years as a food blogger, I have built up many friendships through the virtual world. One of these friends was living in Singapore at the time and I had the opportunity to meet up with her. She took me to the best show from the best vantage point. We headed over to The Shoppes at Marina Bay Sands. The Shoppes is a a high end shopping mall, way outside of my budget…but we didn't go there to shop. Instead we went straight through to the back where people were already camped out sitting on the stairs, waiting for the show to begin.
The laser shows are popular for both tourists and locals so it's best to get there early to get a seat. Teenagers hanging out, families gathered, tourists with their cameras out and people from all walks of Singapore life gather at Marina Bay waiting for the show to begin.
The laser show is full of lights and images. Family focused images appear in the cloud bubbles as well as darting lights in every color and hue.

Show Times
Sunday-Thursday 8pm & 9:30pm
Friday & Saturday 8pm, 9:30pm & 11pm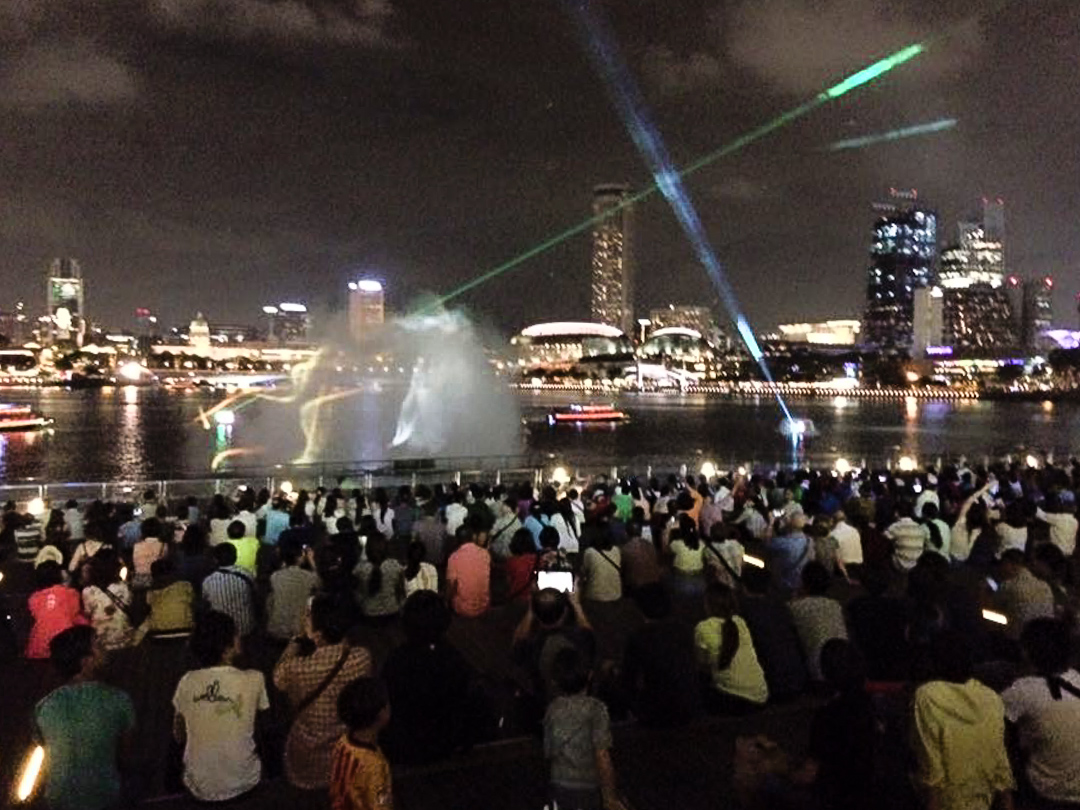 OCBC Garden Rhapsody at Gardens by the Bay
Giant metal trees form the foundation of this show as the trees are lighted up with gorgeous colors. This show is also accompanies by music and a voiceover. Utilizing 50 speakers, it creates a surround sound experience.
Show Times
Daily 7:45pm & 8:45pm
Sentosa Resort
At Sentosa Resort, the laser show tells a love story with a pink and blue crane. As I didn't take in this show myself, I really don't have an impression.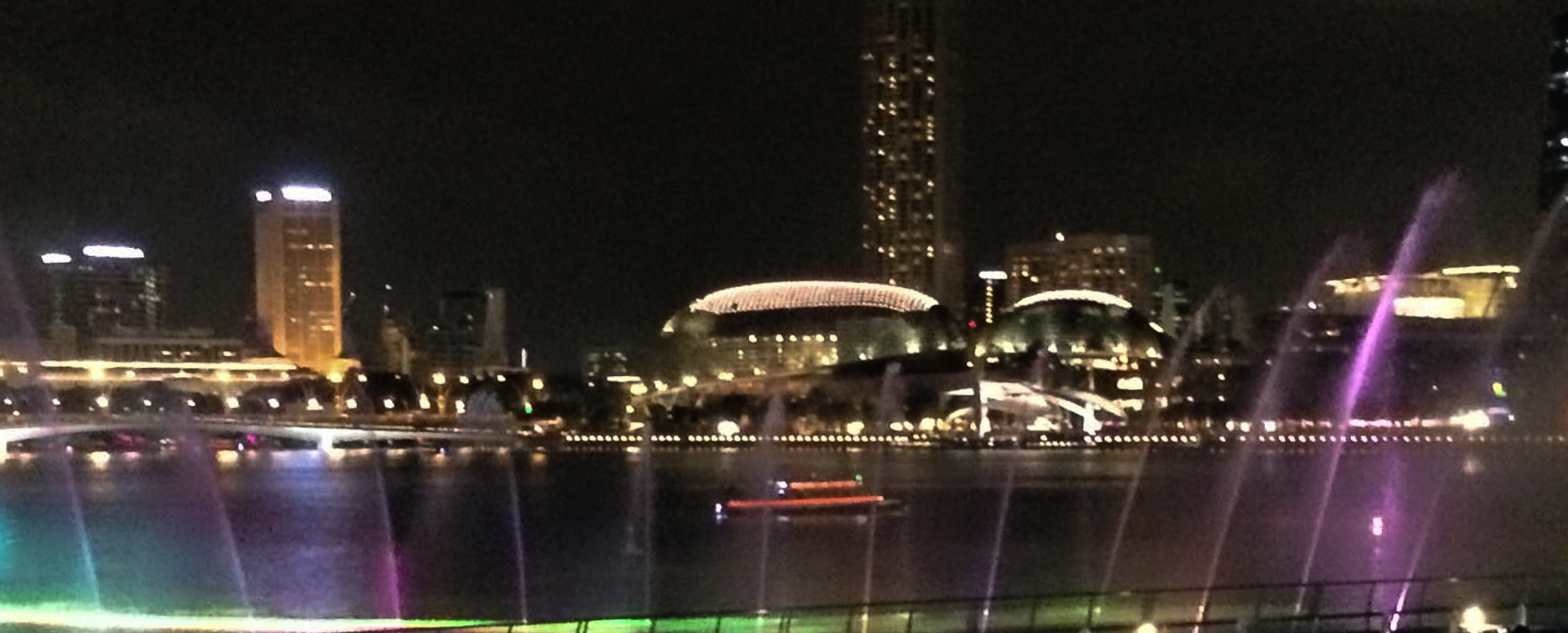 Show Times
Daily 8pm
If you are going to be there for several days, I definitely suggest taking in a different show nightly so you get to experience them all. However, if like me you have limited time, I definitely recommend not leaving the island without at least experiencing the show at Marina Bay Sands!
Ready to book your next trip to Singapore?
Looking for more info on travel to Singapore – Check out this post on Singapore's Peak Travel Season!
Do you know anyone else who likes learning about international food, culture, history and travel? Bring them over here to join the party! Don't forget to use those share buttons!
Start Here to find out how the Schizo Chef can help you with your cooking, travel and other needs!
If you like this recipe, PLEASE LEAVE A COMMENT & SUBSCRIBE!