Last Updated on July 26, 2023 by Chef Mireille
This post may include affiliate links.
This mild Salsa Lizano from Costa Rica is more sweet, smoky and tangy than it is spicy. If you like the flavors of Latin America but can't take the spice, this is the perfect salsa recipe for you.
Salsa Lizano is used to both flavor many Costa Rican dishes and also as a condiment. Some of the ways I like to use it is with eggs, on tacos and with fresh Latin American cheeses. This Costa Rican sauce is also great on burgers and grilled meats. Keep some handy for summer barbeque season!
This exquisite lizano sauce adds great flavor to whatever you add it to. It is the perfect condiment to always have on hand in your refrigerator.
It is one of the necessary ingredients to make traditional Costa Rican Gallo Pinto (rice and beans).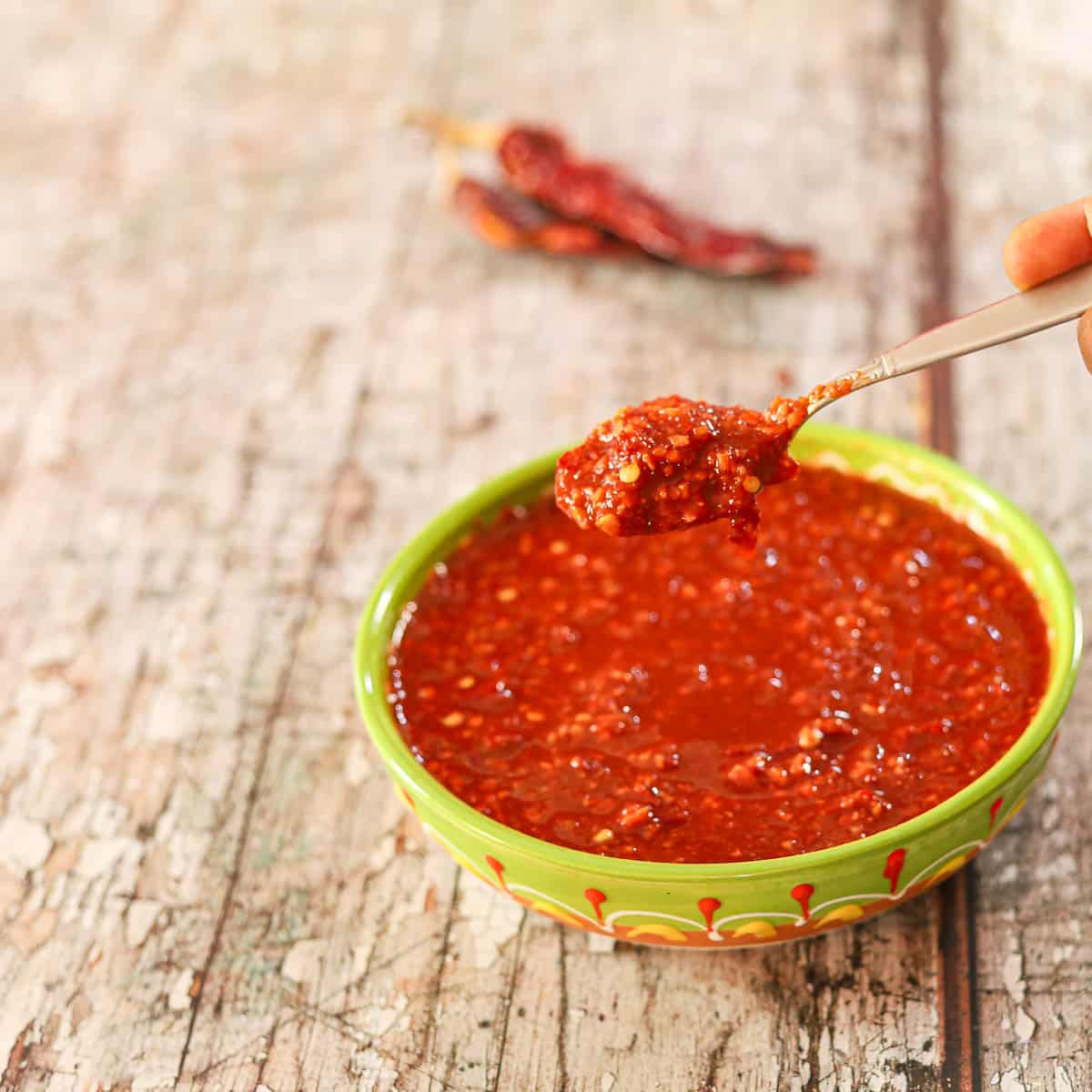 Many people often assume since Mexican food is spicy, the cuisines of other South American countries and the countries of Central America also enjoy spicy food, however this is not true. While there may be a few spicy dishes, most food is flavorful using lots of spices and herbs, however it is not spicy except for maybe Peruvian and Brazilian food.
This Lizano Salsa recipe demonstrates this fact. It is very flavorful and smoky, but there is virtually no spicy heat to it, unless you add the optional hot sauce.
---
The original sauce which can be purchased bottled at some Latin markets is quite high in salt. This fresh homemade version of Lizano Sauce has far less sodium and is perfect to adding to all of your favorite dishes and doesn't include ingredients like modified corn starch and other artificial flavors. This all natural Salsa Lizano recipe is fresh and delicious!
I visited Costa Rica some years ago and bottles of Salsa Lizano is a common condiment on restaurant tables. Costa Rican cuisine is characterized by its fresh ingredients and this homemade Salsa Lizano is far better than any bottled version. While the bottled sauce is more brown than red, this homemade Salsa Lizano is the best substitute.
Salsa Lizano was created in 1920 by a bar owner, Prospero Jimenez, in Alajuela. He went to Prospero Lizano who owned a factory and the brand was created. It was eventually purchased by Unilever and is now becoming more readily available by North American retailers. But I still say the homemade Salsa Lizano recipe is best even though it may not be the exact recipe created my Senor Jimenez!
Variations
If you don't have Guajillo chili peppers, you can also substitute other hot peppers like pasilla chili pepper or ancho chili peppers.
Since this salsa is so mild, you can add a few teaspoons of hot sauce, if you would like some more spice to it.
You can use chicken bouillon but then the sauce will have the slight flavor of chicken.
Although some people say that Worcestershire (aka Salsa Inglesa in Spanish speaking Latin American countries) is a good substitute and has a similar flavor, I don't think Worcestershire sauce does Salsa Lizano any justice.
Now let's see what you need to get from the grocery store.
Salsa Lizano Ingredients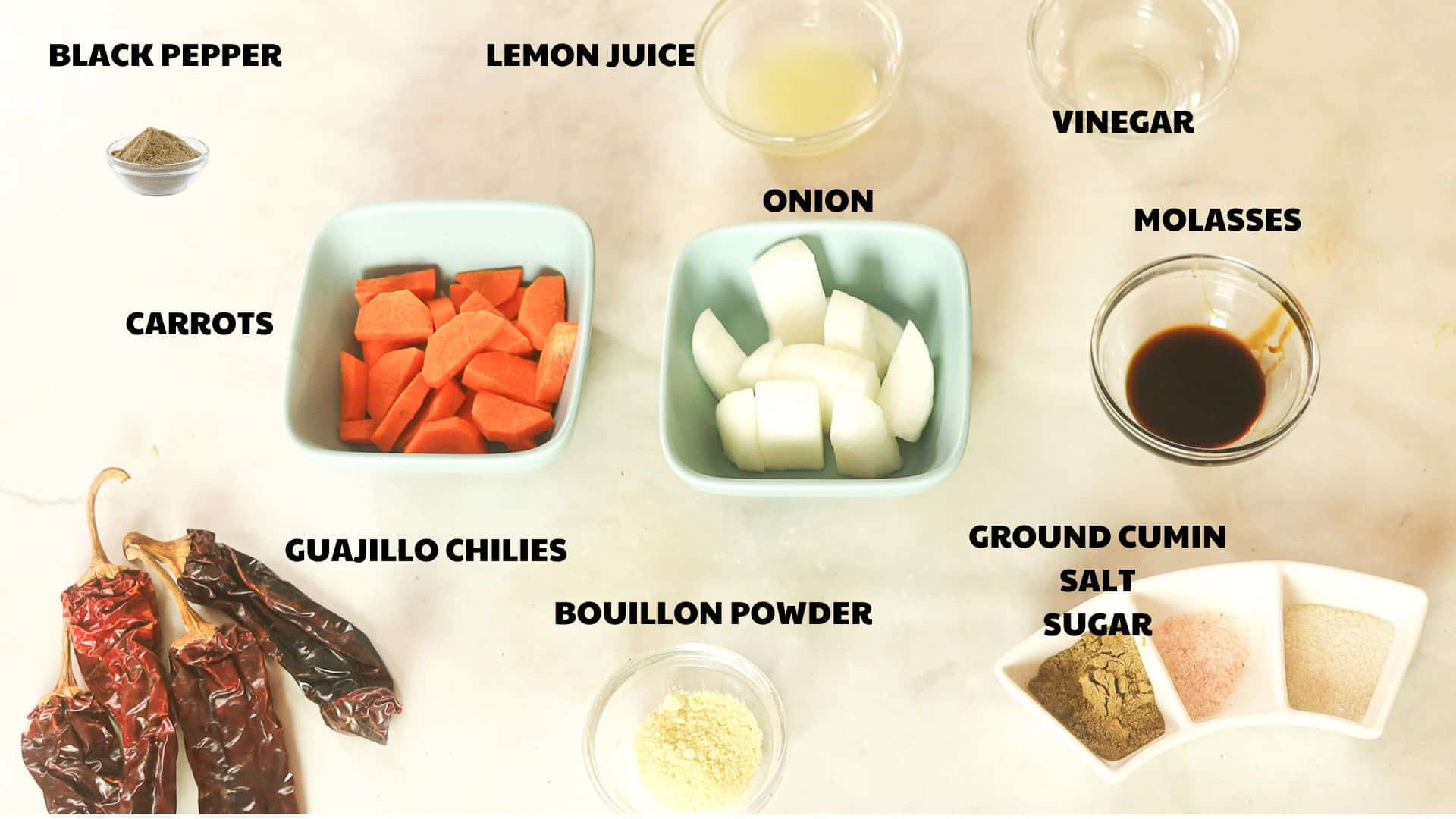 dried Guajillo chilies
vegetarian bouillon powder
onion
carrot
sugar
fresh lemon juice
white vinegar
ground cumin
salt
black pepper
molasses
hot sauce (optional)
How to Make Salsa Lizano
Soak the dried chilies in boiling water to soften them.
Combine the chilies with all of the other ingredients in a food processor to make a mixed vegetable paste.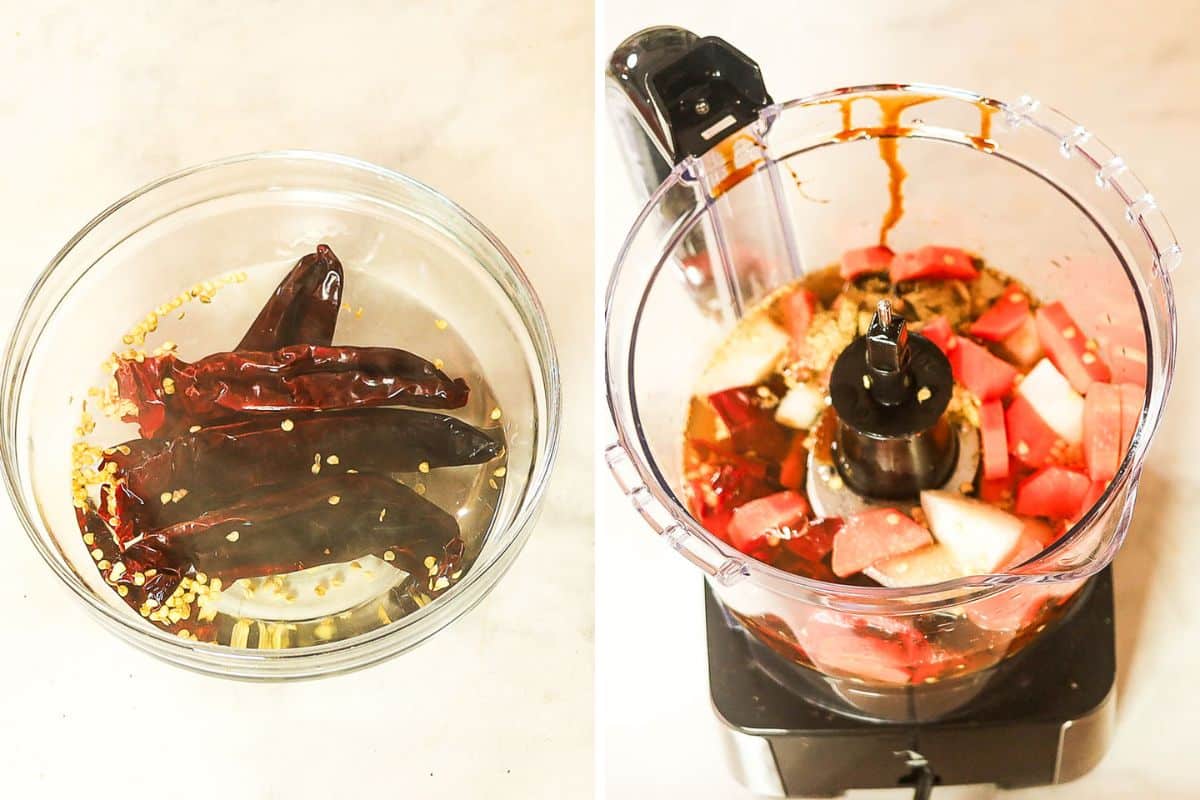 Blend with 1 cup of the chili water until you have a loose sauce consistency.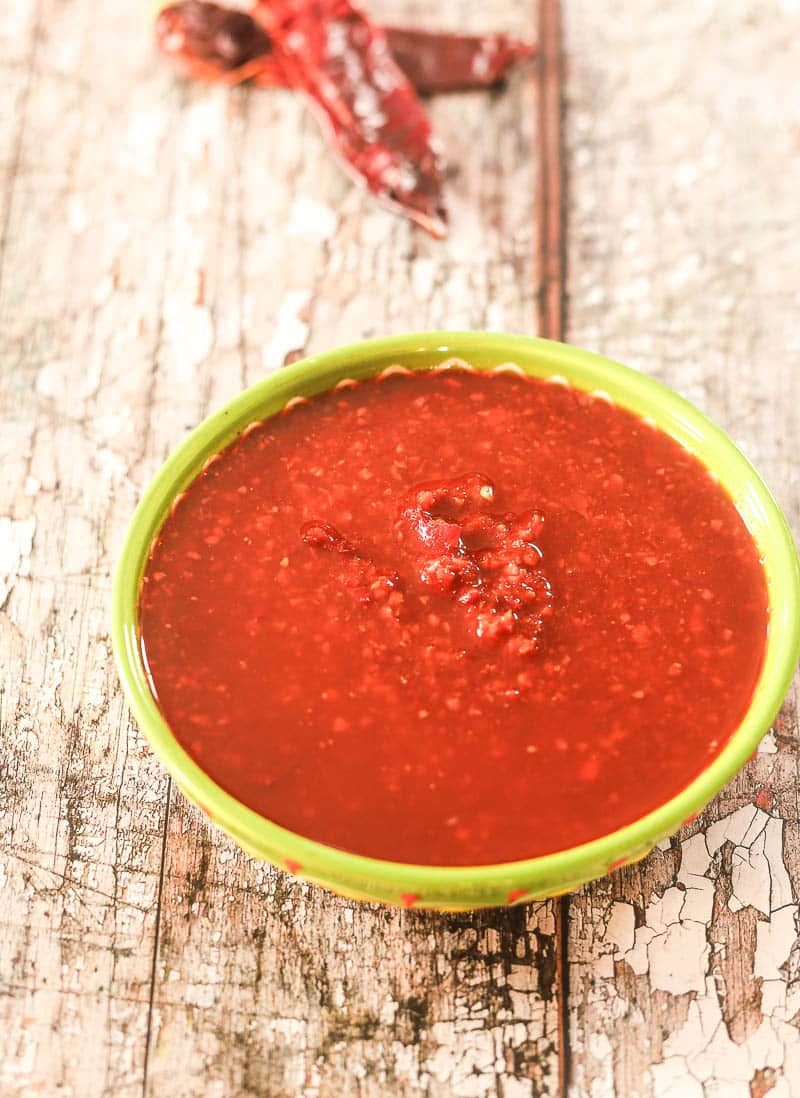 This homemade Lizano Sauce is the result of a perfect blend of smoky chilies, fresh vegetables with both sweet and acidic notes.
Lizano Sauce is essential for making the traditional Gallo Pinto Costa Rican breakfast – although this platter looks more like lunch!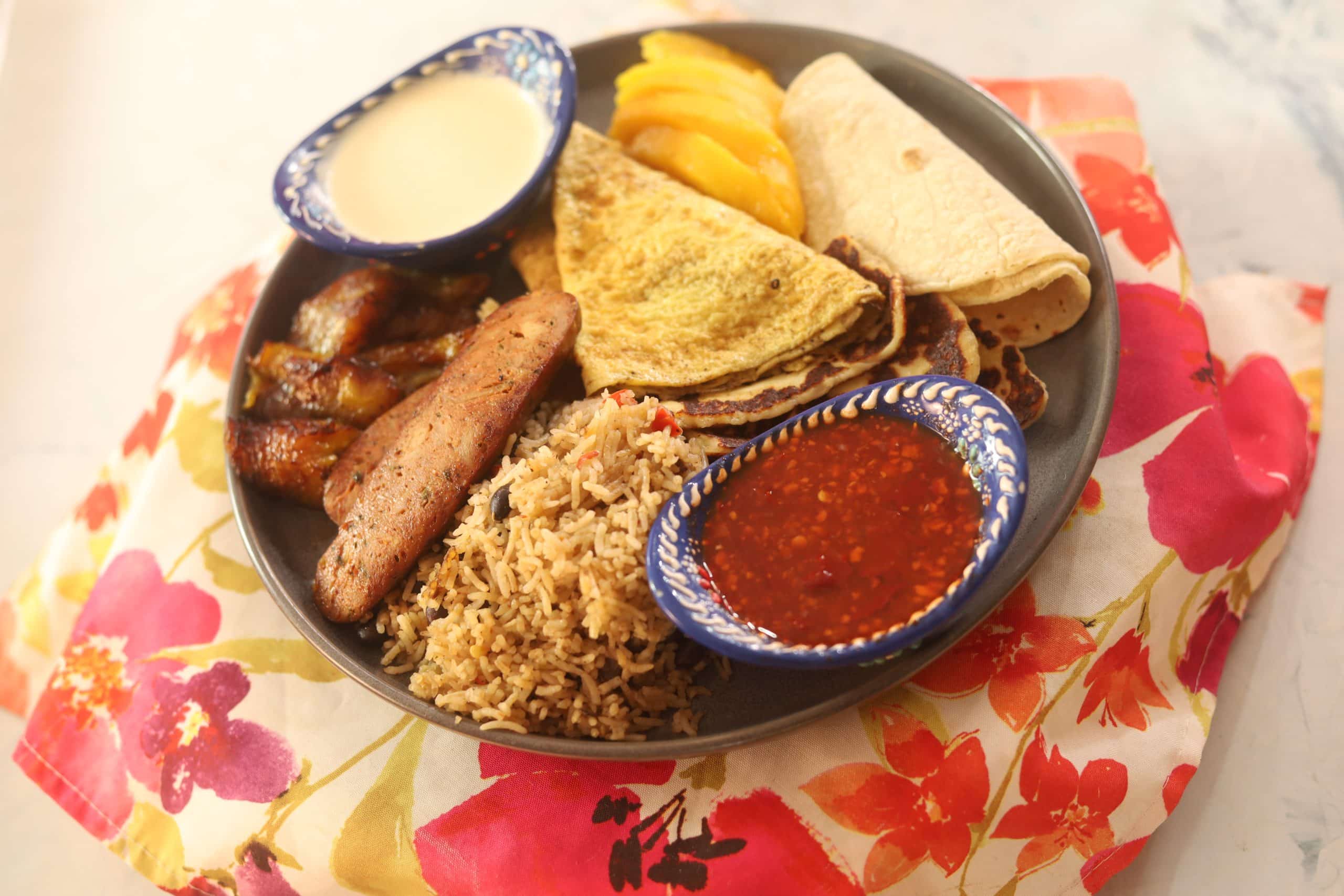 Lizano Sauce automatically adds a special flavor to whatever it is added to.
Costa Rican Salsa Lizano
Homemade Salsa Lizano is a mild salsa to compliment all your meal – a delightful blend of flavors that will elevate any dish.
Ingredients
4

dried Guajillo chilies

2

teaspoon

vegetables bouillon

½

onion

chopped

½

carrot

peeled (3 oz.)

2

tablespoons

sugar

2

tablespoons

lemon juice

2

tablespoons

white vinegar

1

tablespoon

ground cumin

2

teaspoons

salt

1/2

teaspoon

black pepper

to taste

2

teaspoons

molasses

hot sauce

optional
Instructions
Place the dried chilies in a bowl and add about 2 cups of boiling water.

Let it rest for about 15 minutes, until the chilies are softened.

Chop the onion and carrot into smaller pieces.

Drain the chilies, but reserve the water.

Cut the softened chilies into smaller pieces.

In a food processor, combine the chilies, bouillon powder, onion, carrot, sugar, lemon juice, vinegar, cumin, salt, black pepper and molasses in the food processor.

Add 1 cup of the reserved liquid and process well, until all ingredients are mixed and pureed.
Notes
Yield: approximately 2 cups
Nutrition
Calories:
21
kcal
|
Carbohydrates:
5
g
|
Protein:
0.2
g
|
Fat:
0.2
g
|
Saturated Fat:
0.01
g
|
Polyunsaturated Fat:
0.03
g
|
Monounsaturated Fat:
0.1
g
|
Sodium:
473
mg
|
Potassium:
54
mg
|
Fiber:
0.3
g
|
Sugar:
4
g
|
Vitamin A:
520
IU
|
Vitamin C:
2
mg
|
Calcium:
12
mg
|
Iron:
1
mg
Did you try this recipe? Leave a comment below.
Please follow me on Instagram @chefmireille or tag me #chefmireille with your pics! I'd love to share them!
Don't forget to visit the RECIPE INDEX with over 1000 recipes from around the world including lots of Vegetarian Recipes and Gluten Free Recipes!