Last Updated on June 3, 2015 by Chef Mireille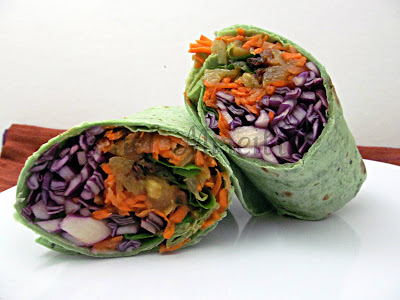 Blogging Marathon #21
Theme: Sandwiches and Wraps
This simple wrap with a few raw vegetables takes on an intense flavor profile because of this Roasted Habanero Pineapple Salsa
Although salsa is an originally Mexican creation, many countries of the world have adopted this condiment using the flavors indigenous to their own culture and cuisine. I used Caribbean ingredients of my heritage to create this delicious salsa that can be used in wraps, grilled meats and whatever else you use salsa on.
By roasting all the ingredients in this salsa, there is a sweet, smoky flavor that comes out.
Roasted Habanero Pineapple Salsa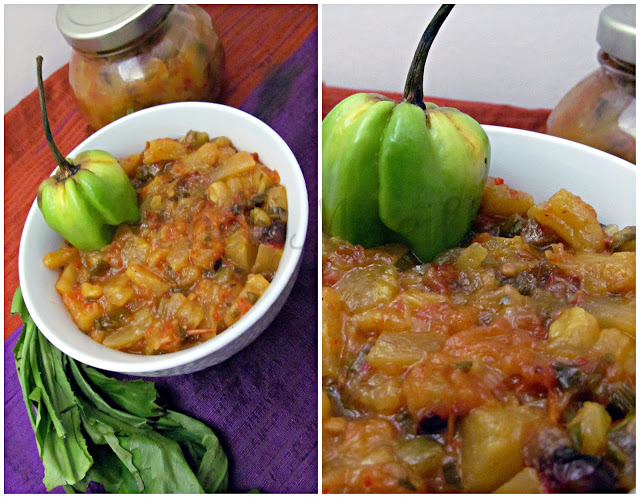 Roasted Habanero Pineapple Salsa
Ingredients:
3 tablespoons olive oil.
3 medium tomatoes, cut in half
12 shadoe beny leaves (a large handful of cilantro can be substituted)
5 shadoe beny leaves, finely chopped
a few branches of thyme
4 cloves garlic
2 Scotch Bonnet Peppers (Habaneros), cut in half
1/2 large pineapple, cut into small dice
4 scallions, finely chopped
salt and black pepper, to taste
Preheat oven to 350 F.
Sprinkle cut side of the tomatoes liberally with salt and black pepper.
Pour 2 tablespoons of the olive oil on the bottom of an oven safe dish. Place the whole Shadoe Beny leaves in the oil. Place tomatoes, garlic cloves, thyme and Scotch Bonnets on top.
Roast in oven for 1 1/2 hours.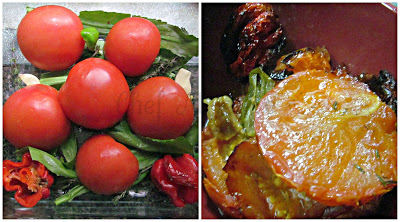 Chop tomatoes, garlic and Scotch Bonnet finely.
Heat remaining oil in a saucepan. Add scallions and saute until softened.
Transfer chopped tomatoes, etc. to the saucepan with the pineapple and salt. Bring to a boil. Simmer for 20 minutes.
Add chopped shadoe beny and adjust salt, as needed.
Let cool and then chill in the refrigerator.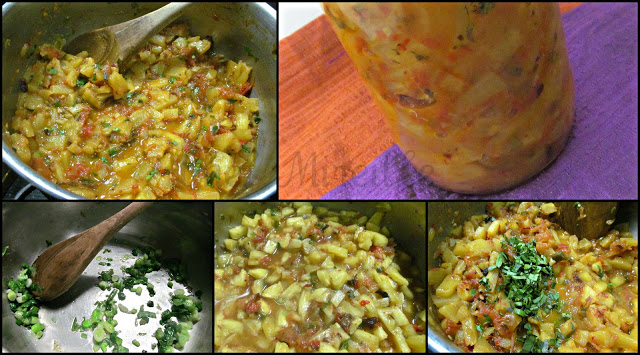 Roasted Habanero PineappleWrap
Ingredients:
red cabbage, thinly sliced
carrot, grated
lettuce
store bought wrap
salsa
Take your favorite wrap. (mine is green because I used a spinach wrap). Place a large handful of cabbage and then a few tablespoons of the carrot on the wrap and then top with a generous helping of the salsa. Top with a lettuce leaf and roll, folding in the sides as you go.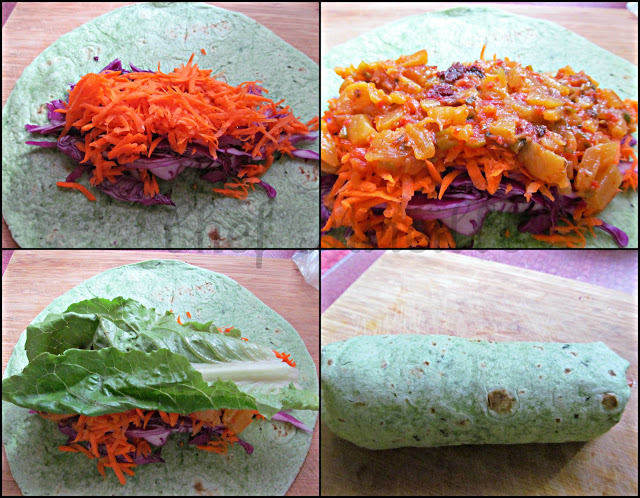 Since this is such a healthy wrap, there is no need to feel any guilt for having a few fried plantain chips with it!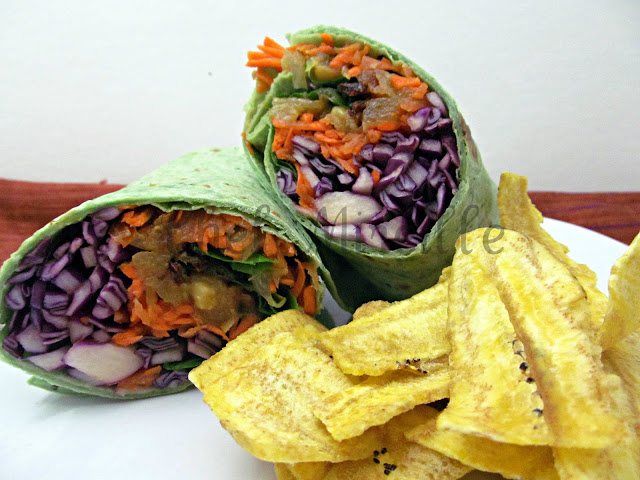 This colorful wrap is aesthetically appealing making you want to dig in to this healthy sandwich!
Check out the Blogging Marathon page for the other Blogging Marathoners doing BM#21

Sending to Cooking Up Nice' Sandwich & Burger event
LIKE THIS RECIPE? LEAVE A COMMENT..I LIVE FOR THEM!
Chef Mireille