Last Updated on May 7, 2020 by Chef Mireille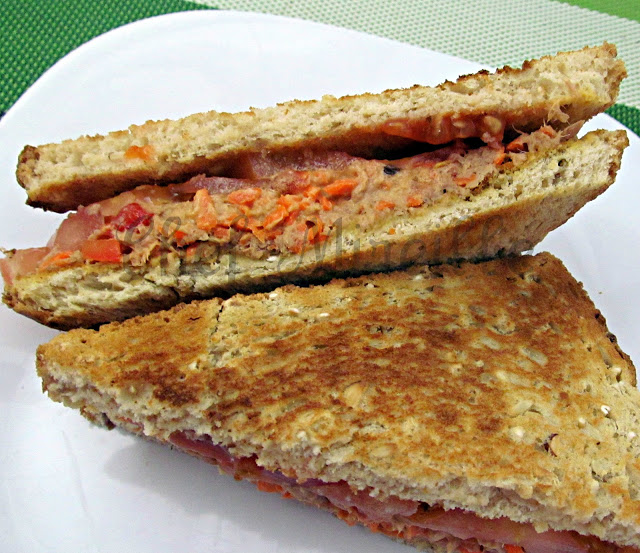 Blogging Marathon #21
Theme: Sandwiches and Wraps
Tuna is a very healthy protein. Tuna fish from the can is an American staple that is quick, easy and healthy. Classic tuna salad is made with mayonnaise, however, sometimes so much mayonnaise is used that all the healthy benefits from the protein is compromised due to the heavy use of fat-rich mayonnaise. As much as I love tuna salad, I never order it when I go out to eat because the amount of mayo used in most places makes it unpalatable to me. It makes the bread soggy, which makes for an unpleasant dining experience for me.
Here is tuna salad my way – it's healthier and still delicious!!!
Make sure you purchase tuna fish packed in water; not oil. Again, this is to make it healthier and lighter. In addition to mayonnaise, I use a sandwich spread by Hellman's, which is a combination of mayonnaise and pickled cucumbers. This, combined with chile paste, makes for a very flavorful tuna salad.
Tuna Salad
(click here for printable recipe)
Ingredients:
1 large carrot, grated
1 small red bell pepper, diced
2 6 oz. cans tuna, packed in water, drained
4 tablespoons Hellman's sandwich spread
2 tablespoons mayonnaise
1-2 teaspoons Sambal Olek (Indonesian chili paste), depending how much spice you like
a pinch of salt
Combine all ingredients and mix well.

Tuna Fish Sandwich
Ingredients:
tuna salad
a few slices of tomato
2 slices of whole grain bread
Toast the bread. Spread a few tablespoons of the tuna salad on one slice of bread.
Top with the tomato slices.
Cover with the other slice of bread.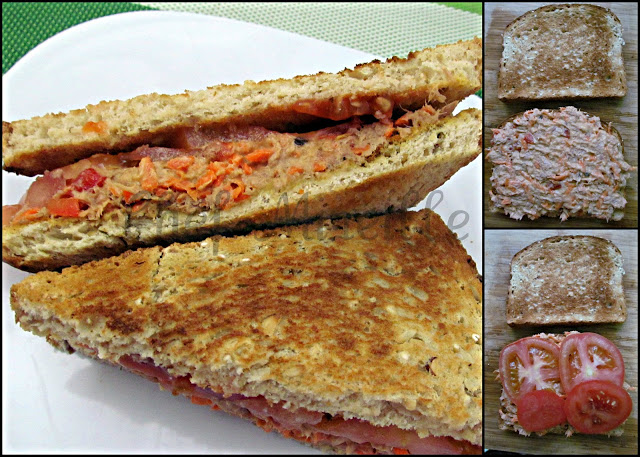 Enjoy this delicious, healthy sandwich!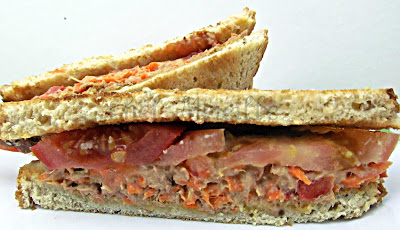 Check out the Blogging Marathon page for the other Blogging Marathoners doing BM#21


Sending to Cooking Up Nice' Sandwich & Burger event
LIKE THIS RECIPE? LEAVE A COMMENT..I LIVE FOR THEM!
Chef Mireille
Like me on FACEBOOK!
Follow me on TWITTER!