Last Updated on June 3, 2015 by Chef Mireille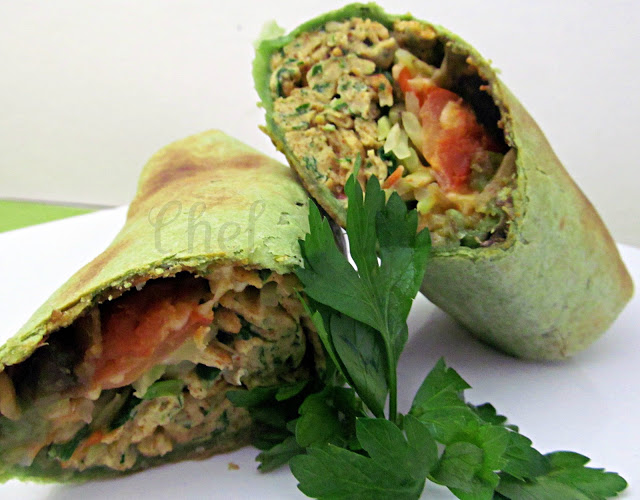 Blogging Marathon #21
Theme: Sandwiches and Wraps
Full of veggies and protein rich eggs, this is a healthy way to start your day.
Breakfast Wrap
(click here for printable recipe)
Ingredients:
2 teaspoons oil
2 eggs (vegetarians can substitute firm tofu, crumbled)
1/2 teaspoon paprika
1/4 teaspoon red chile pepper (cayenne)
1 tablespoon parsley, finely chopped
salt, to taste
a few baby spinach leaves
a few slices of tomato, thinly sliced
1 tablespoon broccoli slaw (available in salad section of market – combo of grated broccoli stems and carrots)
a few slices of your favorite cheese (I used Edam)
1 store bought wrap
In a small bowl, whisk together the eggs, paprika, cayenne, parsley and salt.
In a skillet, melt 2 teaspoons of butter. Add the egg mixture. After 1 minute, start to break up the eggs with the spatula to make scrambled eggs for 1 more minute, until the eggs are cooked.

Set up a wrap on a plate. Place the scrambled eggs on top. Add a few spinach leaves and then the broccoli slaw. Add the sliced tomato on top and then the cheese. Roll to form a stuffed wrap.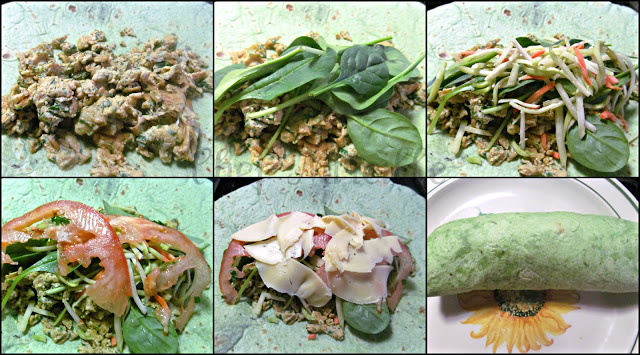 Place in toaster oven or sandwich press, seam side down, for 5 minutes.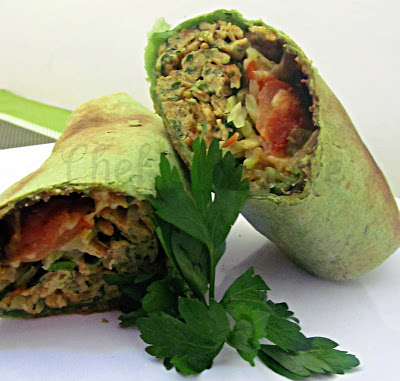 Check out the Blogging Marathon page for the other Blogging Marathoners doing BM#21
Sending to Cooking Up Nice' Sandwich & Burger event

LIKE THIS RECIPE? LEAVE A COMMENT..I LIVE FOR THEM!
Chef Mireille
Like me on FACEBOOK!
Follow me on TWITTER!