Last Updated on December 14, 2020 by Chef Mireille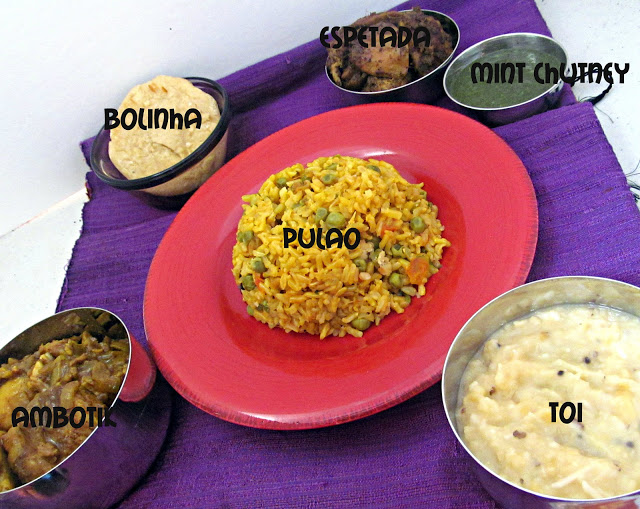 Goa Thali
Goa is a unique state located on the southwestern coast of India. Under Portuguese rule for many years after India had already received its independence from England, it has a unique culture and cuisine. It is the most Christian state and the most carnivorous state, with less vegetarians than in other parts of India. Goan cuisine is also characterized by having some of the hottest curries, like Vindaloo. In addition, it is the only state in India where pork is commonly eaten. Due to its coastal location, seafood is also quite prevalent. Recently, I have only been eating poultry and seafood, so I did not make any pork dishes but used chicken, however, you can easily substitute pork for the Espetada to have an authentic Goan thali. They are still very flavorful with the spicy notes of Goa.
Since I have no familiarity with anyone from Goa, I relied on cookbooks and websites to be able to create this Goan platter, however, all the recipes were adapted to reflect my personal preferences. I hope the fact that I created this inspires you to try a new cuisine you may not have cooked before. With the plethora of food blogs out there on the web, there is no excuse to limit yourself to only your native foods. Learn about a new cuisine and a new culture. Education is inspiration!
I have already made Goan Kath Katha, Goan Pulao & Dal and Bolinhas (see links below). Here are a few more recipes to make an authentic Goan platter.
Goa Thali
Chicken Espetada (Indo-Portuguese Chicken Kebabs)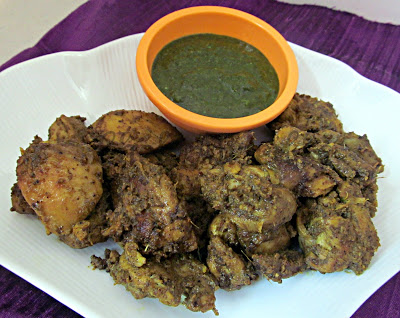 Several months ago I won a giveaway from another blog, which was The Spice Trail from Sandeep Chatterjee. This cookbook includes spice laden recipes from throughout Southeast Asia and India. This is the first recipe I am trying from this book and I was not disappointed.
This recipe comes from the southwestern Indian state of Goa, with its longtime Portuguese rule still represented in their cuisine. Although it is traditionally made with pork, I used chicken, which is a good substitute, since I prefer to eat poultry and seafood only now.
Ingredients:
5 boneless, skinless chicken thighs, cut into large bite sized pieces
salt, to taste
7 dried red chile peppers
1 tablespoon black peppercorns
6 cloves
1 cinnamon stick
2 teaspoons coriander seed
3 tablespoons white vinegar
1 tablespoon garlic, finely chopped
2 teaspoons ground turmeric
1 tablespoon ginger, finely chopped
2 tablespoons cilantro
a little water
1 tablespoon oil.
bamboo/wooden skewers, soaked in water for at least 2 hours (if using metal skewers, soaking is not necessary) optional)
Sprinkle the chicken with salt evenly.
Dry roast the chiles, peppercorns, cloves, cinnamon and coriander seed until fragrant. Grind to a powder and transfer to a food processor.
Add the vinegar, garlic, turmeric, ginger and cilantro to the food processor with 2 tablespoons of water to form a paste. Pour over the chicken and marinate for at least 2 hours.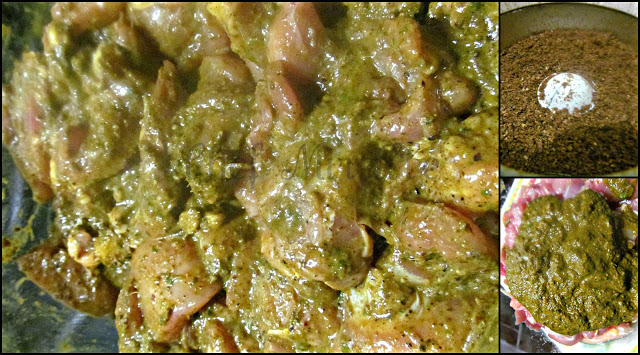 Remove chicken from marinade.
Heat oil in a large skillet and stir fry chicken until cooked through.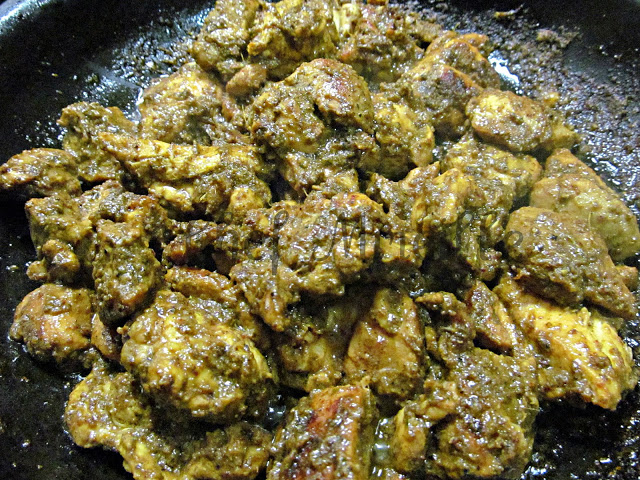 Alternately, thread meat onto skewers and grill until chicken is cooked through.
Serve with mint chutney.
I had actually let the chicken marinate overnight, giving a lot of time for the flavors to be absorbed into the meat. This was so flavorful and my favorite thing from the whole platter.
Kath Katha (Vegetable Curry)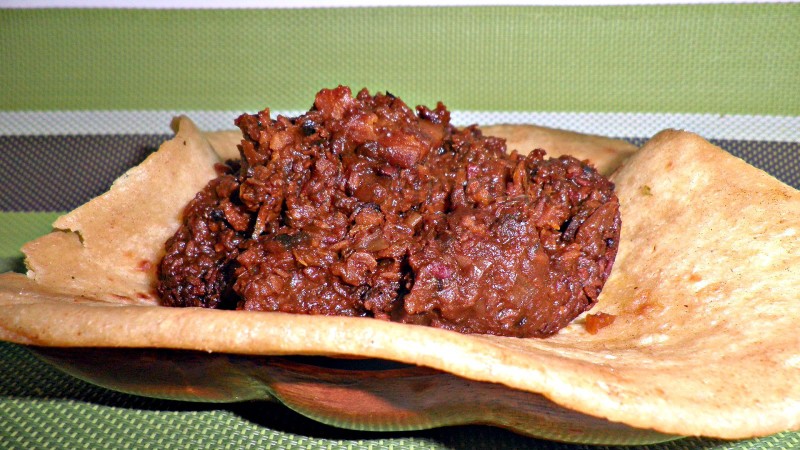 Ambotik (Fish Curry) (adapted from The Spice Trail, Sandeep Chatterjee)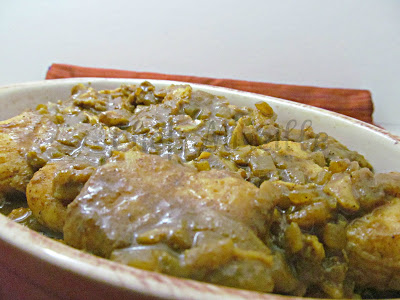 Ingredients:
10 dried red chile peppers
2 teaspoons cumin seeds
2 teaspoons black peppercorns
2 teaspoons coriander seeds
1 tablespoon garlic, finely chopped
1 tablespoon ginger, finely chopped
2 teaspoons ground turmeric
1 1/2 lbs. catfish fillets
salt, to taste
4 tablespoons oil
2 onions, chopped
2/3 + 1/4 cup water
1 tablespoon tamarind pulp
2 teaspoons brown sugar
Cover the tamarind pulp with 1/4 cup boiling water and let sit for 10 minutes. Strain, pressing all the liquid from the pulp.
Dry roast the chiles, cumin, peppercorns and coriander over medium heat until fragrant, 1-2 minutes. Grind to a fine powder. In a food processor, combine the spice powder with the garlic, ginger and turmeric to make a paste, adding a tablespoon or two of water, if necessary.
Cut the fish into small pieces and rub with salt. Set aside.
Heat 2 tablespoons of the oil in a large skillet. Add onion and saute until softened. Add the spice paste and the rest of the oil and stir fry for 3 minutes. Add the water, tamarind water and sugar. Bring to a boil and then simmer for 5 minutes. Add the fish pieces and simmer for 5 minutes, until cooked.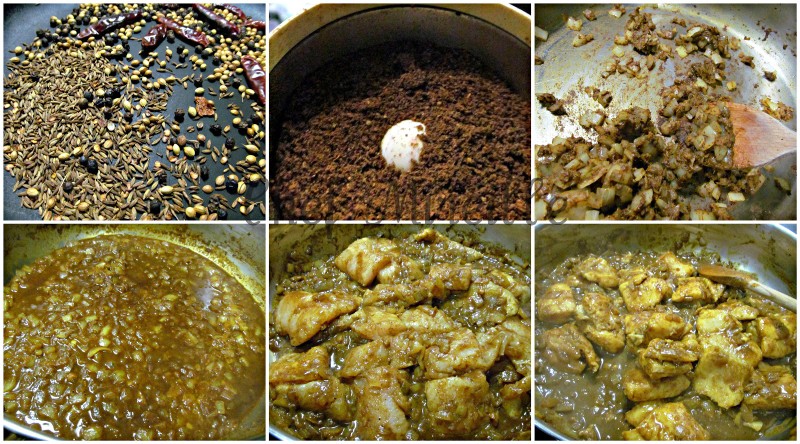 There is a nice, mild sweetness to this dish and in combination with the masala, there is not a strong fish flavor, which makes this delicious. I think even people who complain about strong fishiness would enjoy this dish.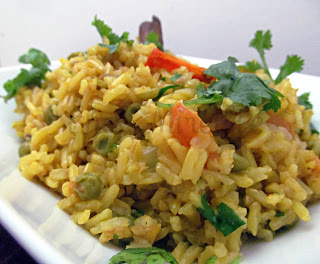 Bolinhas (Coconut Cookies)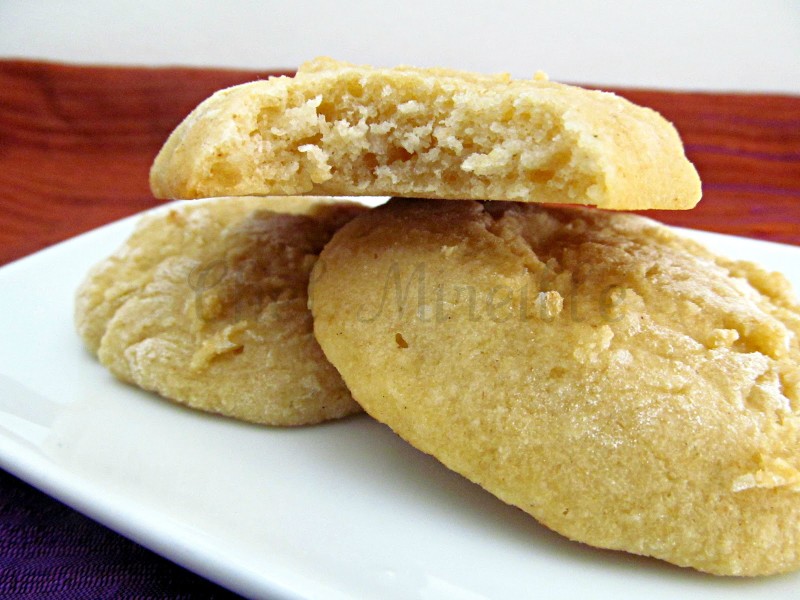 …linking to my own Taste of the Tropics series hosted this month by EZ Cookbook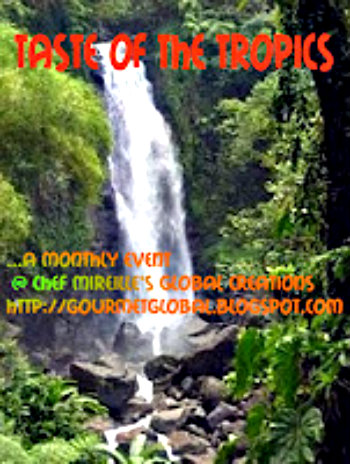 LIKE THIS RECIPE? LEAVE A COMMENT..I LIVE FOR THEM!
Chef Mireille
Like me on FACEBOOK!
Follow me on TWITTER!