Last Updated on June 9, 2023 by Chef Mireille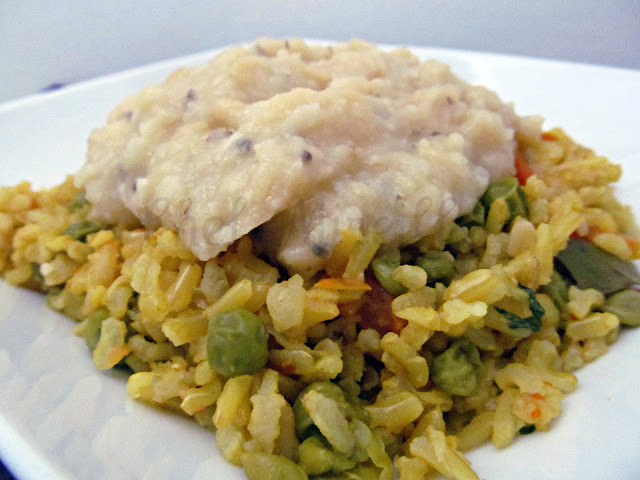 With a large Vegetarian population due to religious observance, Indian cuisine has one of the most diverse and flavorful ways to observe Vegetarianism. With beans/legumes being a major part of the Indian Vegetarian diet, it's a smart way to observe these dietary restrictions, ensuring adequate protein is received.
I have had friends who tried to become Vegetarians, either for health or "ethical" reasons and many of them could not do it. They started to feel weak and tired because it is more than just not eating meat and switching to a grain, fruit and vegetable diet. You still have to make sure you are getting protein from other sources like beans/legumes, nuts and dairy (if you are not Vegan).
This Pulao & Dal recipe come from the Indian state of Goa. Actually, Goa is the most carnivorous state in India, however, they still have many Vegetarian dishes, for religious days when they are not eating meat.
2 cups Basmati rice
3 cups water
1 onion, chopped
1 tomato, chopped
4 garlic cloves, finely chopped
1 tablespoon ginger, finely chopped
2 chiles, split
1 teaspoon ground turmeric
3 cloves
1 cinnamon stick
1 bay leaf
1 cup frozen green peas
1 tablespoon oil
salt, to taste
2 tablespoons cilantro, finely chopped
Heat oil. Add onions and cook until onions have softened. Add tomatoes, garlic, ginger and chiles. Fry for 2 minutes.
Add all the ground and whole spices and fry for 1 minute.
Now add the rice, water, salt and green peas. Bring to a boil.

Reduce to a simmer, cover and cook for 30 minutes.
Add cilantro and mix in with a fork. Garnish with more cilantro.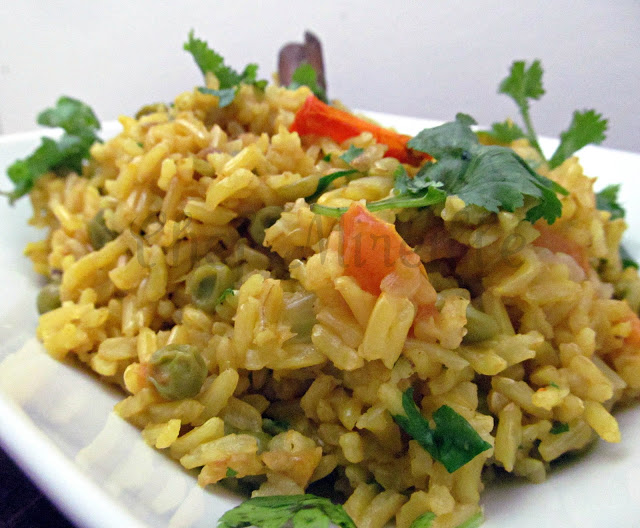 Toi (Goan Dal)
(adapted from Archana's
recipe
)
Ingredients:
1 cup toor dal (split pigeon peas)
1 large potato, peeled and cut into small dice
1 teaspoon ginger paste
1 teaspoon garlic paste
3 tablespoons freshly grated coconut (or frozen grated coconut, defrosted)
5 cups water
1 teaspoon oil
1 teaspoon mustard seeds
a pinch asoefetida
2 curry leaves (I used rehydrated dried curry leaves, since I had run out of fresh ones)
2 chiles, split
salt, to taste
Combine dal, potato, coconut, ginger paste, garlic paste and water in a saucepan. Bring to a boil. Reduce to a simmer and cook for 30-40 minutes, until tender. Mash or puree the cooked dal, adding an extra 1/2 cup of water if you think the dal is too thick.
In a skillet, heat oil and mustard seeds. Once the mustard seeds start to sputter, add asoefetida, chiles and curry leaves and fry for 30 seconds. Add this to the dal. Add salt, to taste and stir to combine.
The coconut really adds a different flavor profile and makes something as simple as dal very delicious.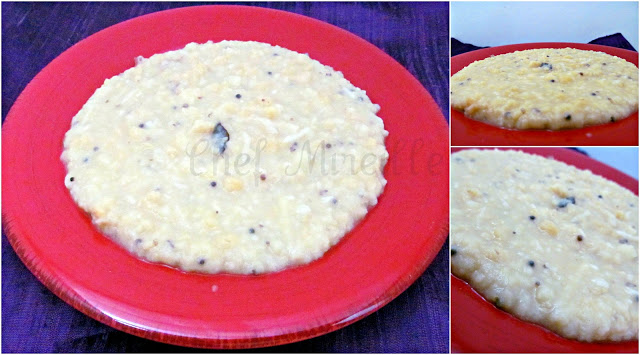 Rice & Beans are a complete food, meaning you receive all of your essential amino acids with this meal. Enjoy rice and dal and don't worry about lacking nutrients!

….sending to Swathi's Favorite Vegetarian Recipes & Tickling Palates' Protein Rich Foods
LIKE THIS RECIPE? LEAVE A COMMENT..I LIVE FOR THEM!
Chef Mireille