Last Updated on June 4, 2015 by Chef Mireille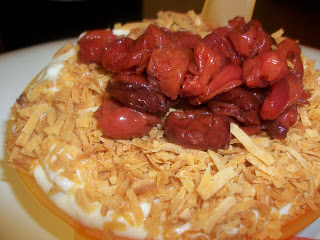 Cheesecake with Toasted Coconut and Roasted Cherries
Do cold winter mornings inspire you to whip up a pot of that quintessential bowl of creamy goodness, sprinkled with cinnamon? Do feelings of nostalgia come over you and you think of your mom wherever she may be, as the warm, milky substance warms your insides with each swallow? If you are a rice pudding fan, you have to make a visit to Rice to Riches.
I was on Yelp a few days ago, looking at some of the feedback for this Rice Pudding Heaven I discovered a few years ago & I was amazed that some people actually do not like rice pudding. I will not disparage those who simply cannot appreciate a bowl of simple ingredients – milk, rice, sugar – and how this marriage of flavors comes together to create perfection. Each to his own, I guess. However, the lactose-intolerant low fat vegans I have a problem with. Rice to Riches does not claim to be a vegan establishment, nor do they claim to be good for your waistline. In fact, they do the opposite with kitschy signs that proclaim "No Skinny Bitches" and "Big is Beautiful". I don't know when the vegans decided every eating establishment must accommodate their selective eating choices. I am allergic to nuts, but I don't expect to find nut-free carrot cake, unless I make it myself. If you are watching your weight, there is no point in visiting Rice to Riches with their rich rice pudding formula – made with eggs and cream, in addition to the basics.
There is no other word but kitschy to describe the variety of signs proclaiming the attributes of rice pudding, over the ridiculous notion of being fat conscious in a place, devoted to rice pudding, made with full fat milk and cream. The kitschiness (is that a word?) adds to the nostalgic feelings of yesteryear, with cartoon character signs in every available space. It adds to the experience to all those devoted to rice pudding.
Now to the most important part – the rice pudding. Rice pudding purists may have a problem with this modern twist on 20+ flavors of rice pudding, however most of them had hints of cinnamon and vanilla, so that Save Me From Cannoli, Fluent in French Toast, Hit & Run Custard and Cinnamon Sling are not too far removed from the original. Sampling is allowed, so you can keep trying until you find the flavor you love. The only flavor I had a problem with was the Raspberry Statement. The fruit overpowered the simple flavors of milk and rice and it also lost its texture. I thought I was eating a raspberry yogurt.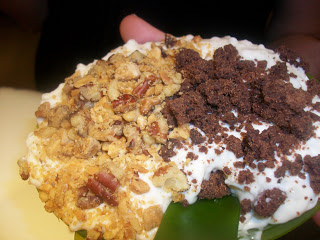 Original with Spiced Nuts and Espresso Crumble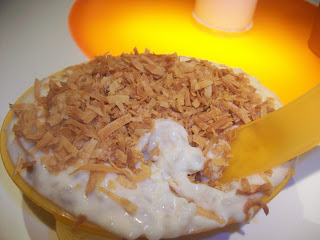 French Toast with Toasted Coconut
In addition to the 20 plus flavors, you also have a selection of 10 toppings, making customization a difficult decision if you are one of those who can't figure out that ordering a medium sized Caramel Macchiato with skim milk and an extra shot of expresso from Starbucks is a Grande Triple Skim Caramel Macchiato. However, if you are one of those that love the variety and options, like me, you can appreciate Rice to Riches. Everything from toasted coconut to roasted cherries and jelly is available. Although I did not like the raspberry, the roasted fruit topping complemented the rice pudding wonderfully. It was similar to eating a cobbler or a crisp. The jelly topping I was not brave enough to try. I could be wrong, but I don't think that is something my taste buds are going to approve of.
Served at the perfect temperature for the weather, it was served with just a little chill, but not refrigerator cold. In the winter, it is served warm.
It is bit on the pricey side, but the kitschiness make it an attraction and it is NYC, after all. You do get a neat bowl and spoon, that you can keep and reuse. It is very filling and will keep you for a few hours, so worth the indulgence.
If you can appreciate a good bowl of rice pudding, you won't be disappointed from a visit to Rice to Riches.
Chef Mireille
facebook.com/GlobalTastes
twitter.com/GlobalTastes
digg.com/ScribingChef
Mireille the Scribe