Last Updated on June 4, 2015 by Chef Mireille
Thai was one of the first Southeast Asian cuisines I started to experiment with several years ago, long before I ever entered culinary school. I have eaten at more Thai restaurants than I can count and have been cooking Thai food for several years. For these reasons, I am well informed on the complexities of Thai Food and have rarely had a Thai meal I did not enjoy.
I had not had Thai in quite a while and was looking forward to my meal at Beet. Unfortunately, Beet did not deliver the quality meal I was looking for.
The Beet menu includes Thai Fusion, with French and Japanese Thai food entrees on the menu. The Thai selections include a variety of wok style and curry style Thai meals. They have a special lunchtime menu, but the choices are very limited. This leaves the more expensive standard menu.
The complimentary bowl of beet chips promised on the website was not delivered to the table. They do appetizers well. Beautifully presented and complex flavors were present in the stuffed full moon pancake with chicken and shrimp. Other appetizers were also flavorful, but the accompanying sauces were too mild flavored to complement the flavors. With dry duck and mediocre entrees, the main courses don't warrant much commentary. For the quality of the food, the restaurant is overpriced.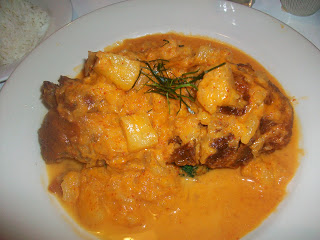 Crispy Duck in Pineapple Curry
Beet is frequented by locals. It is very much a neighborhood establishment and caters to the family friendly Park Slope community. It is a very clean establishment with a unique bathroom sink. With the large selection of dining establishments in Park Slope, Beet definitely would not top my list, unless I am in a MUST HAVE THAI mood.
Chef Mireille
facebook.com/GlobalTastes
twitter.com/GlobalTastes
https://digg.com/scribingchef
[email protected]