Last Updated on June 4, 2015 by Chef Mireille
The Museum of Chinese in America is rarely included on the must-see list of places to see for tourists. Unless you are Chinese/Chinese American, it is more than likely you never bothered to visit here, even as a native New Yorker. You've been to MOMA and the Guggenheim, but not MOCA. Sure, you probably walked by it more times than you can count on your way to buy fresh fish or find that knock off LV bag to buy your sister for Christmas, but you've never walked inside, have you?
Well, you are missing a part of American history. This museum is a tribute not just to the Chinese in America, but to any minority group who have struggled for civil rights in America. This museum highlights the struggles from the first Chinese who arrived here, as well as the accomplishments of Chinese Americans. There is a wall each dedicated to two industries that the Chinese have excelled at here in America – laundromats and restaurants. You will see restaurant menus from long ago that look very different to the ones we see today. Today, we get greasy, MSG laden food, that no Chinese would actually eat themselves. These older menus are closer to real Chinese food and in the American section of these menus, you could actually get salads. We need to go back to these healthier menus, instead of the deep fried chicken wings and oily lo-mein we eat today. The House of Chan was one of these first dining establishments here in NY and you can purchase the House of Chan cookbook here.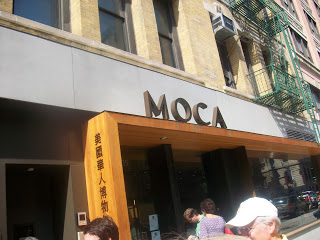 The museum has been around for a few decades, but it had previously been housed in a classroom of a school. They just celebrated their one year anniversary at their brand new location. I am by no means a videographer and the museum is a bit dark, but take a look at the video for a little perusal of the museum.
In addition to the museum, MOCA also conducts various walking tours. One of these tours, Coffeehouses to Banquet Halls illustrated the contributions the Chinese have made to the culinary diaspora of New York City, as well as the history of Chinatown. You will see where Chinatown began on Doyers Street, learn about the first immigrants from the village of Toisan, learn about the Tong Wars, see the first Dim Sum restaurant, which is still open today. Opened in 1920, it survived the Depression and the post 9/11 Chinatown business decline.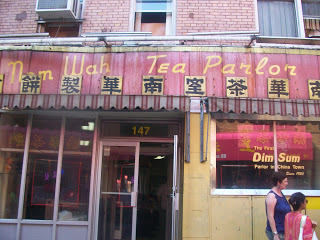 Nam Wah Tea Parlor, first Dim Sum Restaurant
You will also see some more recent long standing establishments, like the Chinatown Ice Cream Parlor, which serves unique flavors like sesame and lychee and the history of Bubble Tea and Joe's Ginger, which serves Shanghai dumplings, which are filled with soup.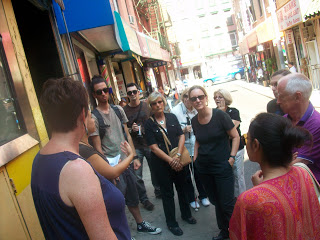 My one complaint is the organization of the tour. The tour occurs the last Saturday of every month at 1pm. This is the peak of Chinatown shopping and crowds. Crossing Canal Street with a group of 15 or more people, some of whom are tourists and have no familiarity with downtown NY, needs more guidance. With only one guide, two people got lost in the crowds on yesterday's tour. They should have two guides with every group, one at the front and one at the back, being sure to keep count, to ensure nobody is lost along the way.
Secondly, to improve the tour, they need to include tastings. Most NYC food tours, include at least one tasting. Whetting our appetite by explaining the soup filled Shangai dumplings, the uniqueness of a Szechuan peppercorn and the unusual ice cream flavors and then leaving us hanging is mean, even though I am sure that is not their intention. You stand outside as the tour guide explained the foods available. We were not given the opportunity to see or taste the food. The tour is only $15. They should charge a little more and include tastings. It would make the experience more enjoyable and appeal to the many die-hard NY foodies who would come to take this tour, en masse.
This was only the second month doing the tour, so hopefully they will get better at it. Regardless, for a little piece of NY history, it is worth visiting.
Chef Mireille
facebook.com/GlobalTastes
twitter.com/GlobalTastes
digg.com/scribingchef
[email protected]