Last Updated on December 16, 2020 by Chef Mireille
Adobo is a popular style of cooking in the Philippines.  It basically consists of meat or a vegetable (in vegetarian versions, eggplant or jackfruit is popular) stewed in vinegar and seasonings.  You will find everything cooked Adobo – chicken, fish, pork,eggplant etc.  There are different varieties of Adobo, depending what part of the Philippines you are in.  In some regions, coconut milk is also added.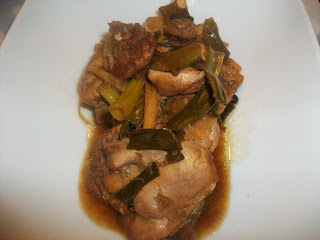 This recipe is the most common form of Adobo you will find in most Filipino restaurants, both in the Philippines and here in the US.
This recipe was taken from Corinne Trang's Essentials of Asian Cuisine.  Corinne Trang is an author of French and Cambodian-Chinese decent.  This comprehensive 500+ page cookbook includes recipes from China, Japan, Korea, Thailand, Cambodia, Myanmar, Malaysia, Vietnam, Laos, Indonesia and the Philippines.  I have used this cookbook several times and her recipes have never steered me wrong – and it did not fail me this time either!
Filipino Chicken Adobo
1 tablespoon vegetable oil (I used safflower oil)
1 head of garlic, cloves peeled and crushed
2 ounces ginger, peeled and thinly sliced
5 scallions, roots removed and bottoms trimmed, cut into 1-inch pieces
6 boneless and skinless chicken thighs
1/2 cup coconut vinegar
1/4 cup soy sauce
1/4 cup water
1 tablespoon black peppercorns
2 bay leaves
Heat the oil in a heavy-bottomed pot over medium-high heat.  Stir-fry the garlic and ginger until fragrant and golden, about 5 minutes.  Add the chicken, vinegar, soy sauce, scallions, peppercorns, bay leaves and water.  Bring to a boil.  Reduce to a simmer until the chicken is tender and cooked through, about 30-40 minutes.
It makes a delicious meal, served with white rice and a steamed Asian vegetable, like bok choy.
This was a wonderful recipe.  Usually, when recipes call for whole peppercorns, I usually remove them afterwards because biting into them accidentally (as in some Indian curries and biryanis) is a bitter, unpleasant experience.  This is not in the case in this Adobo.  The vinegar tenderizes the peppercorns, so that biting into them is a pleasant burst of a little spice and the same goes for the ginger slices and the garlic.  The flavors are mellowed by the tartness of the vinegar and the blandness of the rice, which is the usual accompaniment.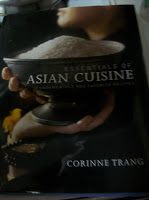 This is a recipe I would definitely use repeatedly.
Chef Mireille