Last Updated on June 4, 2015 by Chef Mireille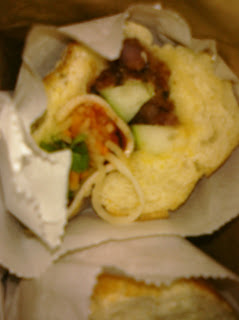 My quest continues and I try Bahn Mi Saigon, which has some of the best online reviews. Located on the same block as my favorite Malaysian restaurant, Nyonya, I have probably walked by this place dozens of times and never noticed it on Grand Street.
This is definitely more of a take out place, eventhough they do have a few stools. The sandwiches are pre-made so service is very fast. However, of all the ones I have tried so far, I liked this sandwich the least. I ordered the classic again, but the ground pork was hard, either from being overcooked or from air exposure since these sandwiches are made long before you oder them. The bread was also too soft. This place had Thai Iced Tea and other Milk Teas, but no Bubble Tea, which was sorely lacking in my Bahn Mi meal.
Very good prices at only $3.50, but I will pay the extra two bucks, for the better sandwich at Hanco's. Bahn Mi Saigon did not live up to it's reputation, at all!!!
Chef Mireille
— Sent from my Palm Pre