Last Updated on May 20, 2015 by Chef Mireille
Hi,
I'm almost there…I made a goal to myself to blog for 30 days non-stop. I'm almost there..with the support of all your comments..it keeps me going…and it's going to continue. With the increased activity of the blog, I am posting some simple recipes that can be done quickly for weeknight meals. Posting everyday requires balance between both simple and more involved recipes.
People read food blogs for different reasons…some for the gorgeous photos…some for the writing style of the blogger…some who like to learn new recipes and actually try them at home….My Reader's Choice is for this latter group. While I usually just make recipes that strike my fancy, using products that I have on hand (except for theme based Blogging Marathon), now I want you to decide what I post!
Is there something you've always wanted to learn how to make? Or maybe you're just looking for a new way of making something standard, like Fried Chicken? Whatever it is, I want to hear from you!
Please let me know what you want me to make…..any cuisine…any ingredient…if I don't already know how to make it, I will learn!
….now to entice you to let me know what food is on your mind, here's a giveaway!
The Giveaway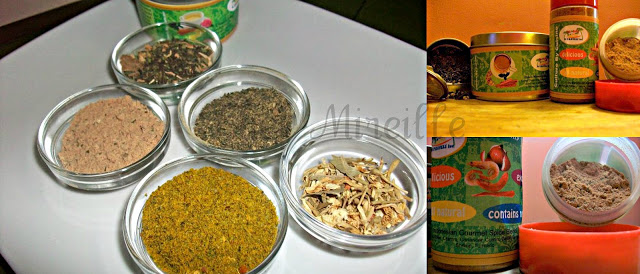 A few years ago, I had developed some spice blends and teas that I was going to put out on the market. My focus went another direction, however, I still make these for my friends and family and they love them. The spice blends are an easy way to add flavor to food…all in one bottle, without needing dozens of spices and chopping!
Here are the Spice Blends and a few of their major ingredients:
Caribbean Spice Blend – Cayenne, Thyme, Parsley
Indian Spice Blend – Curry Leaves, Cumin, Coriander
Middle Eastern Spice Blend – Za'atar, Cinnamon, Cumin
Indonesian Spice Blend – Candlenuts, Ginger, Turmeric
Thai Spice Blend – Lemongrass, Galangal, Lime Leaves
They are all salt free, except the Indonesian.
Of all the comments with your Reader's Choice requests, there will be 3 randomly picked winners:
1 winner will win 3 of the 6 spice blends I developed – please indicate on your comments which 3 you would like to receive (please note the Indonesian spice blend includes nuts and shrimp product)
1 winner will win 3 flavored teas….

and now for the Grand Prize….

Follow this blog via Twitter, Facebook, RSS Reader or email and you will be eligible to win all 6 spice blends…indicate which action you took when you comment with your Reader's Choice request
*only comments posted by Jun 12th 8am, EST will be considered*
*only people who live in the continental United States are eligible*
Chef Mireille
https://www.globaltasteinc.com
Like me on FACEBOOK!
Follow me on TWITTER!