Last Updated on May 30, 2015 by Chef Mireille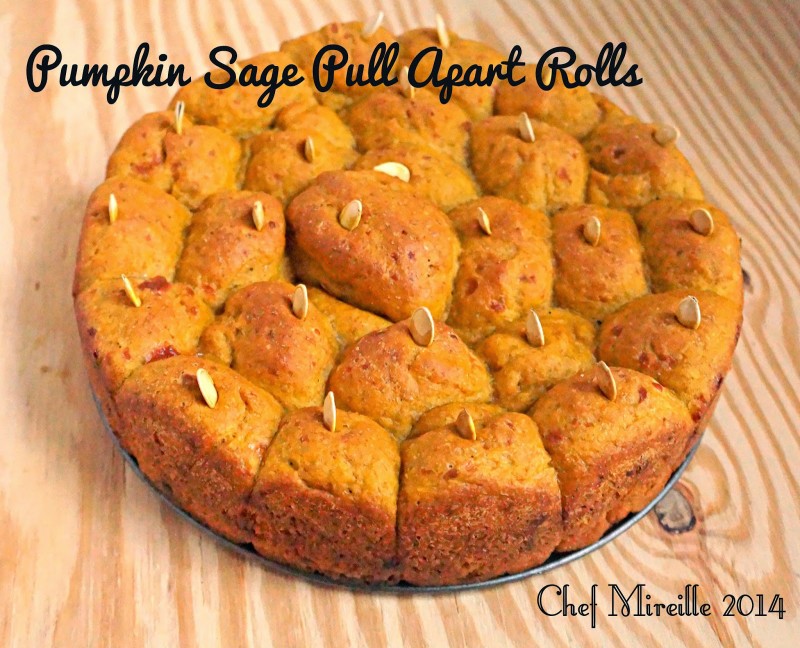 This month's Bread Bakers theme is to make a bread or roll perfect to serve with Thanksgiving dinner. I took some of the flavors common in an all American Thanksgiving meal to create these rolls. Pumpkin comes from the traditional pumpkin pie, sage is a common herb used in the turkey stuffing and cheddar biscuits are a common accompaniment to the meal.

I also used the Japanese tangzhong water roux method of starting the bread which results in an amazingly soft bread. We all enjoy soft dinner rolls right. My previous attempt using the tangzhong method here was much beloved, so I thought it was time to utilize it again.
Pumpkin, Cheddar & Sage Rolls
Yield: 26 rolls
Water Roux Ingredients:
1/4 cup all purpose flour
1 cup water
Ingredients:
3/4 cup canned pumpkin puree
1/2 cup milk
1/4 cup butter, melted
1 tablespoon instant yeast
2 cups whole wheat flour
2 cups bread flour (or all purpose flour) + 2 tablespoons
1/4 cup dry milk powder
1 1/4 teaspoon salt
1 teaspoon sugar
1 teaspoon ground sage
1 cup cheddar cheese, grated
water roux (from above)
26 pumpkin seeds, toasted
1 tablespoon milk, for brushing
To make the roux, dissolve flour in the water until there are no lumps. In a small saucepan, heat this flour-water combination until it is thickened and coats the back of a spoon, 2-3 minutes. Immediately transfer to a glass or ceramic bowl. Cover with plastic wrap and leave it to cool to room temperature.
Now let's get to making our rolls.
In a small bowl, whisk together the pumpkin puree, milk and butter. Mix well.
In the bowl of an electric mixer, combine flours, milk powder, salt, sugar, sage and yeast. Using the dough hook, mix. Add the water roux, pumpkin puree mix and cheese. Using the dough hook, knead for 5 minutes.
Transfer to a lightly greased bowl. Cover with greased plastic wrap and a kitchen towel. Leave to rise for 1 hour, until doubled in size.
Divide into apricot size pieces and roll into balls. Place in a greased springform pan. Place a pumpkin seed into each roll. Cover with a kitchen towel and leave to rise for 1 hour.
A half hour into the second rise, preheat oven to 350 F.
Brush the tops gently with milk.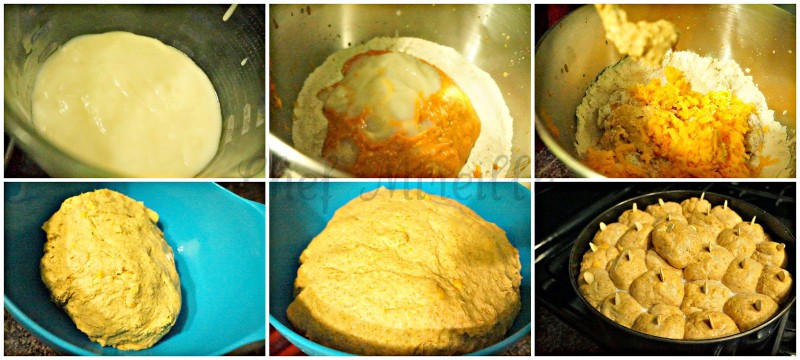 Bake for 45 minutes.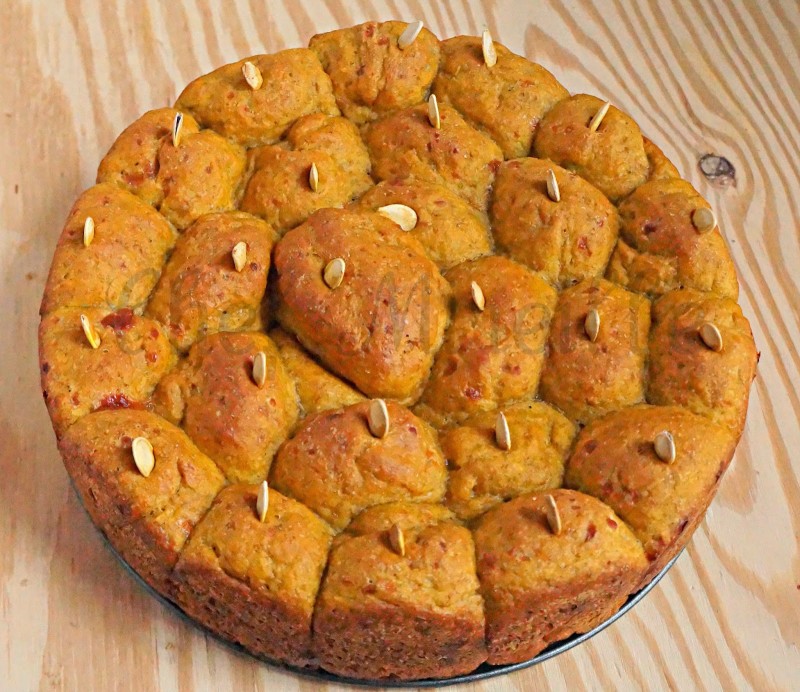 Notes:
The sage is more of an aftertaste. If you would like the sage flavor stronger, feel free to increase the quantity.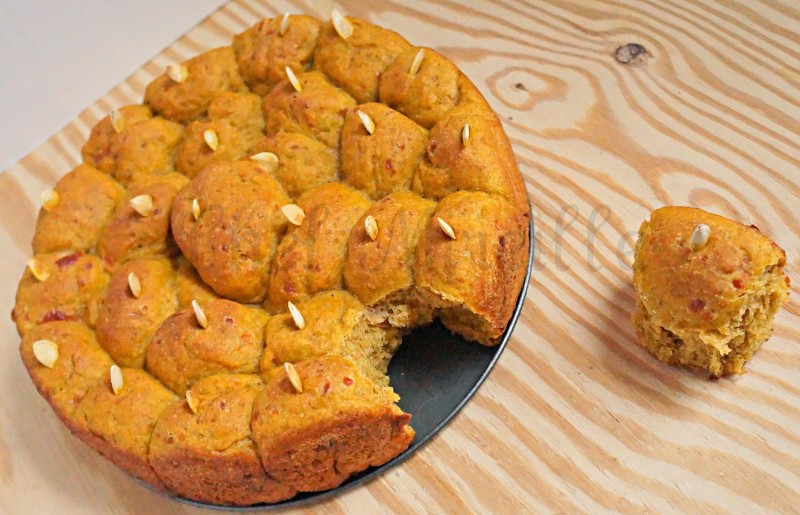 With whole wheat flour, these are healthy but still very soft and fluffy because of the water roux method.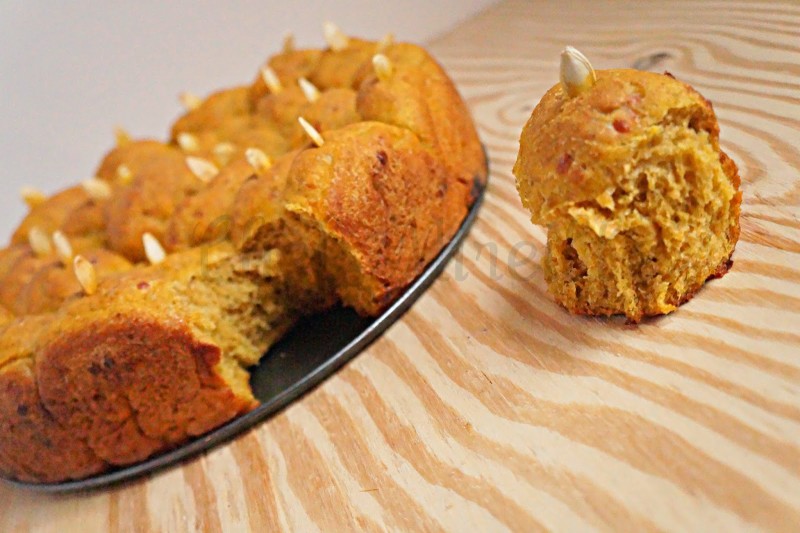 Take a look at the other Bread Bakers to find out what Thanksgiving themed breads they baked up:

How to join
#BreadBakers is a group of bread loving bakers who get together once a month to bake bread with a common ingredient or theme. Follow our Pinterest board right here. Links are also updated each month on this home page.
We take turns hosting each month and choosing the theme/ingredient.
If you are a food blogger and would like to join us, just send Stacy an email with your blog URL to [email protected].
LIKE THIS RECIPE? LEAVE A COMMENT..I LIVE FOR THEM!
Chef Mireille