Last Updated on December 14, 2020 by Chef Mireille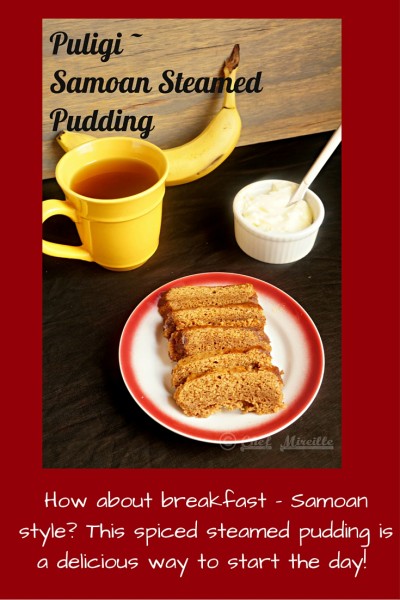 Puteni in Fiji or Puligi in Samoa, no matter which word you use, I pronounce it delicious. It is a popular treat of the Polynesian islands and is especially made during holidays. Spend a Christmas in Polynesia and you will definitely partake in some Puligi. Although traditionally eaten with pouring custard for holidays, Samoans often eat it with just butter, tea and banana for breakfast.
This steamed pudding is indicative of the European colonization of the region. Many European countries and even the United States established trading ports and battled over the colonization of Samoa for many years including Germany and Britain. They were the longest under New Zealand rule until 1962. With the use of coconut cream and spices, a fusion of Polynesian flavors with a British cooking method created this dish. Let's get started on our puligi…
Trying out this recipe was truly a labor of love. On my initial attempt, I created the caramel syrup exactly as detailed in the recipe source. Whenever I do others' recipes, especially ones from other countries, I try to perform the recipe as traditionally as possible. This was one time I should have followed my instinct and gone with my usual way of making caramel. After receiving 2nd degree burns and running my hand under cold water for 2 hours with some help from ibuprofen to dull the pain, I set about to create the recipe again. This time I used a safer methodology and still ended up with delicious results. I won't gross you out by showing my blistered fingers. Instead, I'll show you the tasty recipe!
Puligi
Prep Time: 45 minutes
Cook Time: 30 minutes – 2 hours
Serves 8
(adapted from cuptea)
Ingredients:
3 1/2 cups all purpose flour
2 teaspoons baking soda
1/4 teaspoon salt
1 teaspoon ground cinnamon
1 teaspoon freshly grated nutmeg
1 teaspoon ground cloves
3 eggs
1 cup sugar
1 1/2 cups softened butter
Syrup Ingredients:
1 cup sugar
1/2 cup cream of coconut
Let's first make the syrup. Combine sugar, 1 cup water and cream of coconut in a saucepan or deep skillet. Cook on medium heat for about 10-15 minutes until it gets all bubbly and frothy. Leave to cool completely for 15 minutes.
In a bowl, combine flour, baking soda and salt. Mix to combine.
Combine butter and sugar and mix until creamy, using an electric mixer. Add eggs and beat well. Add syrup and mix until thoroughly combined. Add dry ingredients and mix well.
Pour into whatever vessel you use for steaming. I poured it into individual greased ramekins in a pot. Fill pot with water enough to touch bottom of ramekins. Cover and steam for 45 minutes-2 hours, until knife inserted comes out clean. Cooking time will vary, depending on size of vessel you are steaming it in. Check periodically and add water when necessary as it evaporates.
Carefully remove from ramekins and slice.
Serve with soft butter and tea for breakfast or with pouring custard as a treat.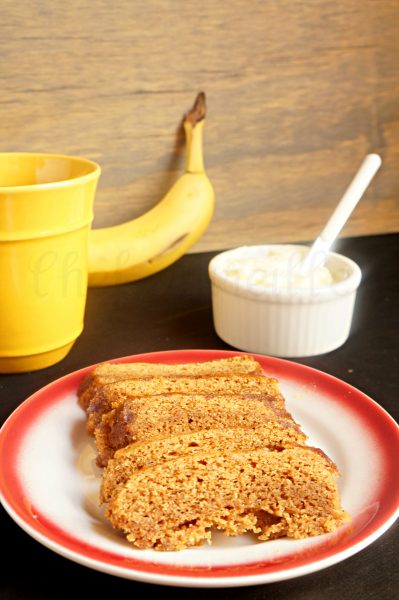 It has such a soft and fluffy texture – I don't think it even needs the butter!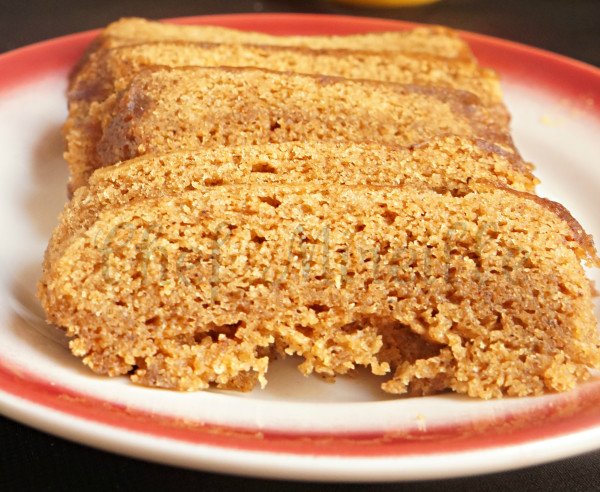 If this looks so good to you that you want to explore this cuisine a little more, do check my recipe for Samoan Banana Donuts here!
Check out the Blogging Marathon page for the other Blogging Marathoners doing BM# 56
[inlinkz_linkup id=533218 mode=1]