Last Updated on December 16, 2020 by Chef Mireille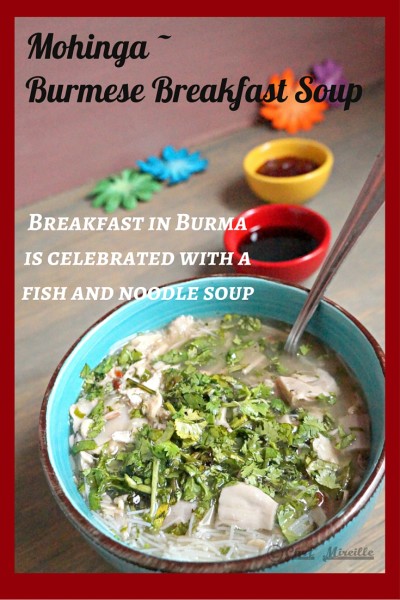 In many Southeast Asian countries, savory soups are popular for breakfast. In Malaysia, Thailand, Myanmar and many other Asian countries you are mostly likely to get a soup full of noodles and fish or meat than eggs.
Mohinga is one of the most popular breakfast foods throughout Myanmar, previously Burma. However, it is made different from region to region and the Burmese will argue to the death over their own version of preferred mohinga. In Rangoon and central Burma, their version is a clear broth with just a little fish and banana stem. In the south, there is abundant fish generously flavored with galangal, ginger and shallots and acidic notes with the addition of tomato. In the west, there is lots of chile added. For them, it is the ideal comfort food and they will generously remain loyal to their hometown version.
With inspiration from Burma: Rivers of Flavor, I created this version. However, I streamlined some of the processes to create this easier methodology. In the author's version, everything is made fresh including the chile paste and tamarind concentrate. This version eliminates some of the work to create this simplified west coast version of Mohinga.
Mohinga
Prep Time: 5 minutes
Cook Time: 25 minutes
Serves 4-6
Fish Broth Ingredients:
1/2 teaspoon shrimp paste
1/4 cup thinly sliced galangal
1/4 cup thinly sliced ginger
3 crushed garlic cloves
2 1/3 lbs. red snapper
Soup Ingredients:
1/4 teaspoon ground turmeric
1 cup chopped banana stem/ banana blossom (I used canned)
1 tablespoon fish sauce
1 tablespoon tamarind concentrate
2 tablespoons finely chopped cilantro
1 teaspoon freshly ground black pepper
1 tablespoon Sambal Olek (chile paste)
Serving Ingredients:
10 oz. rice vermicelli
3 tablespoons shallot oil
2 tablespoons roasted soybean flour (or roasted chickpea flour)
1 tablespoon fish sauce
1/2 cup coarsely chopped cilantro
In a large pot, combine 5 cups of water with the shrimp paste, galangal, ginger and garlic. Bring to a boil.
Add fish and simmer for 4 minutes. Remove fish to a bowl or plate. Remove flesh from the bones. Set flesh aside and return fish bones to the water. Bring to a boil and simmer for 10 minutes. Drain bones and discard. Add water to broth to make 4 1/2 cups.
Return broth with additional water to the pot and bring to the boil. Add turmeric, banana stem, fish sauce, tamarind concentrate, pepper, chile paste and cilantro. Add fish and simmer for 5 minutes.
Cook vermicelli according to package instructions. Add shallot oil, soybean flour and fish sauce to the noodles. Toss well. (On a side note, these seasoned noodles tasted great for a simple lunch with some Seroendeng tossed with the noodles. So simple but so delicious.)
For each serving, place a portion of vermicelli in the bottom of a bowl.
Ladle some of the soup over it. Add a generous handful of the cilantro and stir into the soup.
Serve with fish sauce and chile paste for each person to add flavor as they desire.
You definitely need the abundant cilantro to balance the strong fish taste.
This is also often served with a variety of pickled vegetable salads. For some examples, take a look at the Burmese salads I previously posted here.
Check out the Blogging Marathon page for the other Blogging Marathoners doing BM# 56
[inlinkz_linkup id=533219 mode=1]