Last Updated on May 20, 2015 by Chef Mireille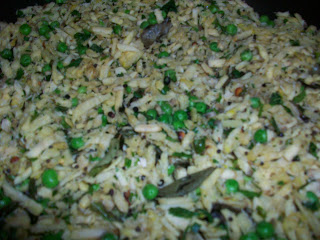 Plantains are not usually a common ingredient found on most menus in Indian restaurants in NYC, but it is a commonly used ingredient in South Indian cuisine.
The most common way to prepare plantains that is known to many of us is usually to just fry them in oil. This is easily found in Chinese restaurants in neighborhoods with large Caribbean and Spanish populations here in the city.
This is an entirely unique way to prepare the plantains which are grated and then stir fried with spices. I must thank Saffron Trail for this recipe. Please take a look at her blog for really unique, vegetarian recipes:
Plantain Podimas with Peas
2 plantains
2 tablespoons oil
1 teaspoon ginger, grated
2 chilles, finely chopped
1/2 teaspoon mustard seeds
1 teaspoon urad dal (split and hulled black lentils)
1 teaspoon chana dal (yellow split peas)
1 handful of curry leaves
1 cup peas
2 tablespoons coriander, finely chopped
2 tablespoons grated coconut
salt, to taste
ground turmeric
1 pinch asoefetida
1 cup frozen peas, defrosted in the microwave for 1 minute
1. Boil 3 cups of water in a large pot with a little salt and ground turmeric. Slice plantains in half horizontally, with skins left on. Add to boiling water and cook for about 7-8 minutes, until just tender. Add cold water to pot immediately to stop cooking process.
2. Once plantains are cooled, grate them, using a box grater.
3. In a large skillet, heat oil and add mustard seeds on medium flame. Once mustard seeds start to pop, add urad dal, chana dal and asoefetida. Once the chana turns golden brown, add the chilies, ginger and curry leaves. Fry for about 1 minute.
4. Add plantain and peas and cook until heated through. Stir in coconut and chopped coriander. Garnish with more fresh coriander leaves, if desired.
Enjoy and would love your feedback on this unique way of preparing plantains!!!!!
Chef Mireille